18 juin 2019
NEW ADDITION TO THE KOMONO FAMILY WITH THE KOMONO EYEWEAR CORDS
KOMONO is happy to present a new addition to the KOMONO family: the KOMONO Eyewear Cords.
Complimenting the edgy, bold styles of this season's eyewear, KOMONO introduces three styles of eyewear cords. Express yourself with the colorful Alexis, chunky Brooks or minimal Hyper. Available in different colorways to mix or match with your aesthetic. Made from high quality acrylic and finished with adjustable rubber grips to wear with ease.
For more information about KOMONO, please visit www.komono.com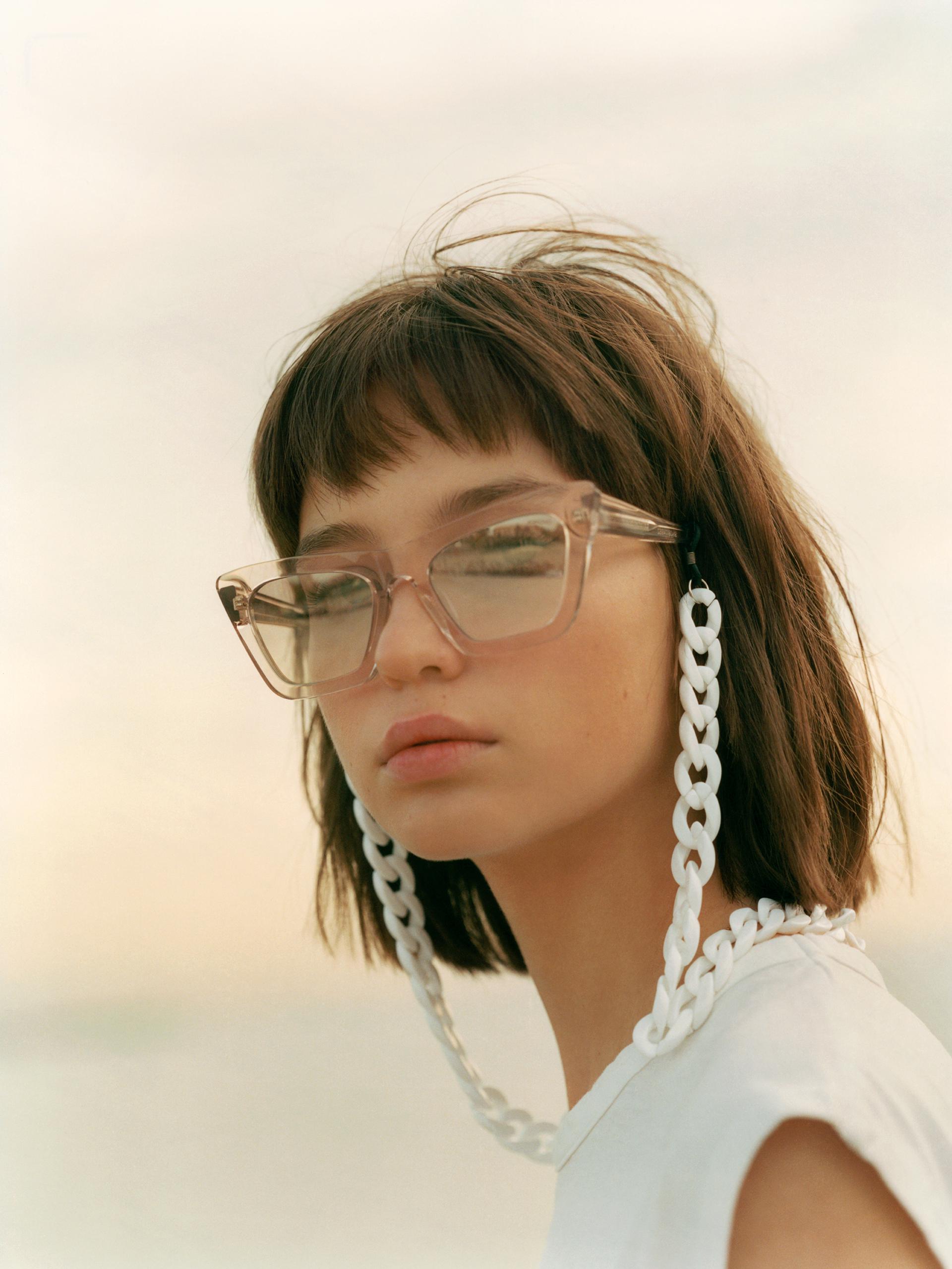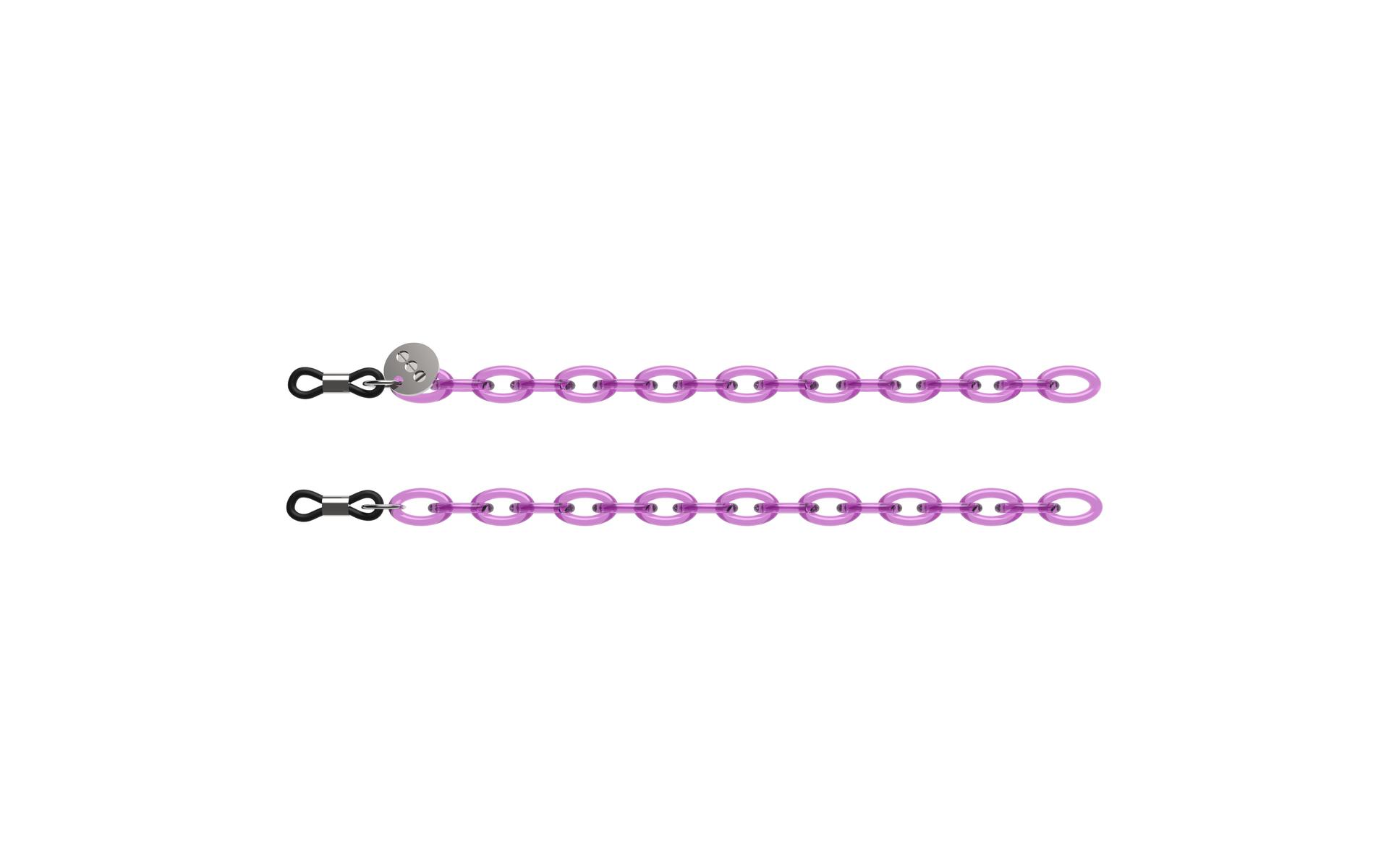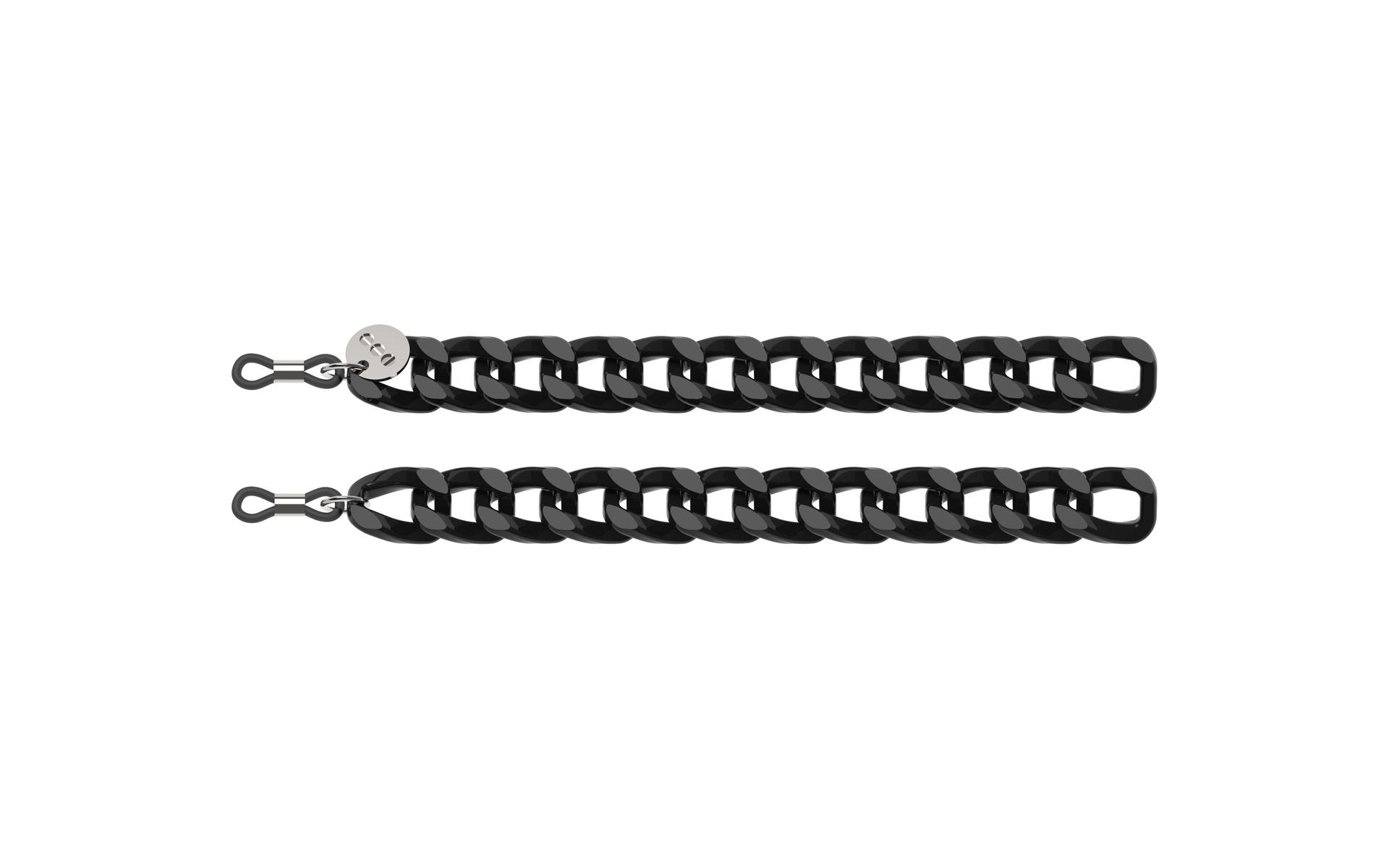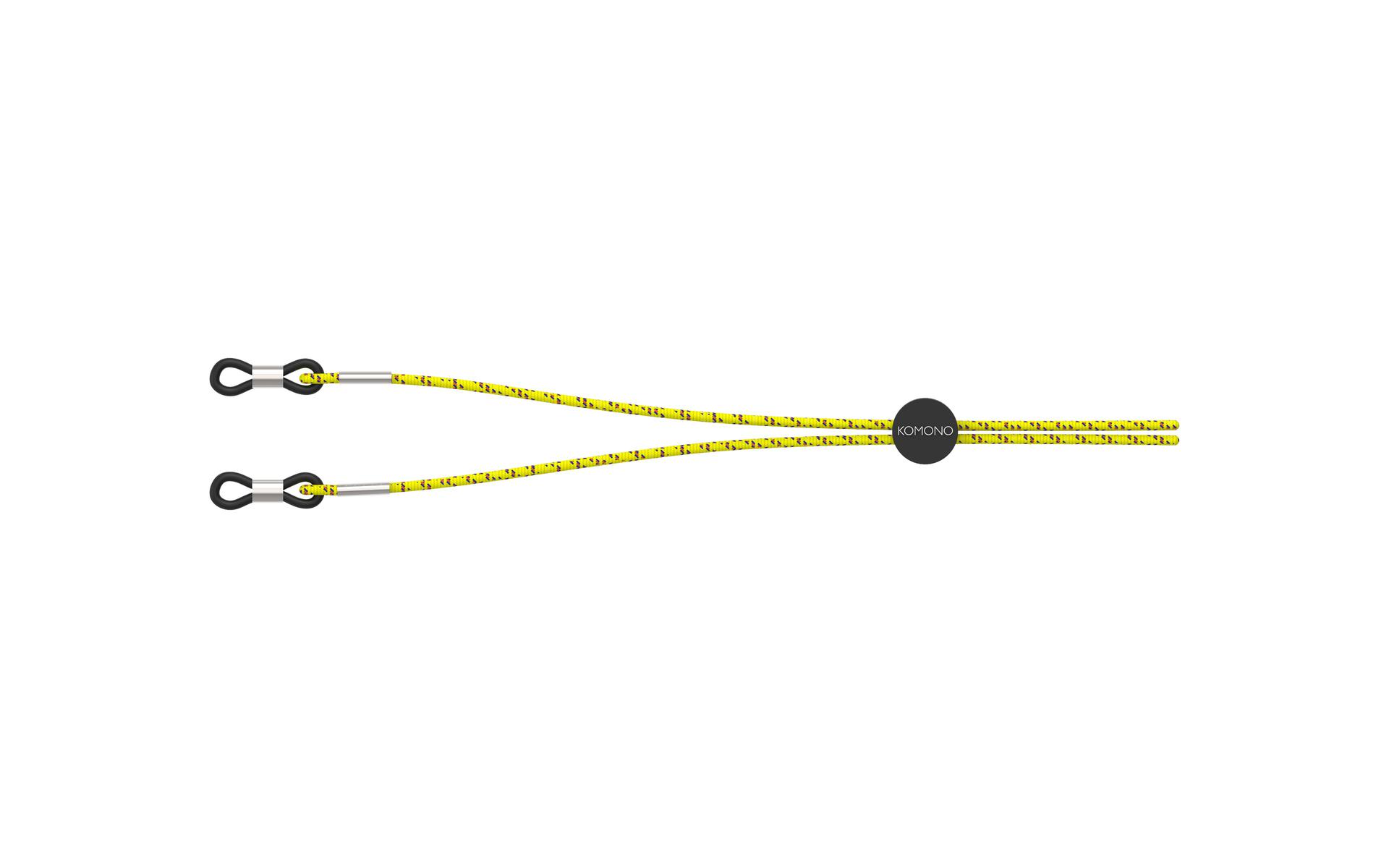 17 juin 2019
COLORFUL & LIGHTWEIGHT DESIGNS
The Paper-Thin Acetate collection combines the comfort and lightness of titanium with an acetate rim to create exciting textures and vibrant hues.
MODO's social responsibility pledge Buy a Frame – Help a Child See has helped more than one million children so far. Together we make a difference!
14 juin 2019
BLACKFIN FAIT CHAUFFER LES MOTEURS POUR LES MODENA CENTO ORE
Mai 2019 – Blackfin, la marque de lunettes en titane entièrement conçues et produites en Italie, renouvèle son partenariat avec les Modena Cento Ore, la seule course en Italie et une des rares au monde où les pilotes doivent s'affronter sur circuit ainsi que sur route fermée au public.
Pour l'édition 2019, Blackfin sera partenaire officiel de la manifestation et fournira aux pilotes une paire de lunettes de soleil à utiliser pendant la course et les loisirs. Il s'agit du modèle Ventura, un caravan moderne avec un double ponte d'inspiration rétro ; un modèle qui allie technicité et design, emblématique de l'ADN de Blackfin.
Les Modena Cento Ore seront également l'occasion pour cinq équipages sélectionnés d'être les premiers testeurs des tout nouveaux Blackfin Luminar, les verres polarisants les plus légers au monde ayant la qualité optique du verre minéral : un niveau de perfection visuelle supérieure combiné avec la qualité et la légèreté extrêmes du titane des montures. Les modèles Blackfin Luminar sont étudiés en particulier pour exercer une activité de conduite ou pour un usage sous casque, garantissant une performance visuelle excellente et un confort de port optimal.
Les Modena Cento Ore – organisées par Canossa Events et Scuderia Tricolore – sont un mix de rallye et de course de vitesse sur circuit, rendu encore plus captivant par le départ sur la grille. Des voitures historiques et des « gentlemen driver » arrivent du monde entier afin de pouvoir vivre en Italie une expérience spéciale, combinant l'adrénaline de la compétition avec le plaisir de la bonne cuisine et de la découverte des territoires le long du parcours.
« Nous sommes vraiment ravis de renouveler cette collaboration qui dure déjà depuis trois ans » – déclare Nicola del Din, PDG de Blackfin – « Impossible de ne pas trouver d'affinités avec cette course prestigieuse qui, alliant esprit de compétition et plaisir du voyage, permet de faire découvrir la beauté de notre pays à un public international. Cet accord a un double objectif : d'une part, renforcer et accroitre la reconnaissance de la marque auprès d'une cible exclusive et en ligne avec le positionnement de notre produit et, de l'autre, augmenter les opportunités de collaboration avec l'équipe Canossa Events ».
« En tant que grand admirateur des lunettes Blackfin, élégantes et indestructibles, c'est un honneur de pouvoir continuer ce partenariat avec une marque 100 % Made in Italy comme nous ! L'harmonie entre Blackfin et Canossa a tout de suite été très forte et nous nous sommes entendus sur le fait d'être des entreprises à la fois glamour et technologiques, novatrices et émotionnelles, avec une équipe composée de personnes jeunes, professionnelles et passionnées » – a affirmé Luigi Orlandini, Président et PDG de Canossa Events – « Je suis certain que les participants aux Modena Cento Ore, toujours à la recherche de l'excellence, apprécieront énormément ce nouveau modèle, parfait pour la course tant pour le design que pour les performances techniques exceptionnelles ».
Le rendez-vous est du 4 au 9 juin 2019 pour vivre des émotions le long d'un parcours qui traverse l'Italie d'Est en Ouest : de Rimini à Florence, de Forte dei Marmi à Modène, avec l'arrivée finale et la cérémonie du podium sur la Piazza Grande en passant par les circuits d'Imola, du Mugello et de Misano où se disputera une course à l'adrénaline en nocturne.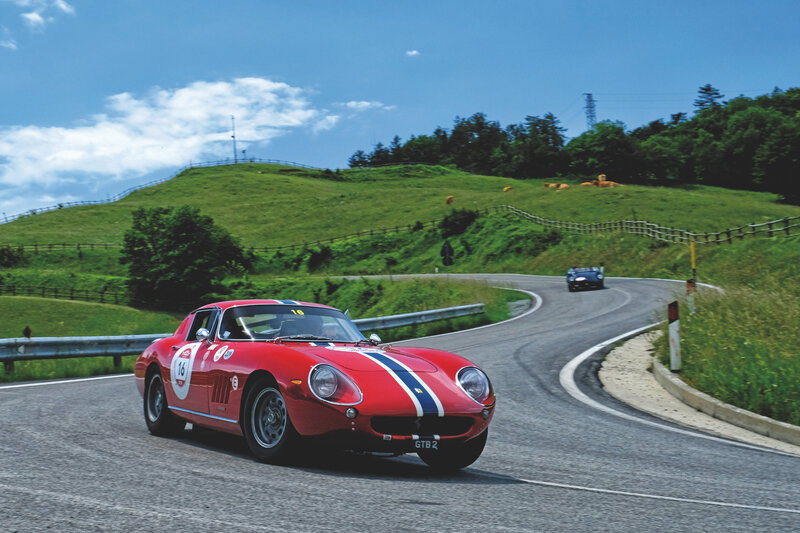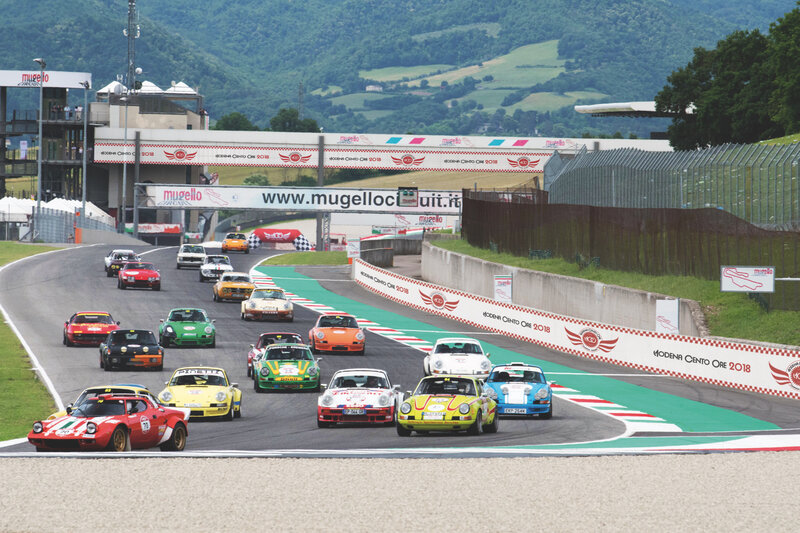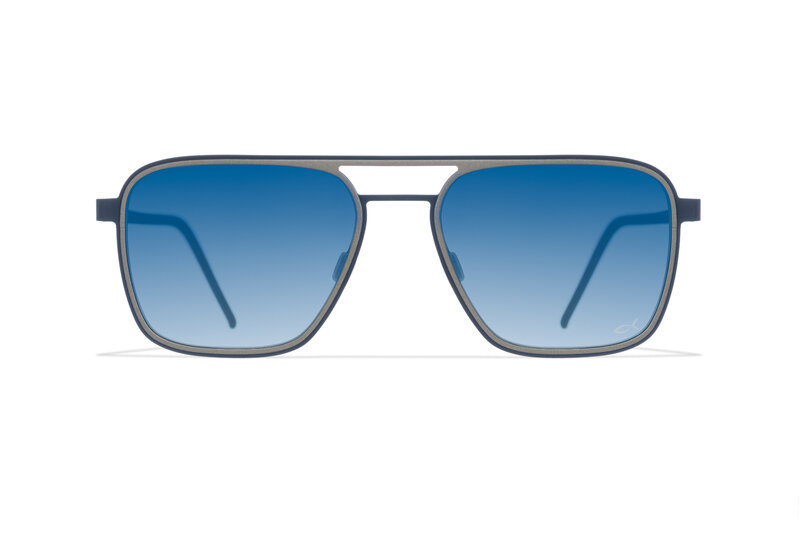 Pour de plus amples informations modenacentooreclassic.it ou @modenacentoore sur FB et IG
www.facebook.com/blackfin.eyewear
www.instagram.com/blackfineyewear/
11 juin 2019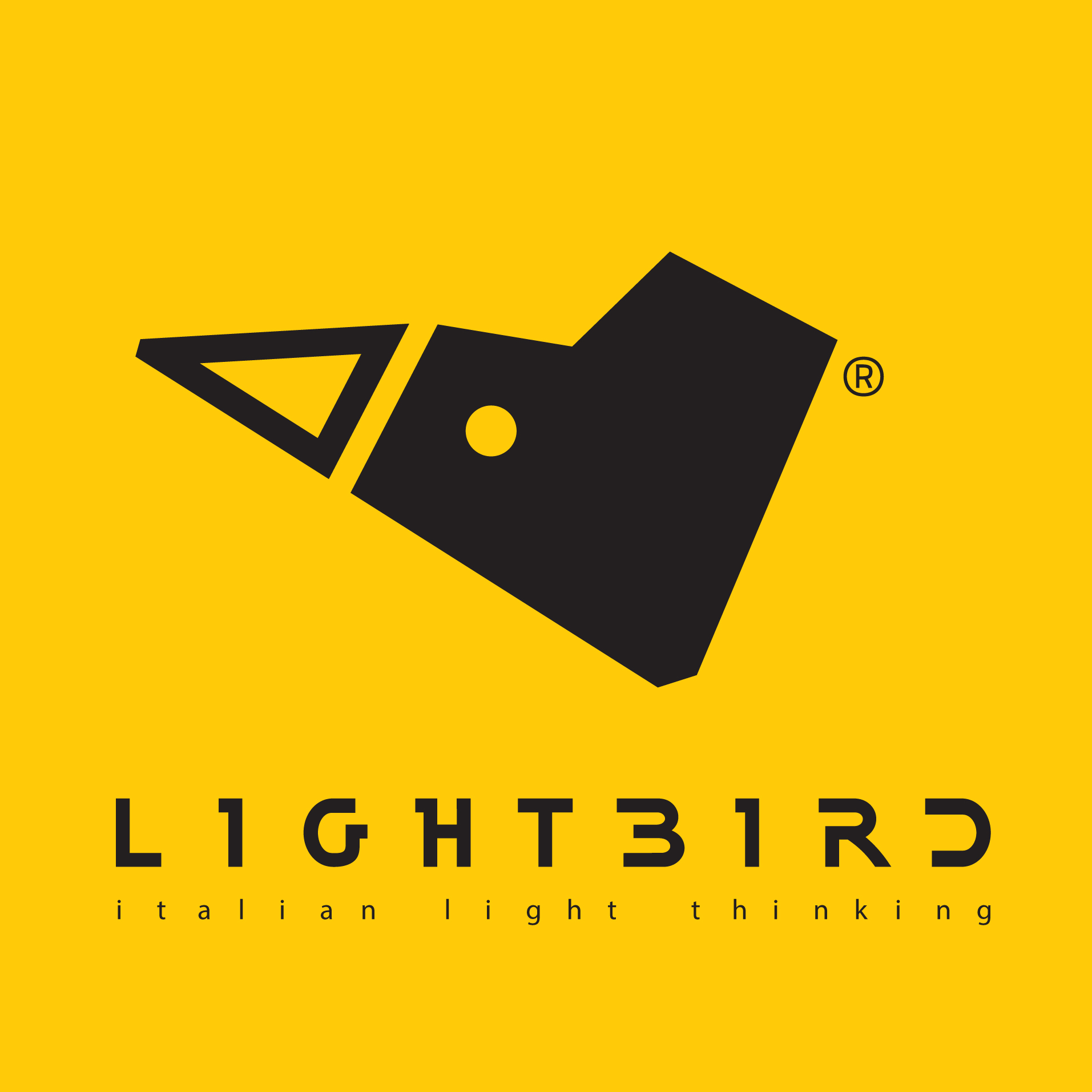 LIGHT_MATTER
THE FIRST LIGHTBIRD'S COLLECTION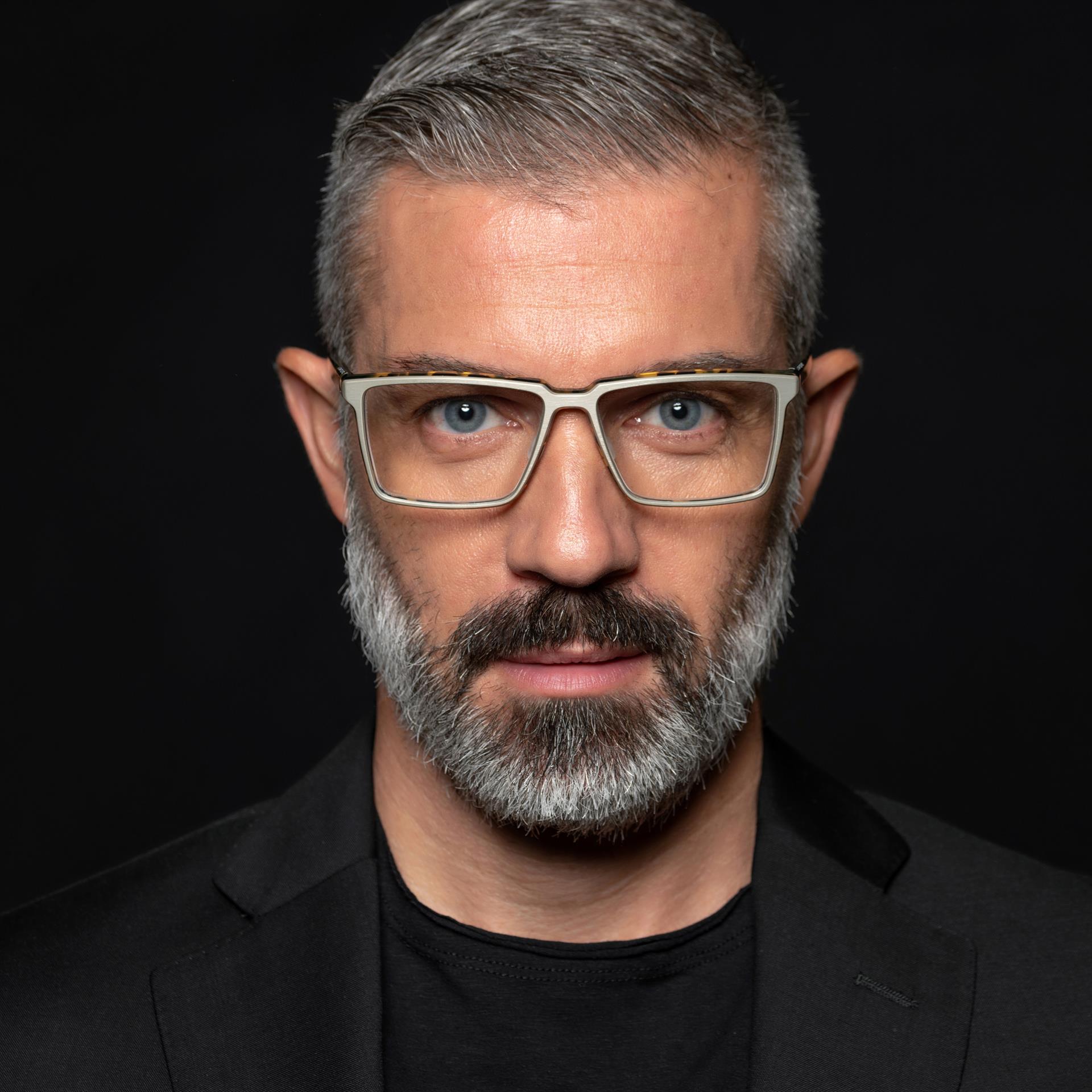 LIGHTBIRD is the new brand in the eyewear panorama founded by the Italian designer Corrado Rosson. The 100% Made in Italy brand has debuted at MIDO 2019.
Light, passion, innovation and color are core aspects of the Bellunese brand that designer Corrado Rosson wanted to express in his first independent collection.
The innovation is in the D.N.A. of the brand, LIGHTBIRD in fact adopts a new material called Light_MATTER, derived from the union of two materials: Italian acetate and light alloy of high-tech aluminum. Light_MATTER collection is also the name given to the first collection, consisting of fifteen models of which thirteen are optical, man, woman and unisex, and two sunglasses models for woman.
The names of the models - Heart, Planet, Desert, Fox, Queen, Vulcan, Earth, Moon, Prince, Asteroid, Water - are inspired by the places and characters of "The Little Prince" and evoke aspects of the brand values such as passion, light, balance, naturalness in wearability, the material and the importance of quality style and materials.
The geometries are characterized by an alternation of lines and shapes that can be sharp and decisive, as in FOX LB002 model for men, or rounded and sinuous, as in PLANET LB003 model for women. The colors choice is dynamic, ranging from monochromatic tone-on-tone models to two-tone models with animalier acetates or strong colors. The innovative composite material Light_MATTER allows playing on the chromatic contrasts between the two materials that make up the front. They range from the Mirror "Natural Light" combined with a very modern Etheric Pink acetate, to a Hi-Tech Anthracite "Light off" combined with brightly colored plastics, such as Light Orange or more tone on tone like Bright Black.
HEART – THE ICONIC MODEL
The iconic model created for the first collection is HEART, the only feminine frame able to stand out in the world of eyewear. With its appearance, this unique model has the ambition to communicate all the values contained in the new brand.
"Heart wants to be a vehicle for a message: great passion, creativity, Made in Italy and, being the heart of a bird, is the allegory of the man who tends to rise, fly, even if by nature he cannot do it. However, at the same time, this angular heart represents the conflict in the human soul, the representation of contrasts and impulses that often make you accomplish the unexpected and make life so intense and exclusive."
One of the distinctive elements of LIGHTBIRD is technology, not only productive but also linked to the digital world. In the temple tip the QR code, scanned through the camera of a common smartphone can connect you digitally to Light_NEST, the "nest" of Lightbird. The optician, agent and end customer will thus automatically create a community that, through the company portal, will create opportunities for loyalty and work.
PLANET LB003 WOMAN SUNGLASS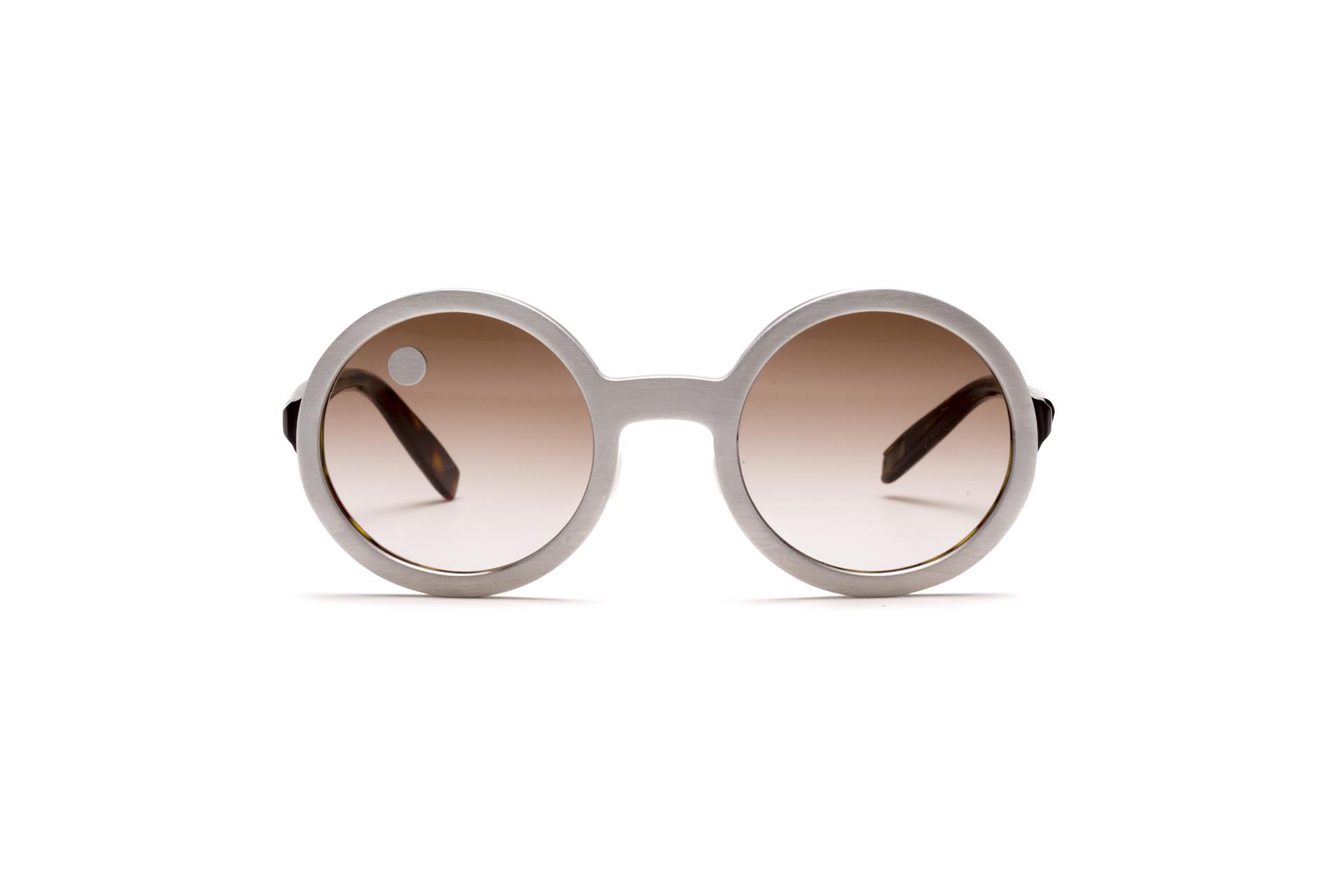 The sun model PLANET is characterized by a retro style shape. The rounded lenses bring us back to the great splendor of the first decades of the twentieth century, but the innovative production system leads to a contemporary style. On the left lens there is a small detail that refers to the logo of LIGHTBIRD: the bird's eye. The women's sun collection includes three colors including an exciting Etheric Pink contrasted by a front Mirror "Natural Light" and Mirror Pink lenses. The other two-color variations used for this woman's sun model: Total Black with anthracite "Light off" and smoky grey lenses; Total Soft Brown Havana combined with a "Warm Light" metal and shaded Brown lenses.
HEART LB001 ICON FEMININE SUNGLASS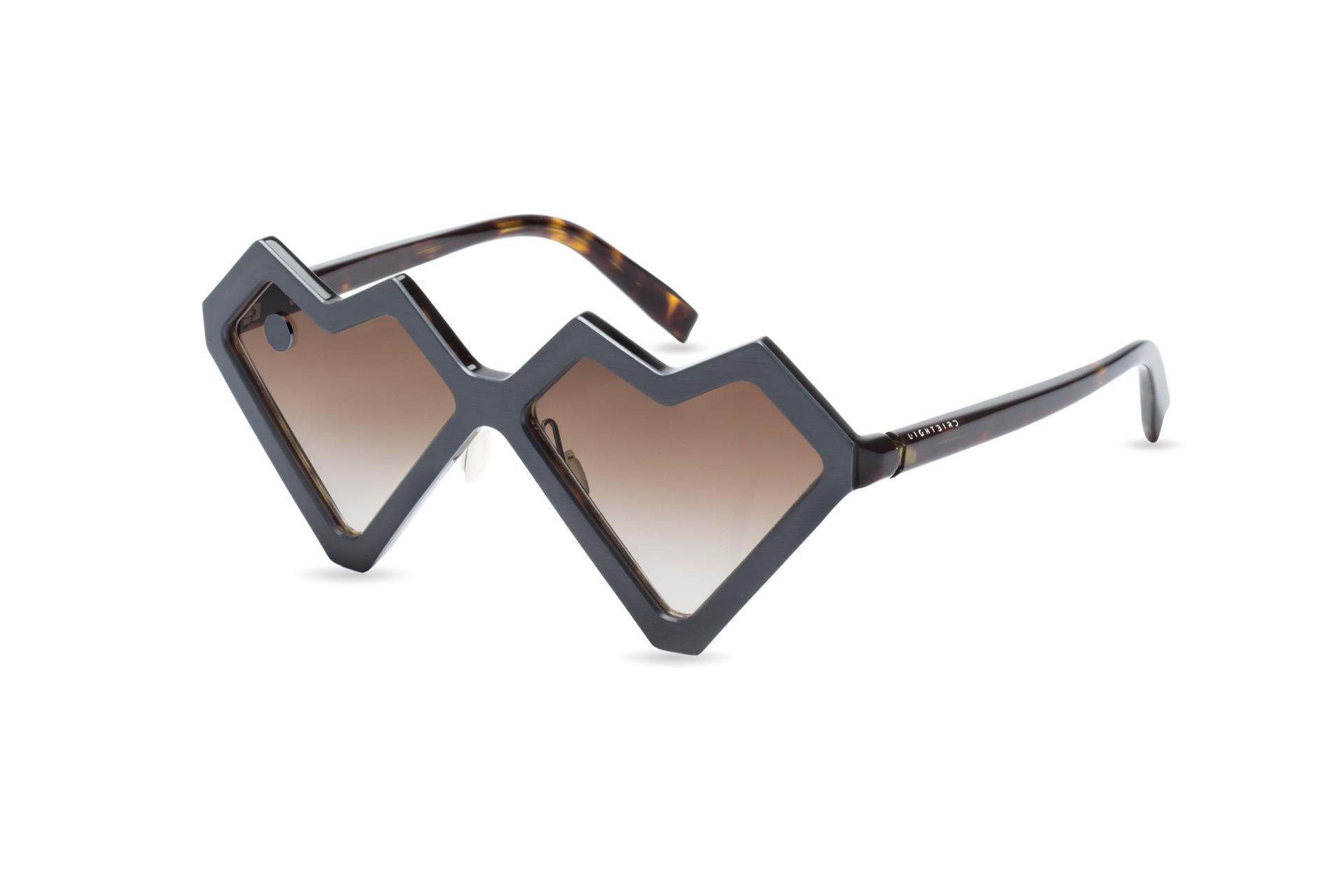 For the launch of the new brand, HEART - LB001 was created, an all-women model designed to represent the brand's concept in an iconic way. Corrado Rosson reinterprets and creates his own version of the heart-shaped glasses, a great evergreen classic of the '60s, taking the heart of the stylized logo LIGHTBIRD. There are three chromatic proposals: Total Light Blue with a "Natural Light" satin metal and Blue gradient lenses; Total Bright Black with a "Light off" anthracite satin front and Yellow multilayer lenses; Total Soft Brown Havana with "Warm Light" satin metal and Brown gradient lenses.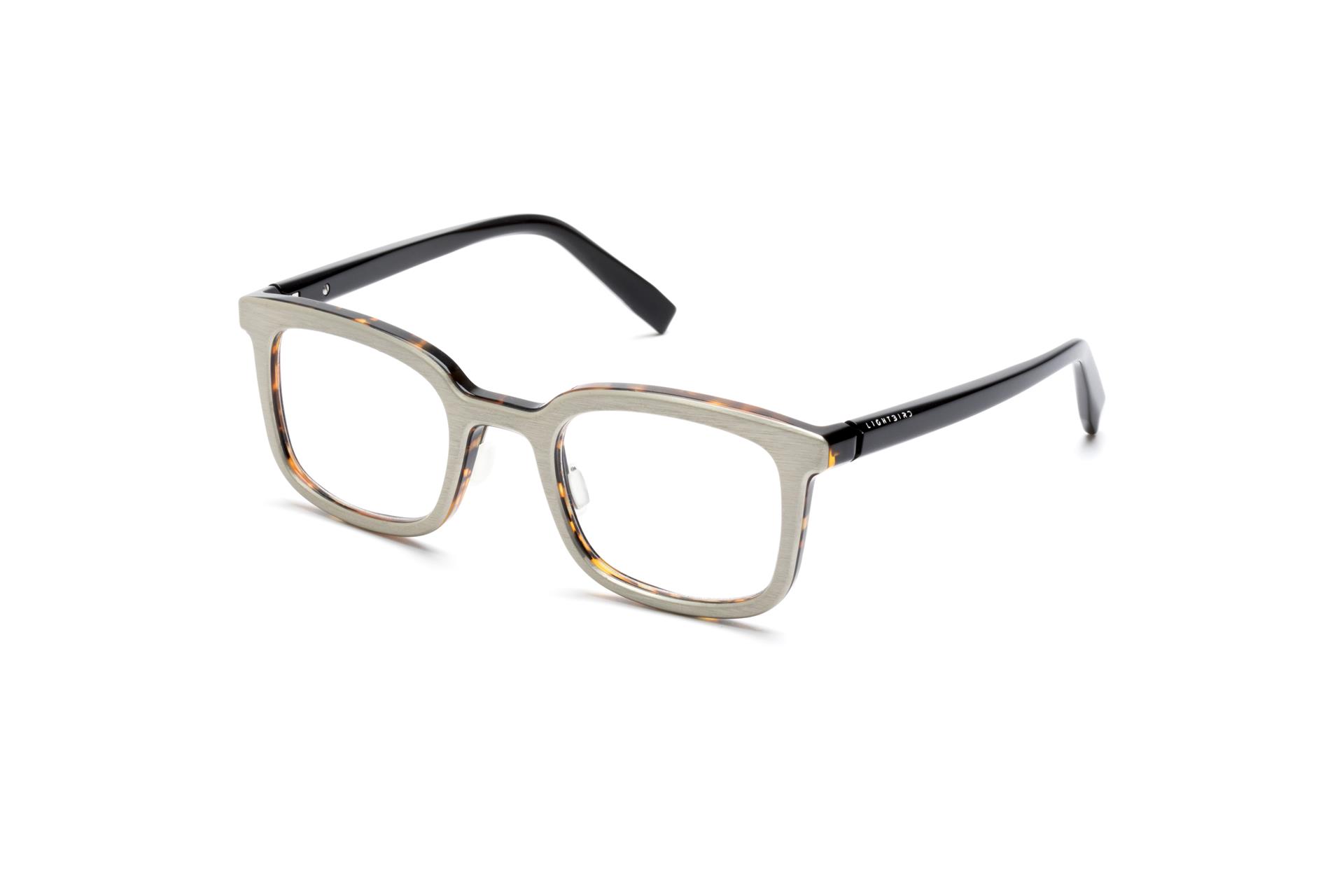 Clean lines and innovative Light_MATTER material. The dynamic-colored frames and the monochromatic front in hi-tech metal make DESERT a decisive and contemporary men's eyewear. Ideal for both an informal casual look and a youthful formal one. The model is available with acetate frames in four colors combined with the different shades of the metal front. Total Soft Brown Havana combines with a satin Navy Blue metal, Total Chocolate Brown with Light Brown satin metal, Cubic Old Red Havana with Bright Black temples and a satin Warm Light metal front. The Light Green frame, which evokes Nature, contrasts with the light grey temples and the anthracite "Light off" metal front.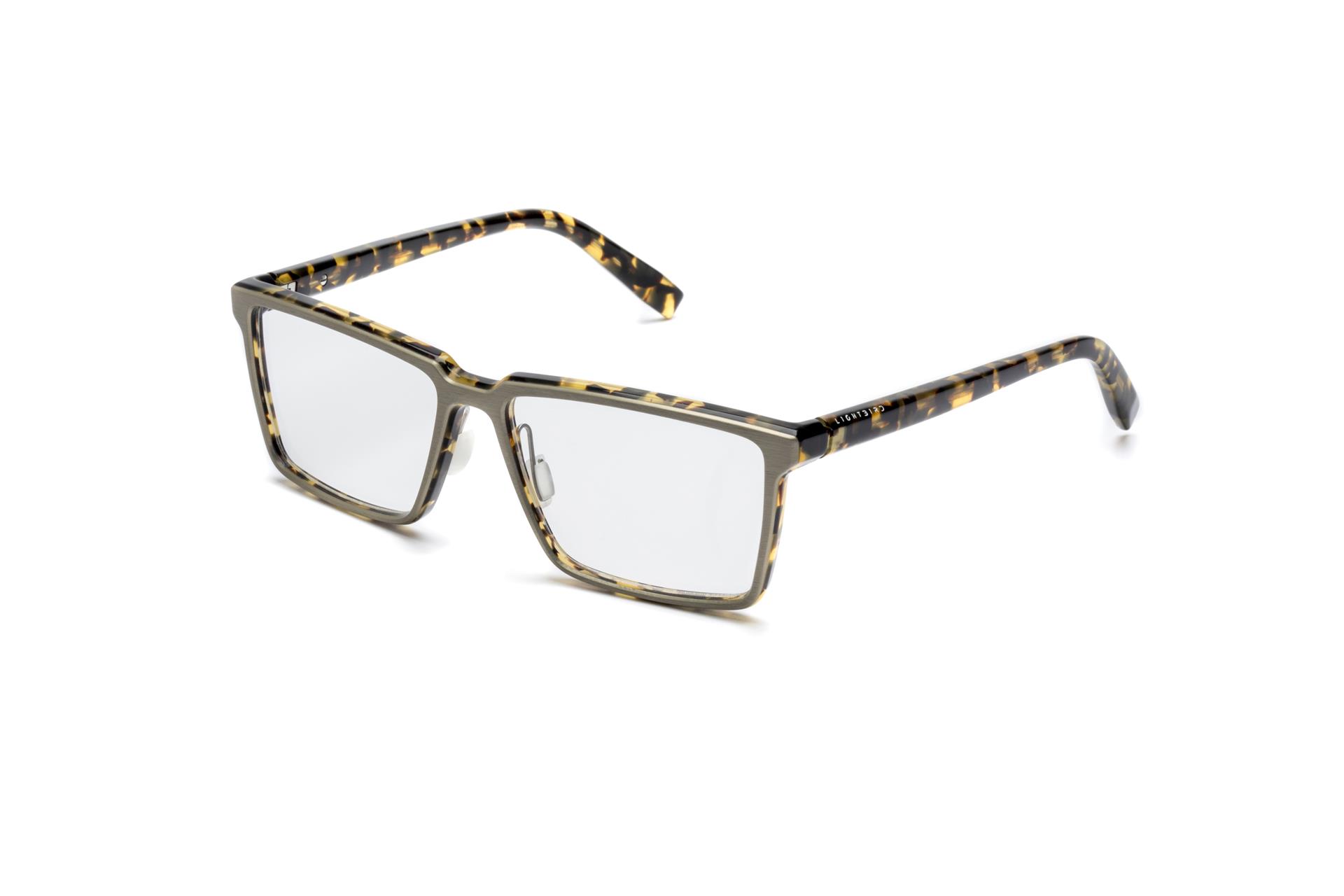 The FOX men's optical model is dedicated to those who love to follow the style without sacrificing visual well-being. The minimal shape is enhanced by the contrast of materials, on the part of the lenses, where the metal placed frontally meets the acetate. The frame is total color. The model is available in four shades. The elegant model in Total Bright Black with metal front "Light off" satin Anthracite. The C042 evokes beaches and summer thanks to the Total Cubic Honey Havana frame and the "Warm Light" metal front. For an important evening, the Total Night Blue with its satin metal front Blue Navy is the ideal model. The C026 color model with a sporty, youthful cut and Light Orange frame, Bright Grey temples and "Light off" Anthracite metal.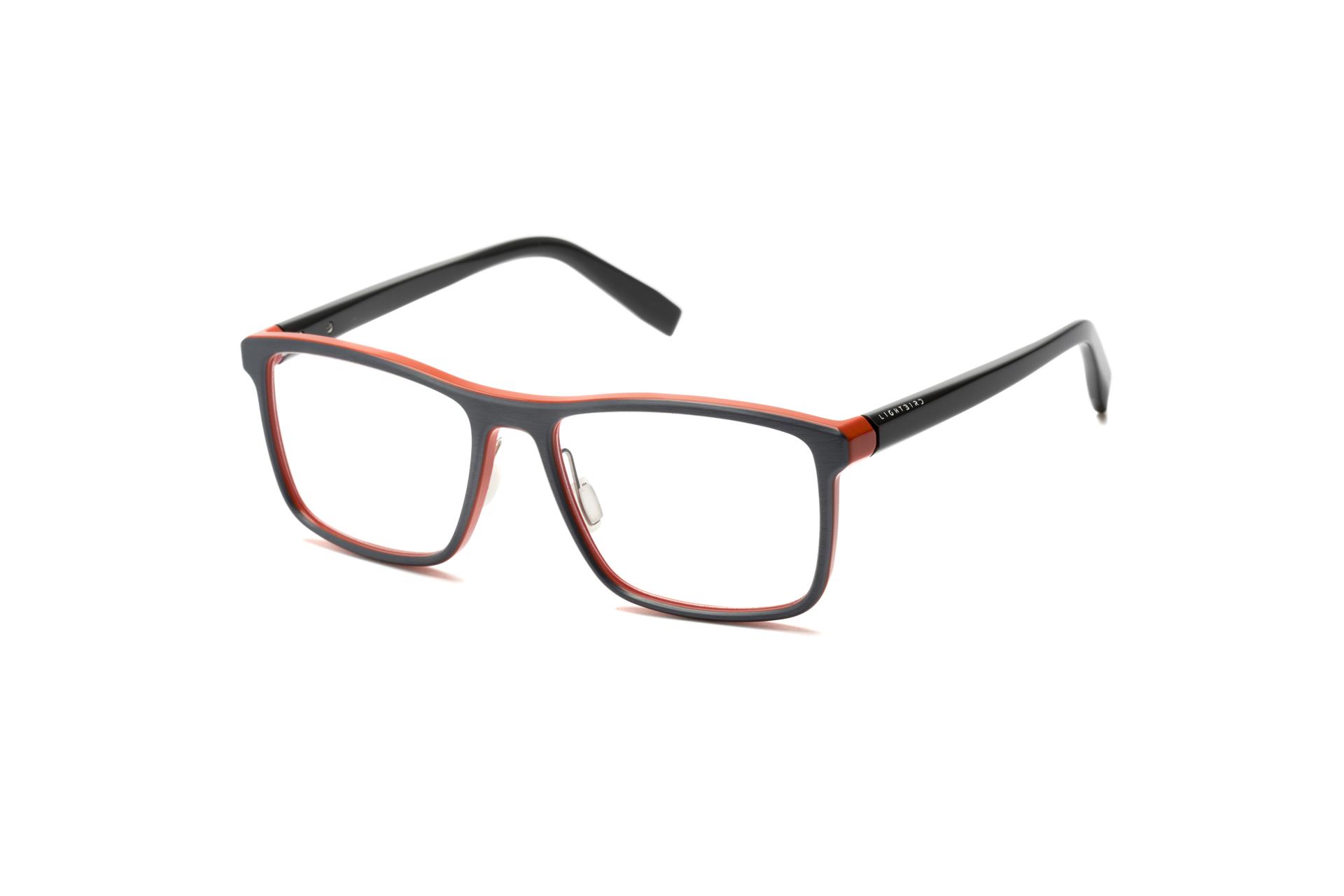 In honor of its name, the VULCAN optical frame - a force of Nature - is characterized by strong color contrasts. The innovative material Light_MATTER in this case generates a strong contrast that characterizes the color C026. The monochromatic anthracite metal front "Light Off" contrasts with the Light Orange acetate just like the incandescent lava on the slopes of a volcano. The essential lines of the silhouette make Vulcano a pair of glasses for a contemporary man and adapts to every face. Ideal for both a casual, informal look and a youthful, sporty one. The model is available in four shades. To distinguish itself in elegant occasions, the Total Bright Black with front in anthracite metal satin "Light off", the Total Soft Brown Havana with the metal of the front "Warm Light" satin, the Total Night Blue with the front Blue Navy satin to be always ready for any type of event.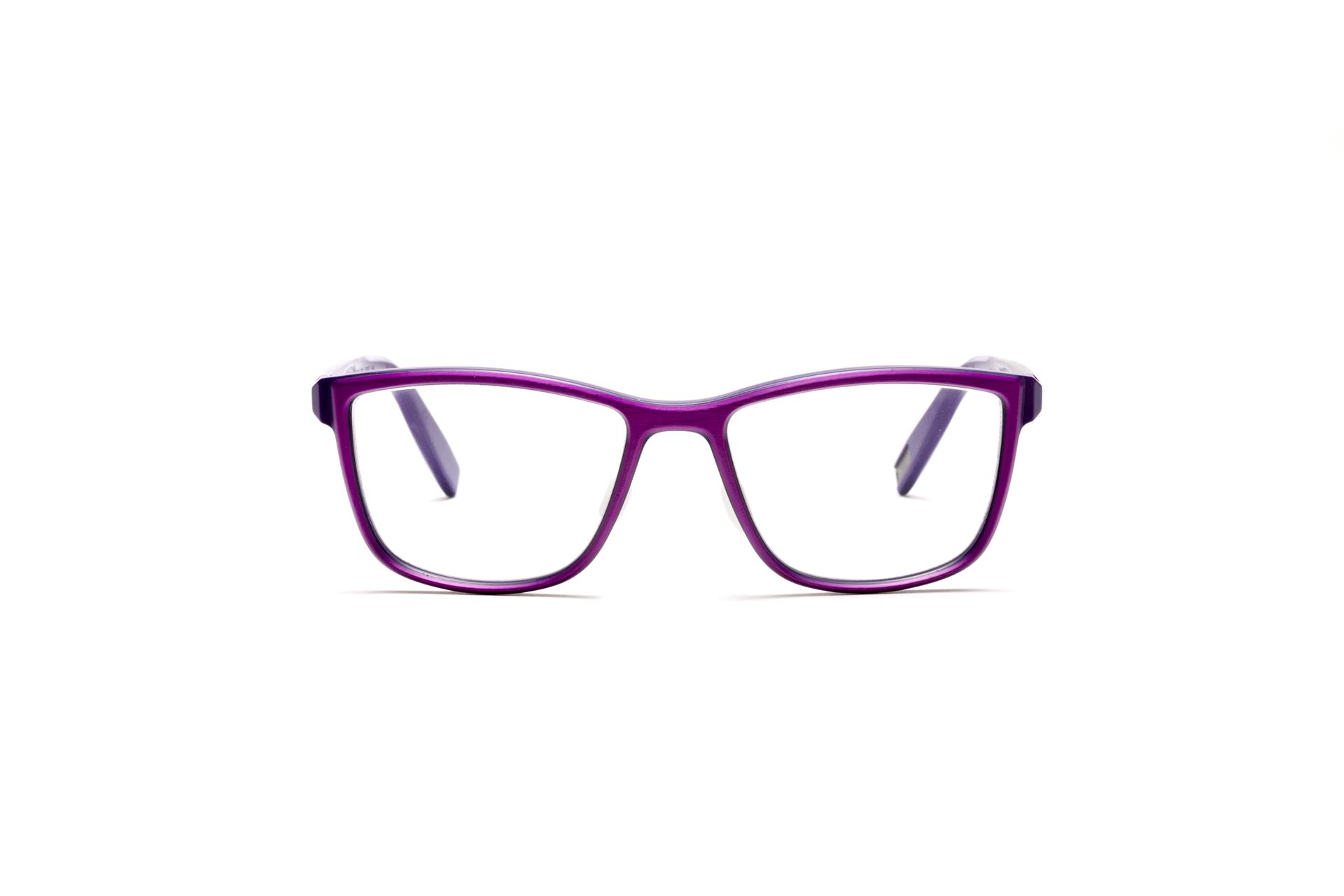 The woman's model of the first collection of LIGHTBIRD offers lines of strong femininity, a sinuosity that evokes a woman with a "fifties" style, always "queen" of her way of being and contemporary thanks to the use of materials of the latest generation.
A woman's optical frame that adapts to the personality of the wearer or to the personal fashion style. QUEEN is available in warm Nuance for the C013 in Total Cubic Havana with the metal "Light off" satin Anthracite; in Total Bright Violet with the metal in Light Violet satin that gives that touch of color to everyday life. Elegant and with a smoother impact for the C051 in Total Bright Face Powder with "Warm Light" satin metal front. Darker and stronger shades for the Total Soft Brown Havana with the front in "Light off" satin metal in the color Anthracite.
07 juin 2019
New Signature Packshots Ready for Download
Referring to FLEYEs annual campaign, which is dedicated to the "Flowers of Denmark", we have been successfully launching our new Signature Collection in Milan last weekend. Signature for SS19 comes in 8 sets in two colours, each consisting of one optical and one sunglasses frame - linked through material, shape and attitude.

We have been asked to provide more images - so here you go!
04 juin 2019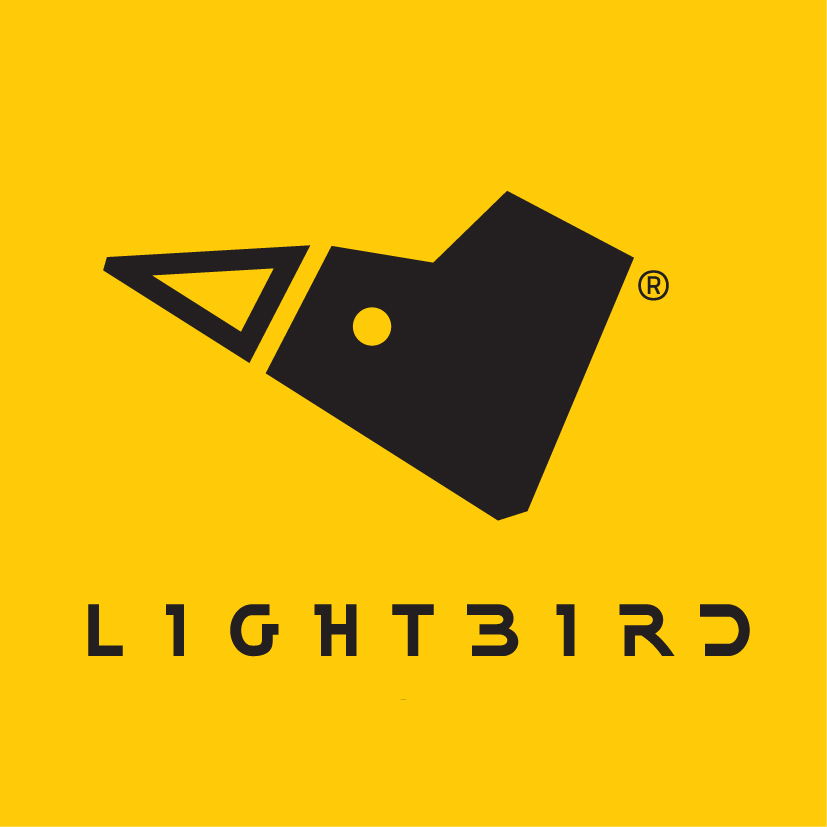 LIGHTBIRD
A NEW ITALIAN BRAND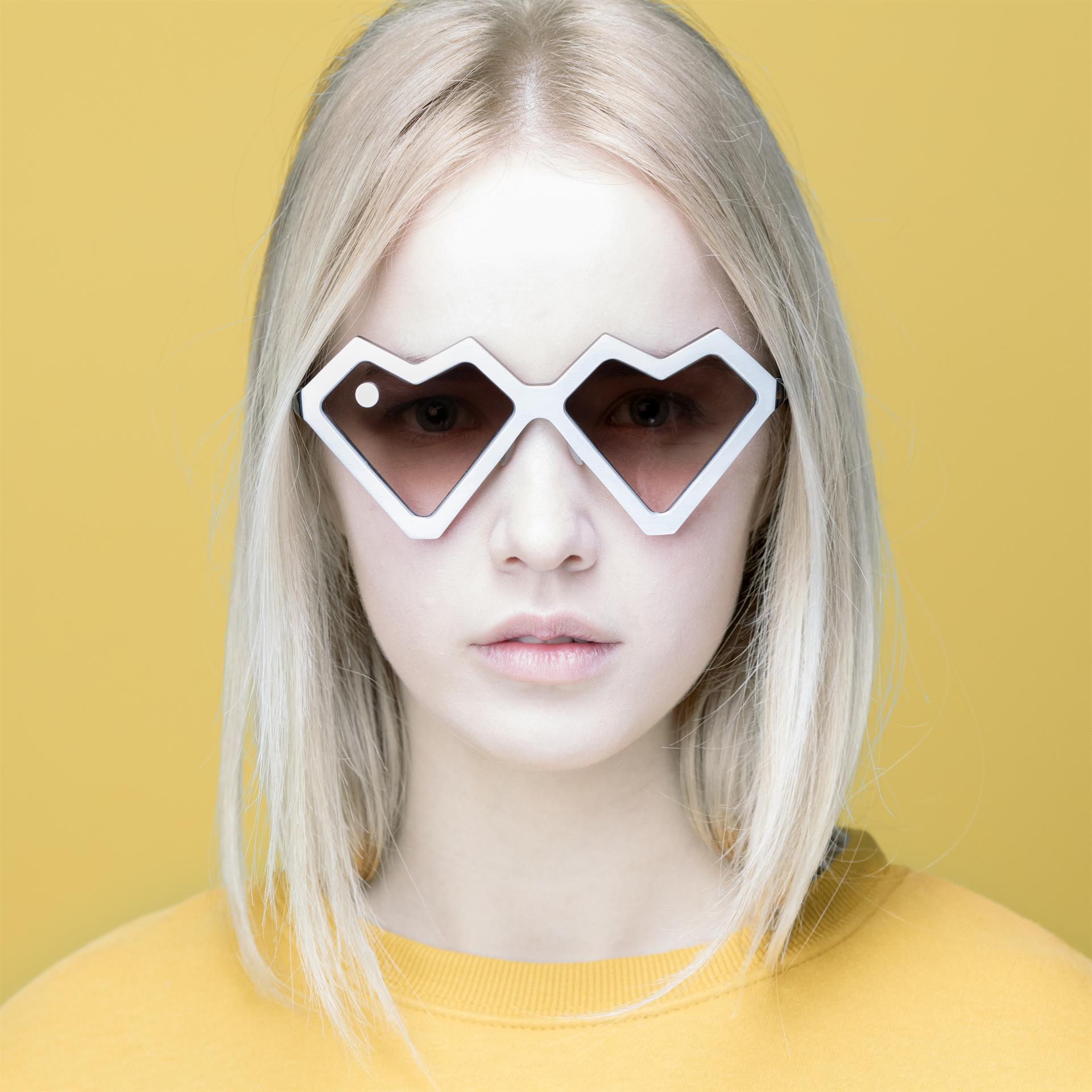 LIGHT. HEART. PASSION. INNOVATION.
LIGHTBIRD is the new brand in the eyewear panorama founded by the designer of international fame Corrado Rosson. The 100% Made in Italy brand will debut at MIDO 2019.
LIGHTBIRD is on the market as a start-up that, through two patents, offers a unique and innovative product. LIGHTBIRD embodies a world of values that can be identified with a "nest", ready to welcome those who are willing to share the same features. Indeed, technology is the means with which LIGHTBIRD succeeds in establishing a link with the entire supply chain and, specifically, with opticians, helping them to retain their customers. This relationship is established through a system called Light_nest that involves the use of an APP and the reading of the unique serial number inserted in the QR code positioned in the temple tip of each pair of glasses.
Innovation is in the D.N.A. of the brand also from the production point of view. LIGHTBIRD in fact adopts a new material, Light_matter, derived from the union of two materials: Italian acetate and hi-tech light aluminum alloy. Light_matter is the name given to the first collection, consisting of 13 prescription models and 2 sunglasses.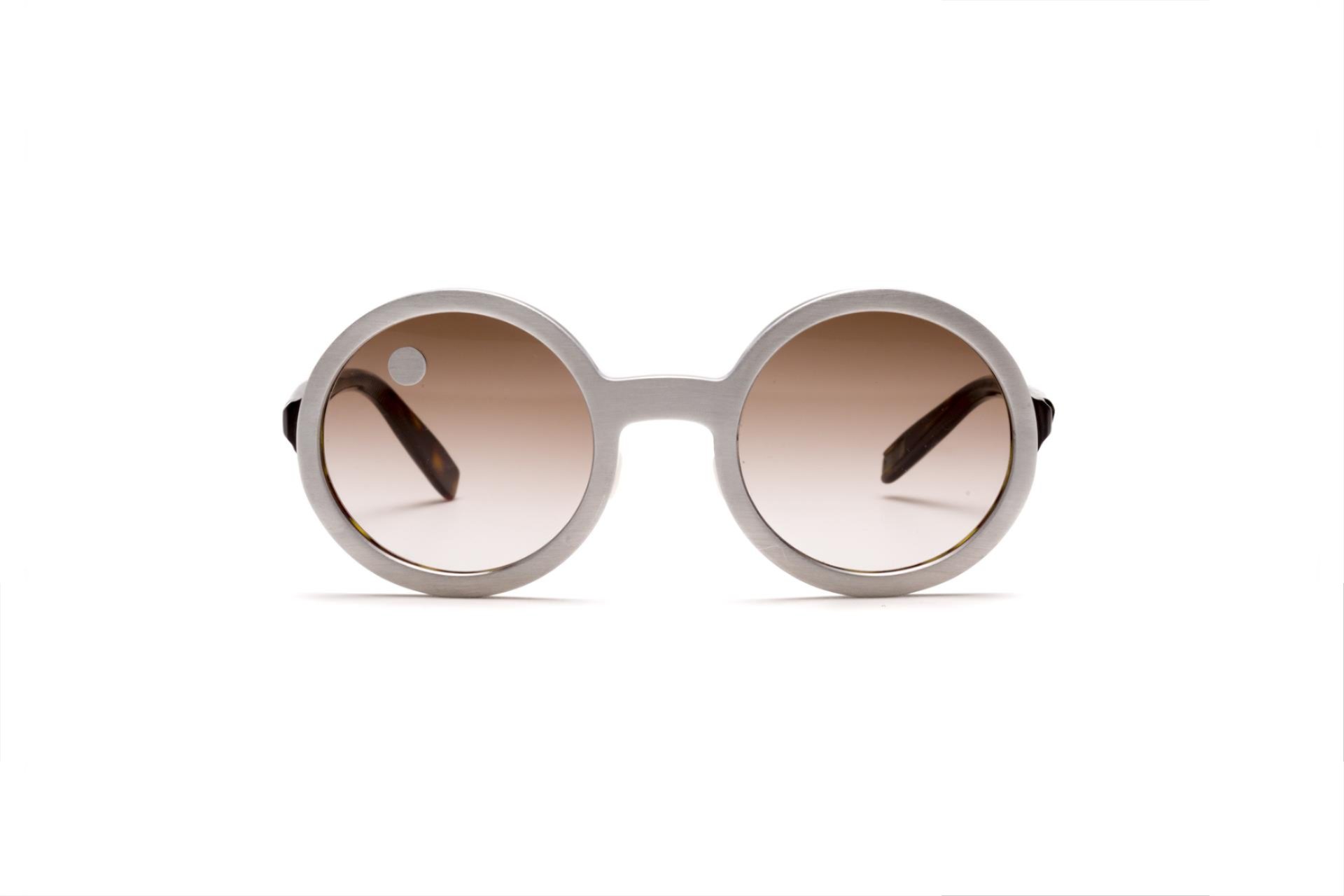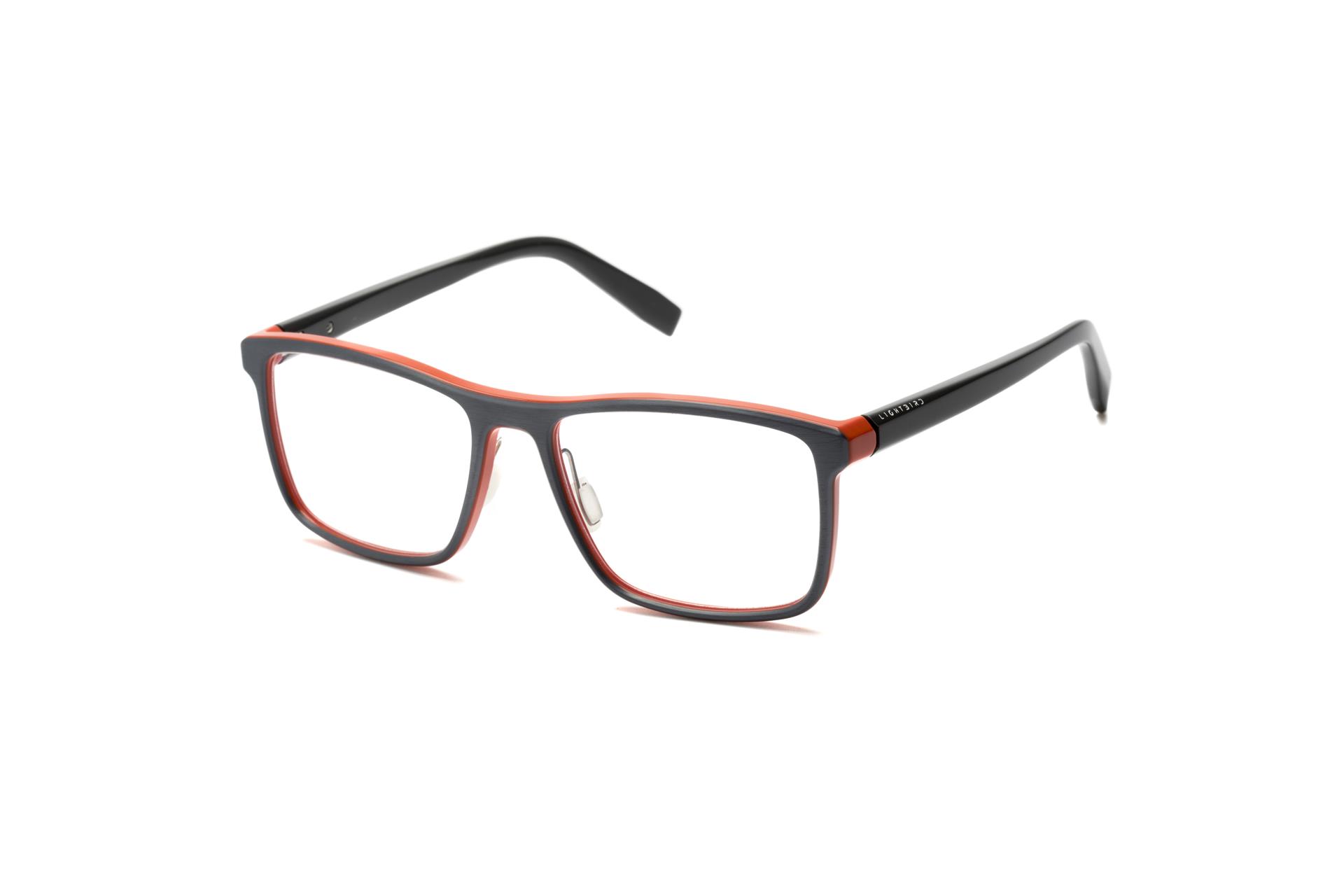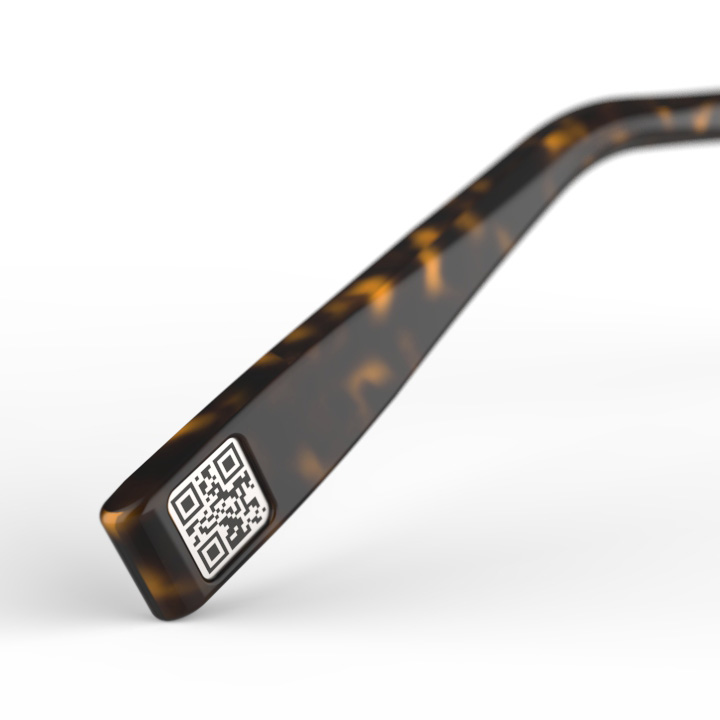 03 juin 2019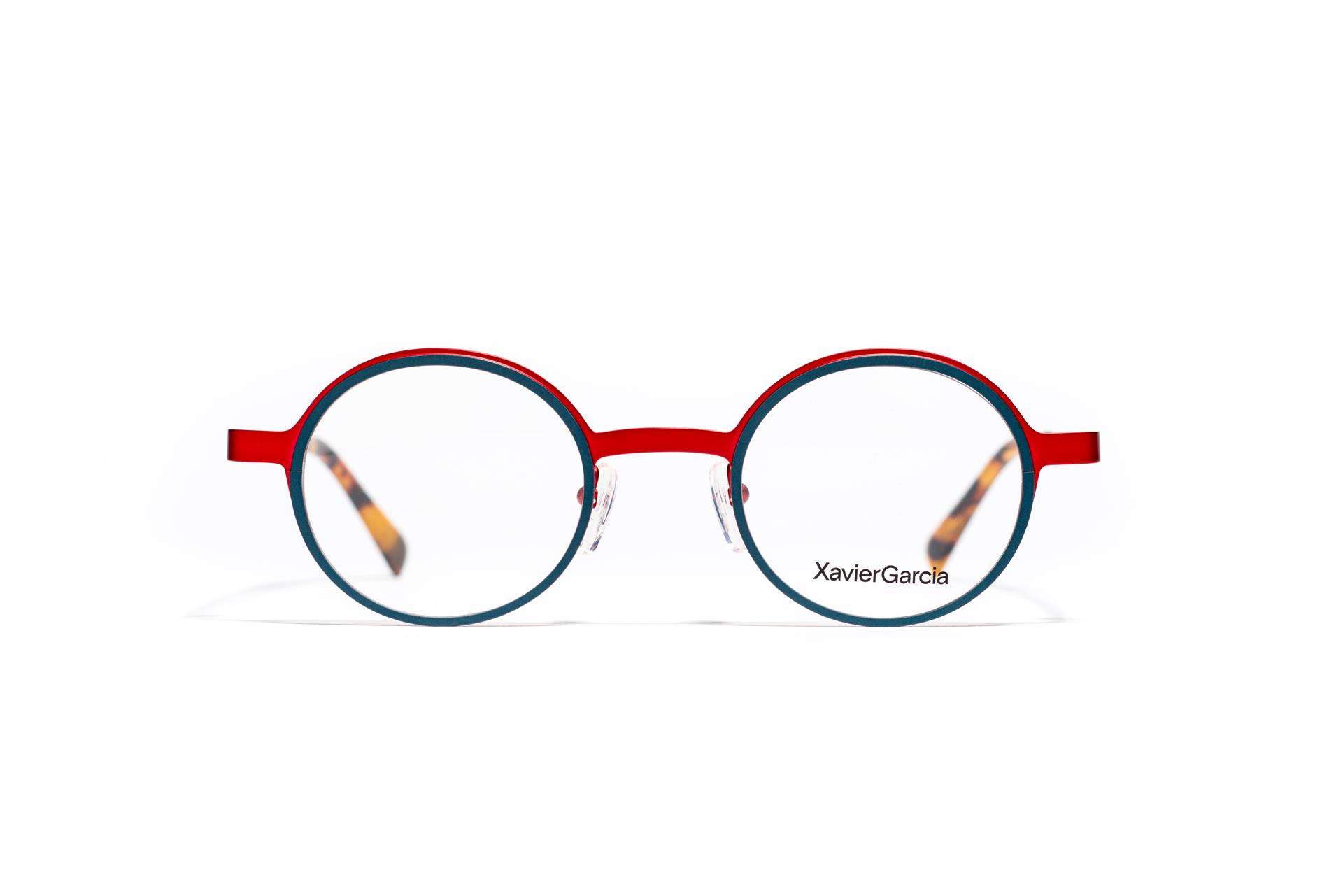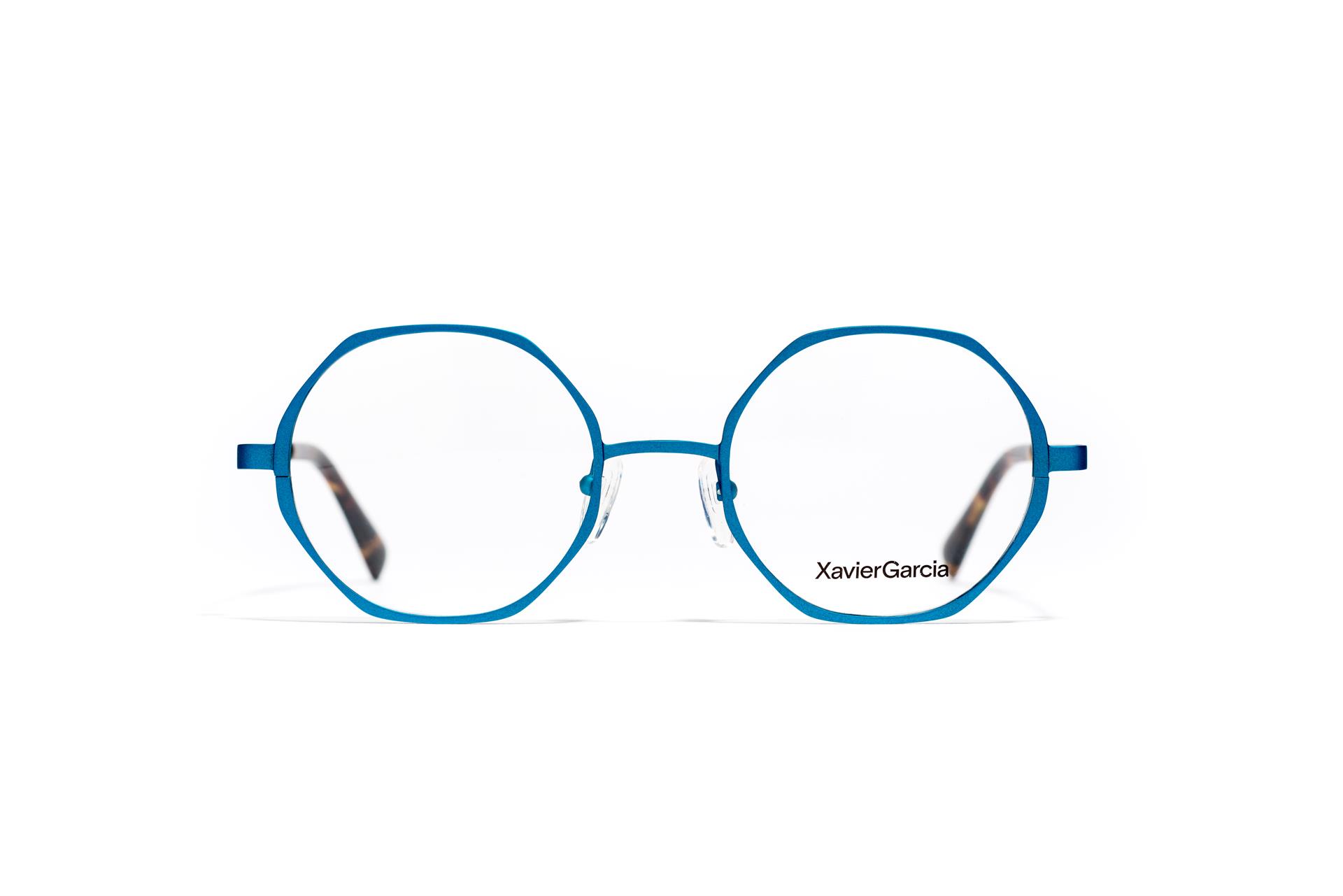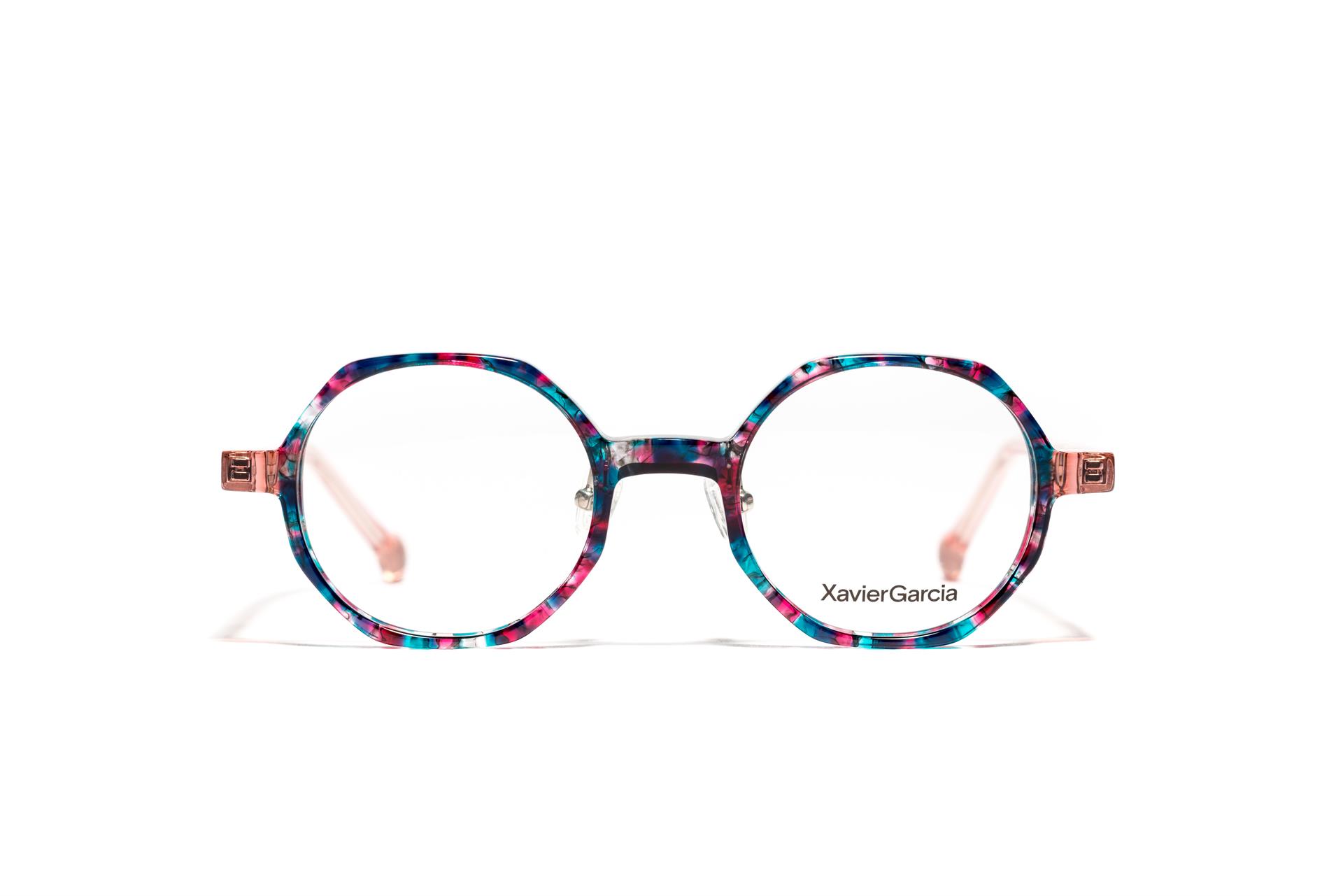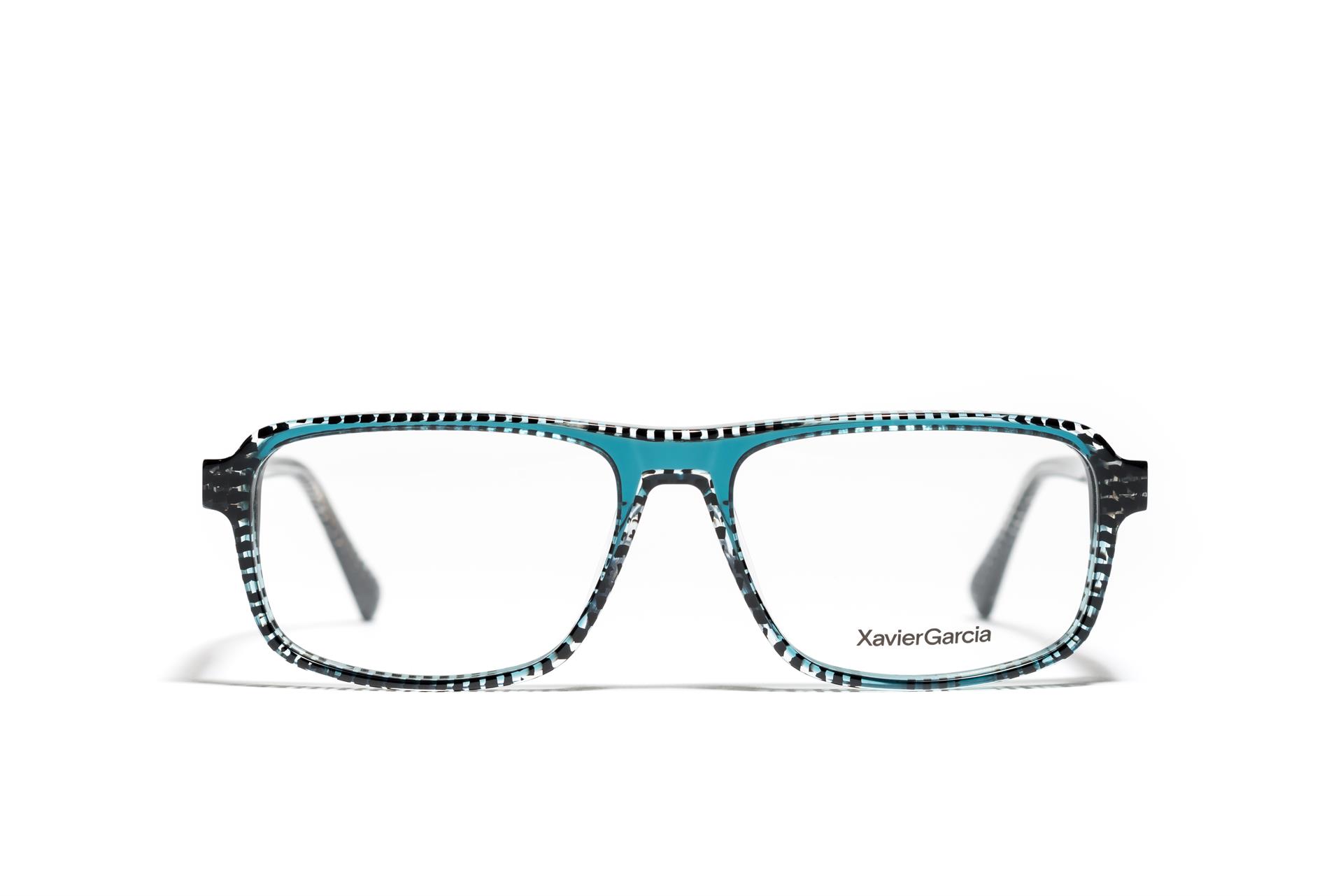 SUBTRACTION IS KEY
The new Collection 2019 by Xavier Garcia

The new collection by Xavier Garcia will be presented at Mido2019 is an exercise of synthesis and simplicity; the highest order of his craft.
The collection has 9 acetate models and 9 metal models.

The Acetate Collection goes back to the origins of Xavier Garcia's designs with cristal & bright color combinations, as a result: elegant combinations of laminates.

For a woman of spirit and class: CAMILA, octagonal funny and feminine shape with a young feel in a crystal & bright acetate combination.

For a man who likes clean shapes with a touch of color: XOSE, trendy rectangular shape with a youthful and sporty look. A sinuous combination in a crystal & fresh colours along the frame front.

The Metal Collection comes with harmonious combinations of satin color (sandblasting), 6 metal block models and 2 skin models very feminine.

ENEA, octagonal trendy shape with a youthful spirit. A metal block model in satin vibrantly-colours. This frame is perfect to embellish the look without neglecting elegance.

MOLINS, Round and elegant shape. The thickness of the metal is the main protagonist in a stylish rounded trend for both women and men.

Xavier Garcia's identity is in transformation. Subtraction is key. Archetypes, his inspiration. Clarity, his dogma.

THE 2019'S MOOD

The new campaign is a mirror of the new collection, the idea is to give sense to the images, to build a story and a context around them and, in turn, to bring the products to life. The office theme provided us with a recognizable space, characterized by minimalist features, clean lines and uniformity. From this space we created an abstraction, selecting key elements, such as a single chair or stool designed by VITRA, as props for the set. This kept the environment clean and simple, while we generated a story around the models.

The result is a perfect harmony between the new collection and the campaign bringing Xavier Garcia even closer to the world of fashion.
28 mai 2019
New Colecction 2019
Sunglasses SS19
The days are getting brighter and Nordic Projekt is in a summer mood already.
Want to share with you an aperitif of our new Sunglasses collection 2019 inspired in the beauty and charm of the Mediterranean coast.



Start thinking about the most stylish corner in your store
24 mai 2019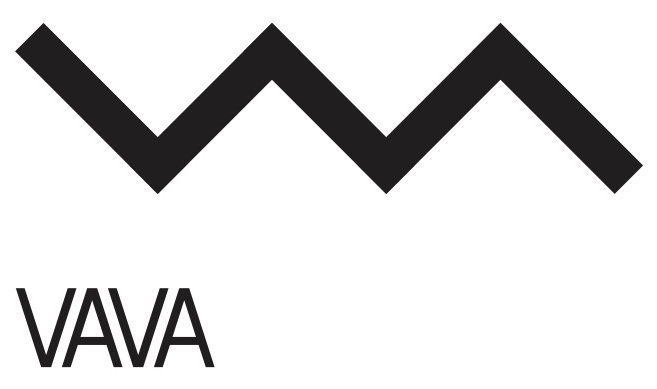 VAVA EYEWEAR | SPRING 2019 PREVIEW
THE NEW WL0017 MODEL

For the upcoming Spring 2019 Vava presents new eyewear from the White Label,
the more classical line which identifies with simplicity, cleanness and purity.
The WL0017 model surprises for its iconic square shape and it's made in cellulose acetate material
from the Italian brand Mazzuchelli.

VAVA is using their new and exclusive "eco-friendly" line M49. It is a Cellulose Acetate produced from cotton and wood-pulp fibres manufactured under a new formulation using substances from renewable sources.
It keeps all the aesthetical and performance characteristics of the traditional acetate.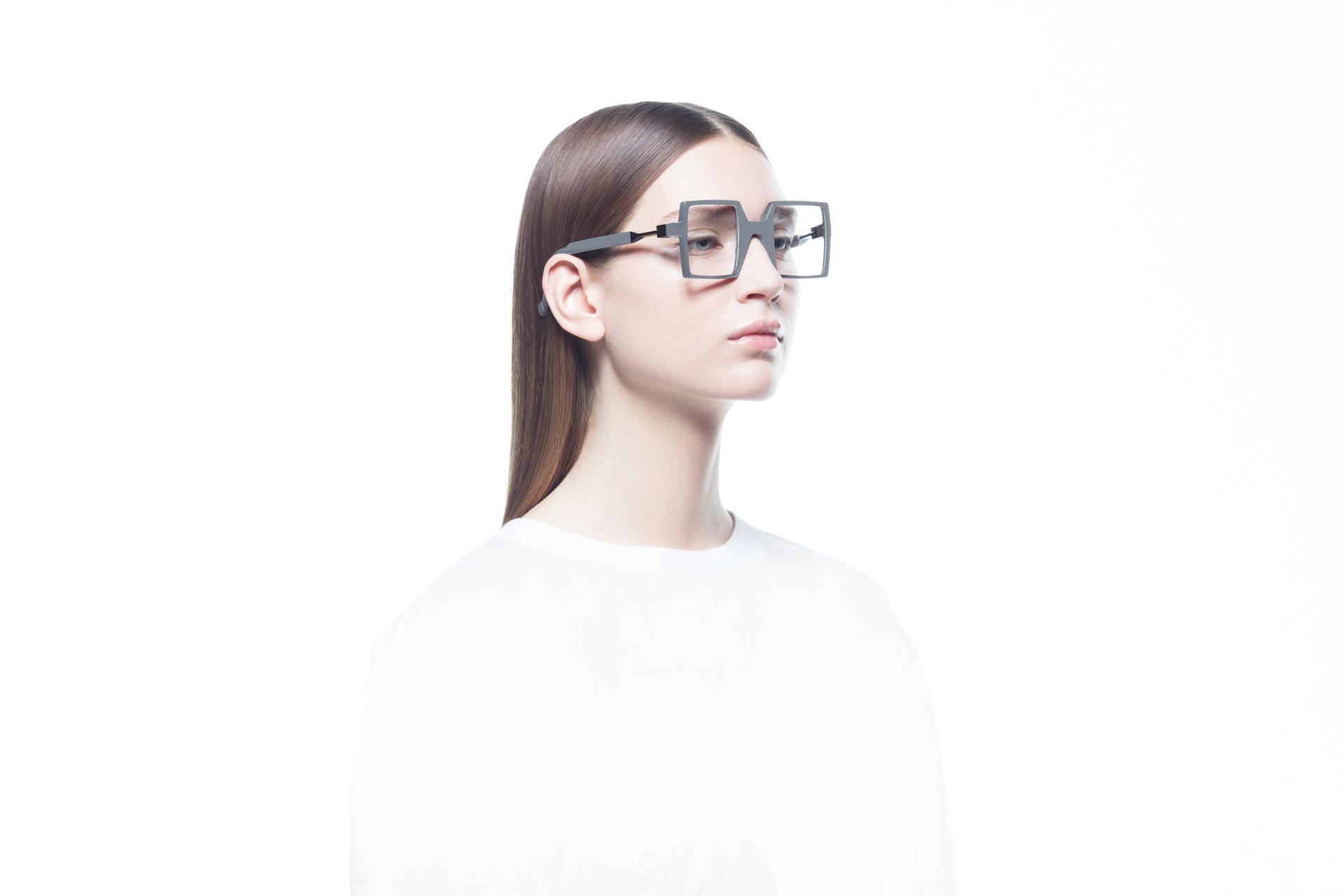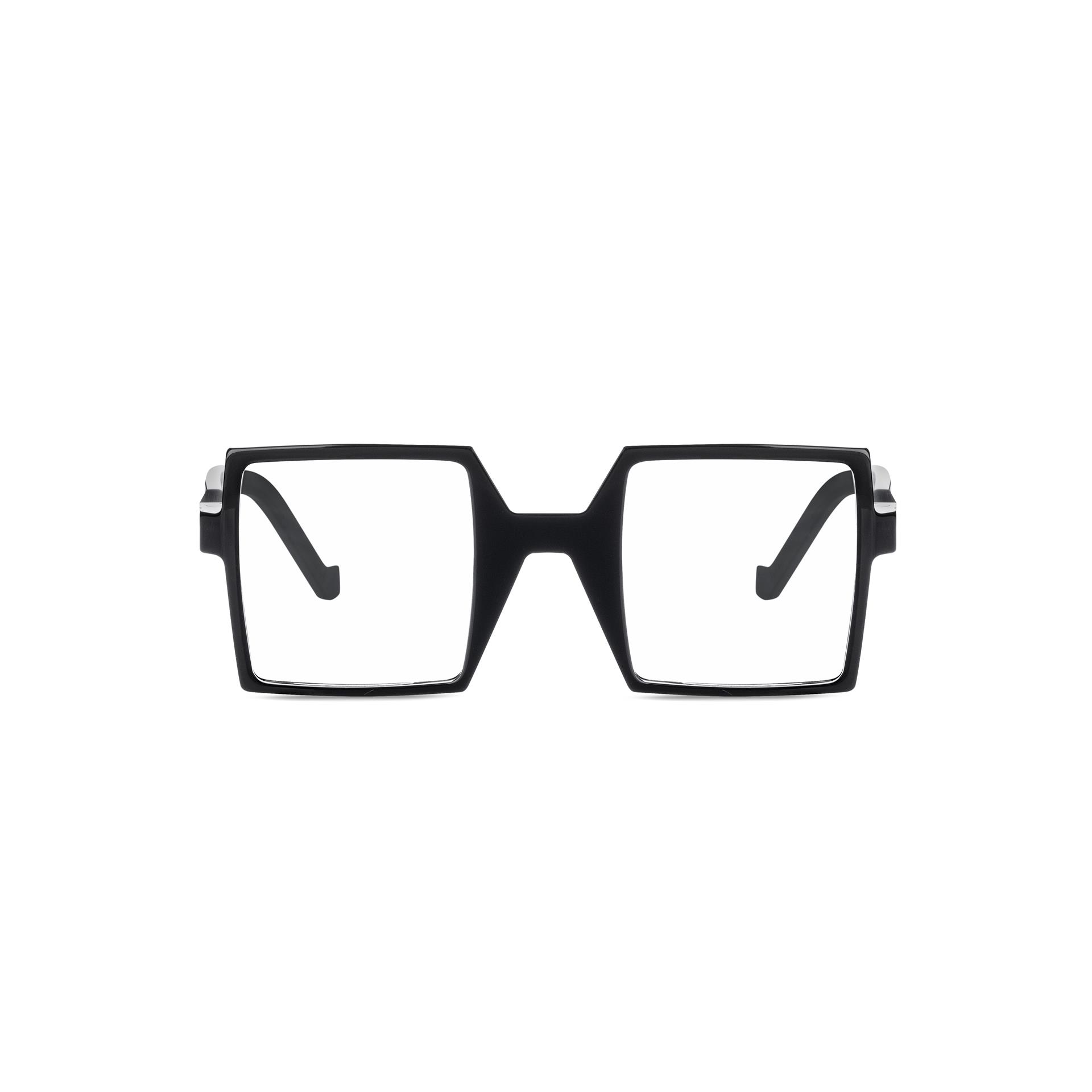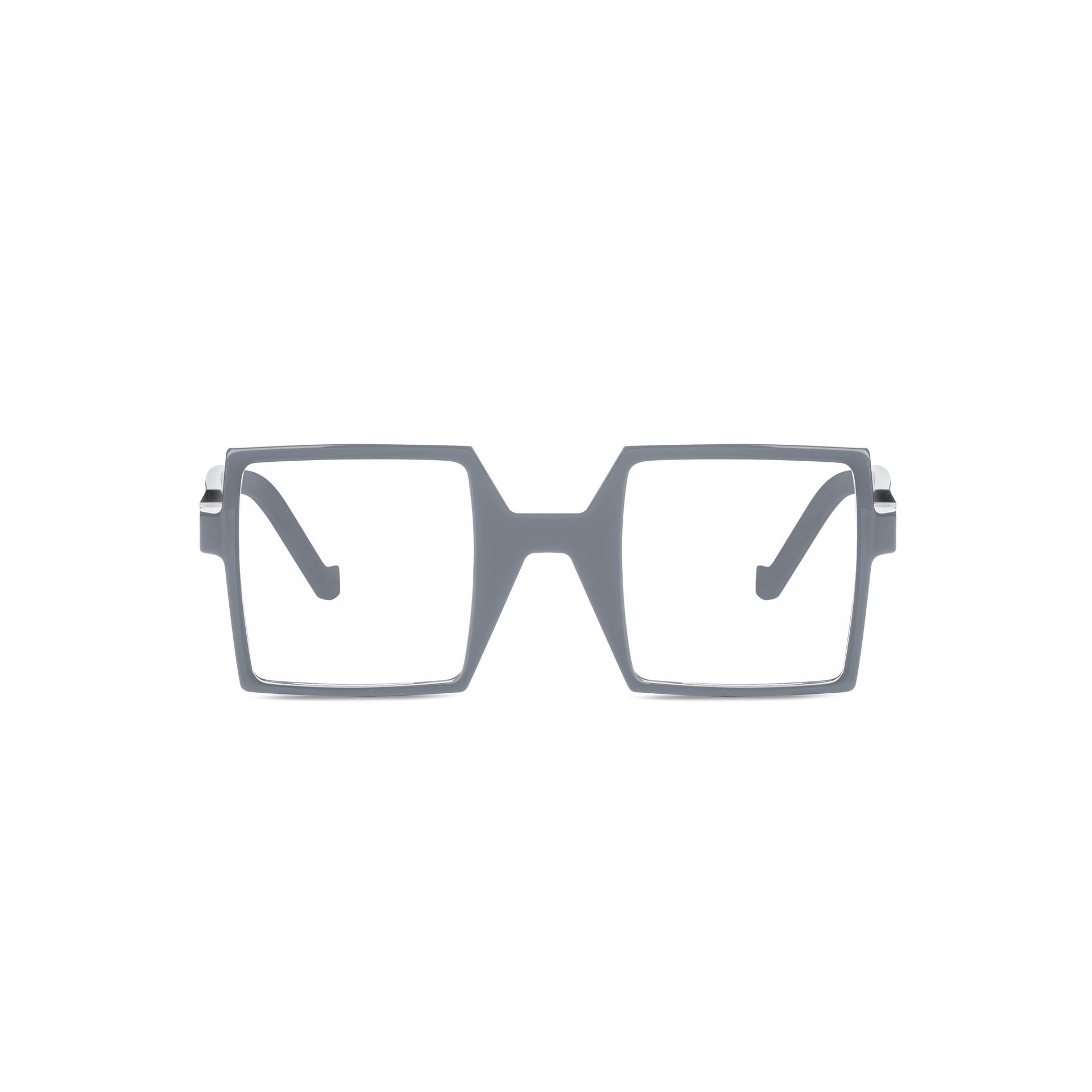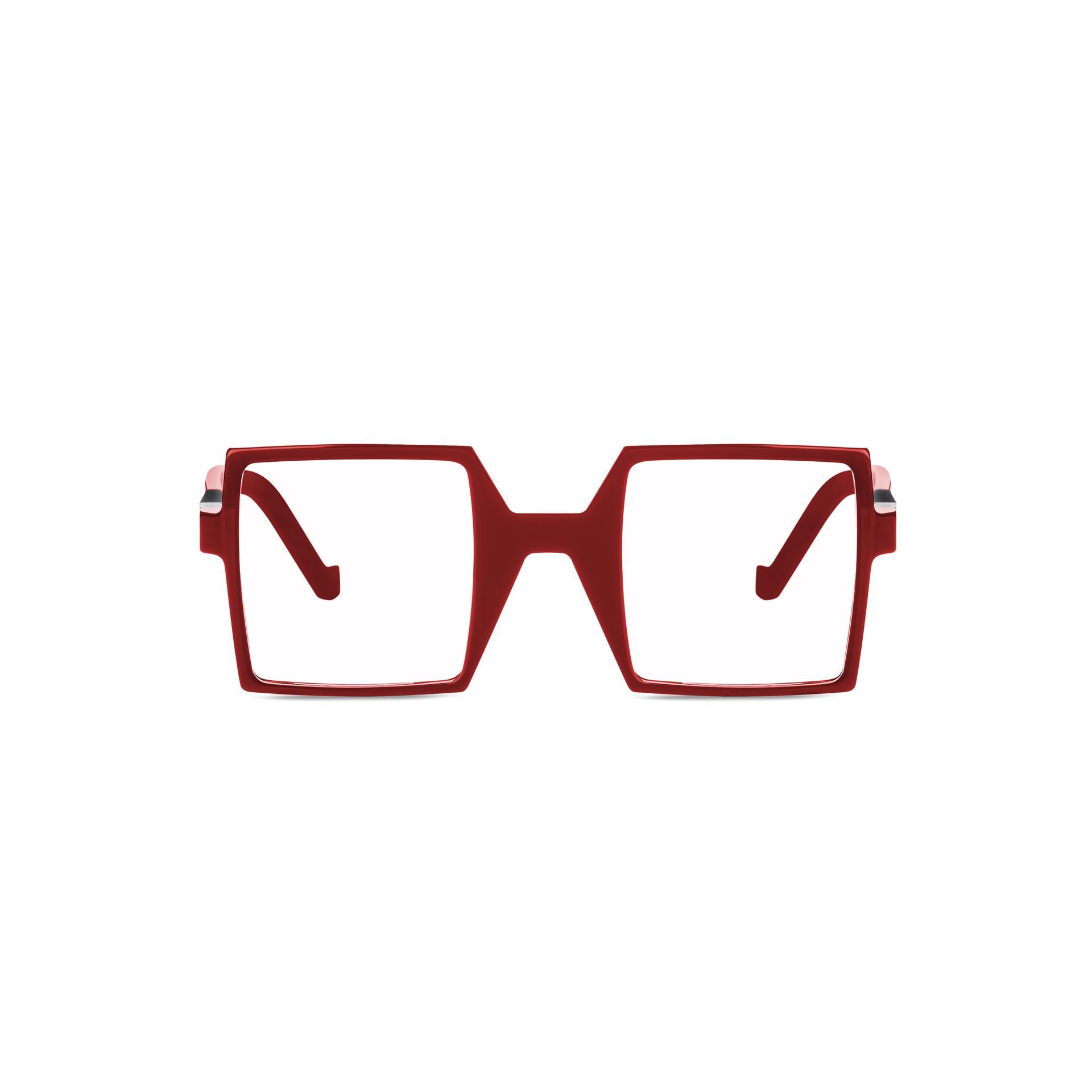 This frame is available in 7 outstanding colours:
Black, Red, Havana, Grey, Grey Matte, Light Grey, Light Grey Matte.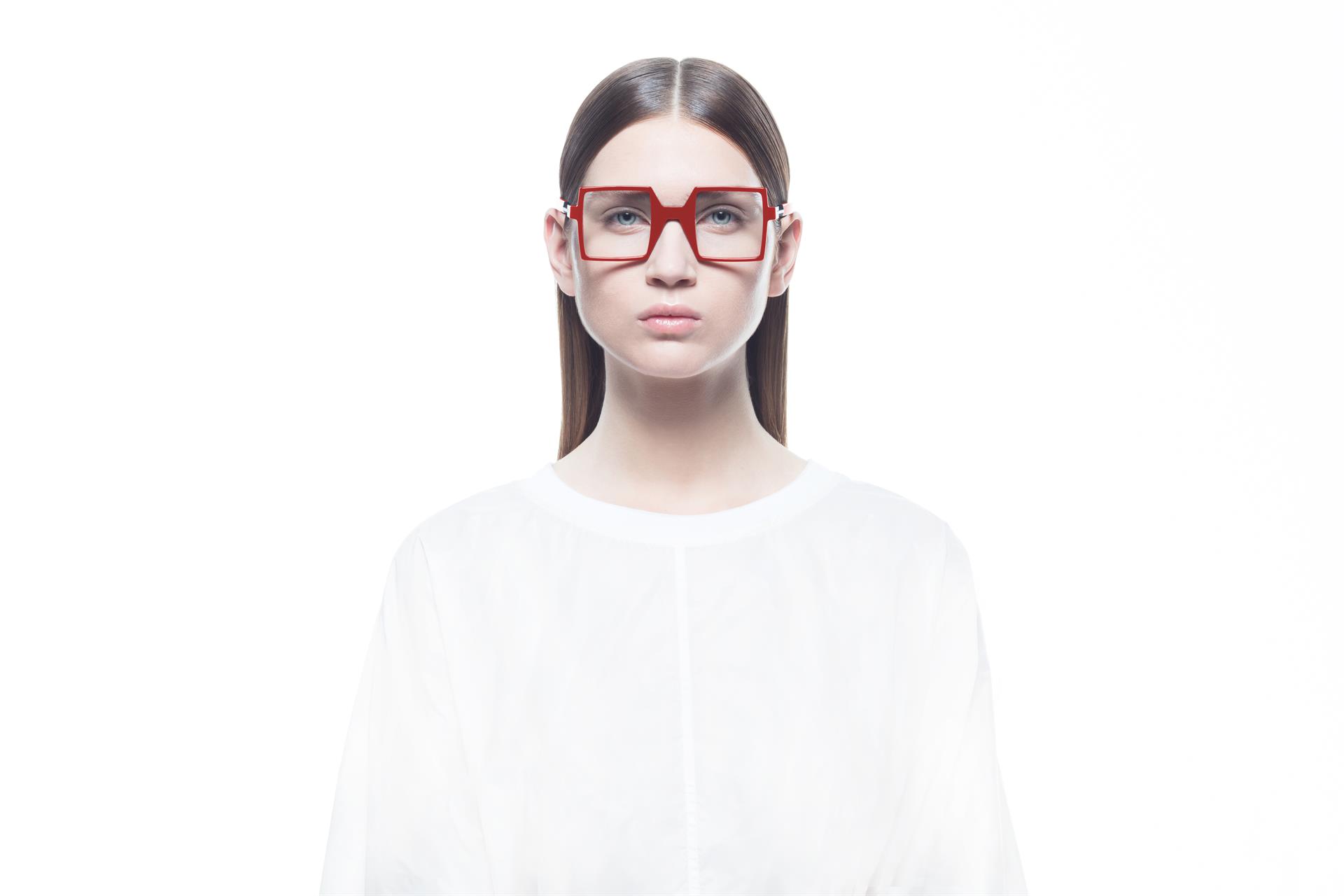 VAVA is very much inspired by Architecture and Industrial Design.

There is a strong interplay between the design elements involved in architecture / industrial design and VAVA designs.
We like to picture eyewear as an architectural design piece.
VAVA's glasses have a sophisticated, contemporaneous and urban look.
They are relaxed, subtly futuristic, conceptual and timeless.

VAVA designs are based in three principals: function, concept, design.
23 mai 2019
KLiiK denmark Spring 2019 Collection
Rich color combinations, custom design details and innovative materials are some of the elements that highlight the KLiiK denmark collection for Spring 2019. Inspired by Scandinavian design and key fashion influences, the collection offers a modern, minimalistic look for men and women requiring a narrow fit and with a strong sense of style.
Three new styles featuring unique patterns and colors are released this spring for women.
Style K-641 has a mono-block front witha fine laser etched irregular geometric pattern along the outer front edge and the temples. It is a modified round shape with a subtle cut down at the keyhole bridge for a vintage appeal. Finished in two-tone coloring, this style is available in color combinations of teal grey, black rose, brown gold and bordeaux black.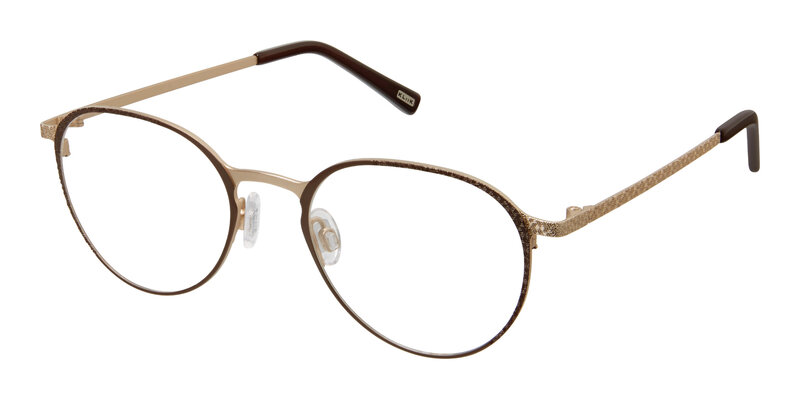 A twist on the round shape is semi-rimless style K-642. Ultra-thin and ultra-lightweight, this stainless steel frame is sandwiched in-between layers of TR-90 at the top of the rim. The bold color palette of orchid lavender, emerald green, nude gold and ocean black definitely stands out.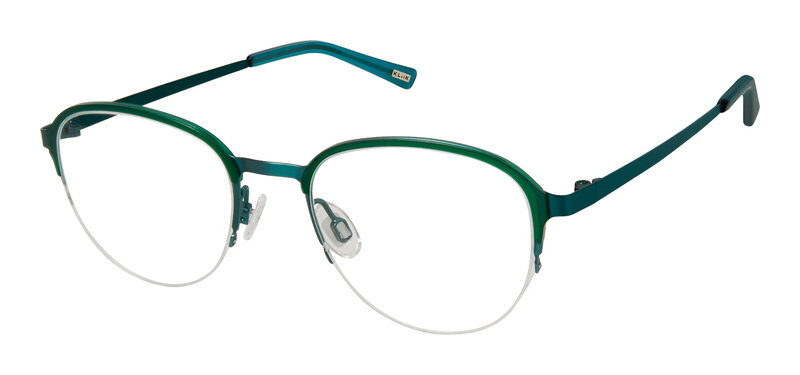 Style K-643 is detailed with a bright colored or glitter epoxy at the browline. The double cut down groove along the browline and the temples adds a subtle detailing to this modified square shape that comes in ink diamond, black gold, brown emerald and plum mauve.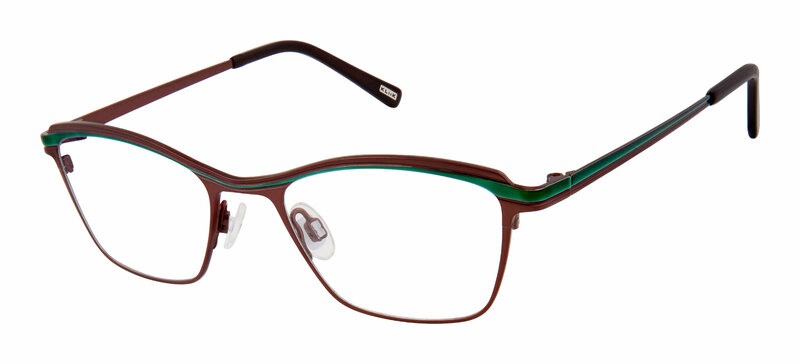 The three new releases for men feature different custom design elements.
Semi-rimless, rectangular style K-639 is a metal frame where the browline is sandwiched in-between layers of TR-90 to create depth. The cut out design on the browline completes the clean modern aesthetic of this style which is available in demi brown gun, grey gun and demi blue black.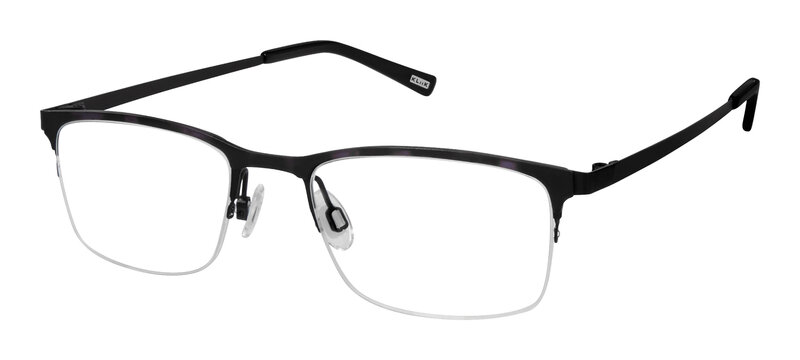 lii
With an ultra-thin profile, a square shape and a double bridge, style K-640 features a mono-block front with a pierced design detail at the end pieces. This super lightweight frame is offered in two-tone colorations including charcoal silver, black gun and brown black.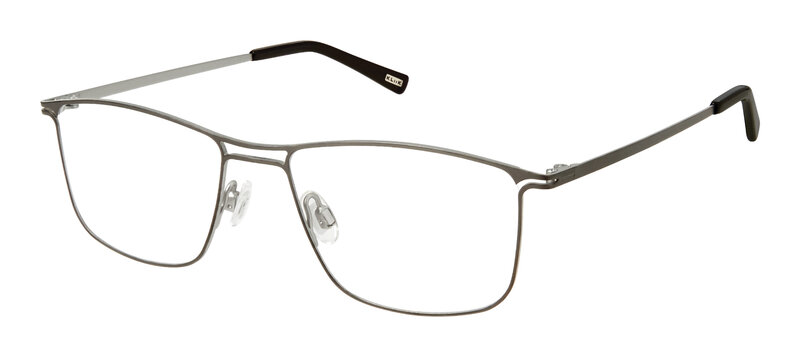 Retro inspired, style K-644 features custom laminated handmade acetate to create unique color combinations. Finished with a dropped bridge, this style is available in deep hues of amber stone, black tortoise and oak smoke.