12 août 2019

BELVIE SUMMER REVELATION:
YOU ARE WHAT YOU SUNWEAR
Belvie is an international eyewear brand born from the passion of Optika, a French optician with a 40-year history in the sector.
If you are a positive soul who gets enlightened by summer sun, the new Belvie silhouettes will get you covered! Each model presents one-of-a-kind colours and shapes able to express the very true nature of the wearer.
In French "belle vie" means "the good life" and people choose Belvie to feel part of the lighthearted cosmopolitan way of living with its cityscapes, exotic travels, cool cocktails and genuine vibes.
The key to shining in your new pair of sunglasses is to choose a model that really suits your lifestyle and your personality. Let's get it started: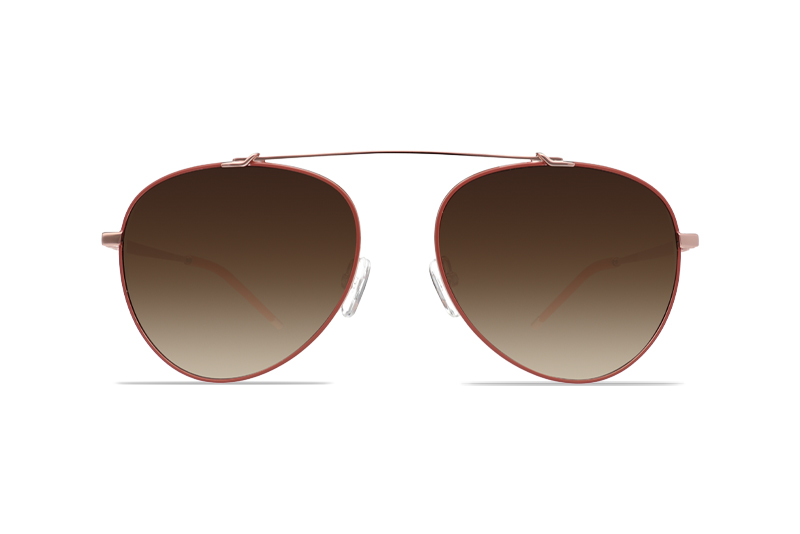 THE TOUGH BUT KIND AT HEART
Jeanne from Mode collection are sophisticated aviators with clear sporty touches and pink gold details that give this iconic model a feminine twist. For everyday soldiers that never give up on glamour.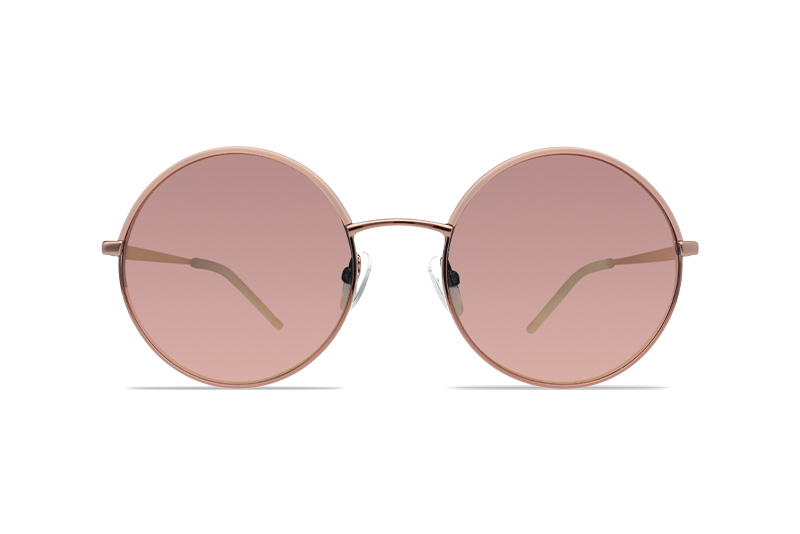 THE PINK VIBE INFLUENCER
Elena combines the hip and eclectic appeal of ultra-round glasses with the French "vie en rose" kind of lifestyle. For happy-go-lucky ladies that gently wink and think pink.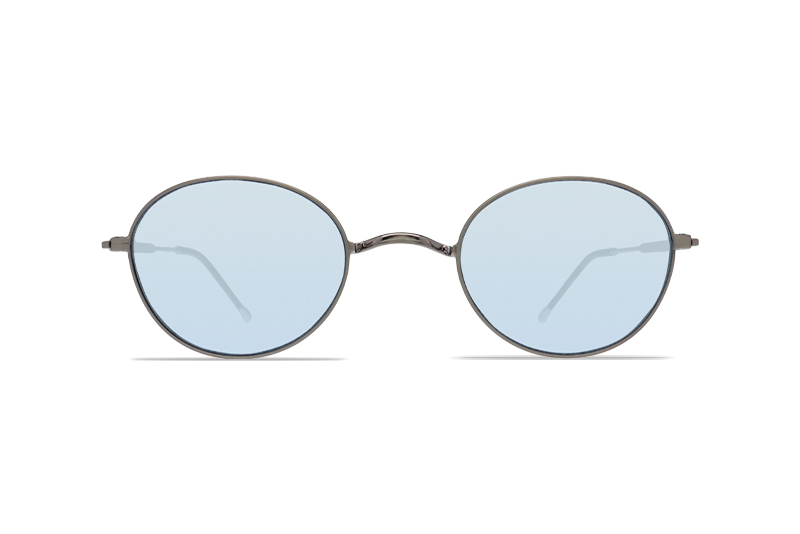 THE URBAN DANDY
If you like to explore the trendiest cocktail bars in town, Chaynce from Pur Collection is the way to go. The tiny frame with soft sky blue lenses will give you a delightfully idiosyncratic look. Get ready to steal the spotlight while sipping thirst-quenching drinks. Suitable for both ladies and gentlemen.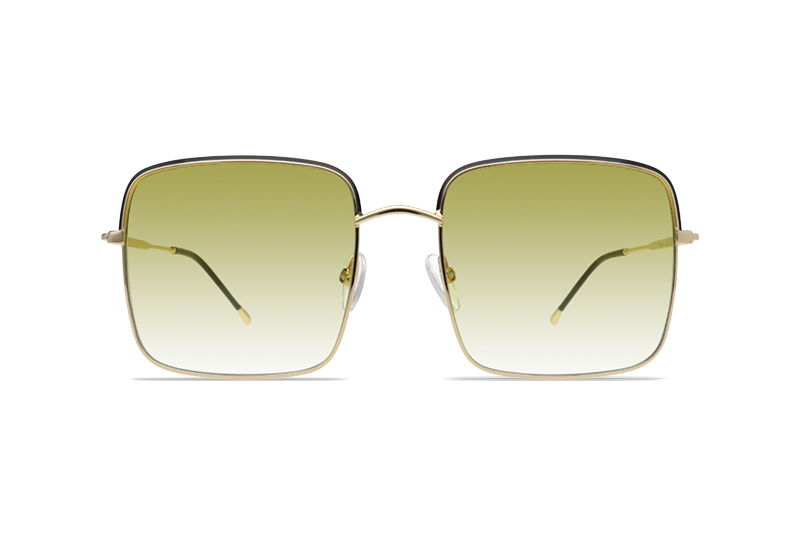 THE LAST DIVA ON EARTH
Eye-catching yellow glasses in the 70s mood with big square gradient lenses and a thin gold frame, flattering tanned skins. Hanna from Pur collection is a must-have for sassy queens who enjoy to dress up the classics.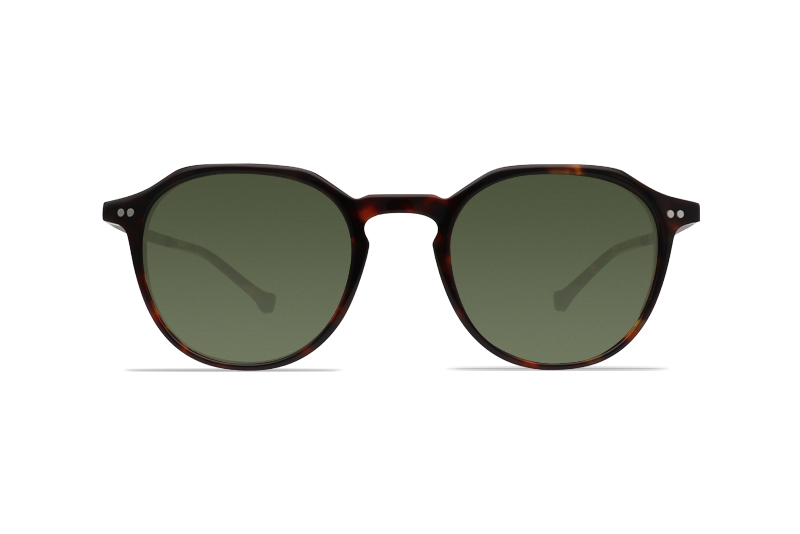 THE VERSATILE MILORD
Irrefutably charming tortoise-shell glasses with tinted lenses. The sharp geometric line on the upper part gives a contemporary flair to this retro-inspired round frames. Nicolas Tort from Echo collection will take you from office to beaches at ease, adding a timeless allure to any kind of ensemble.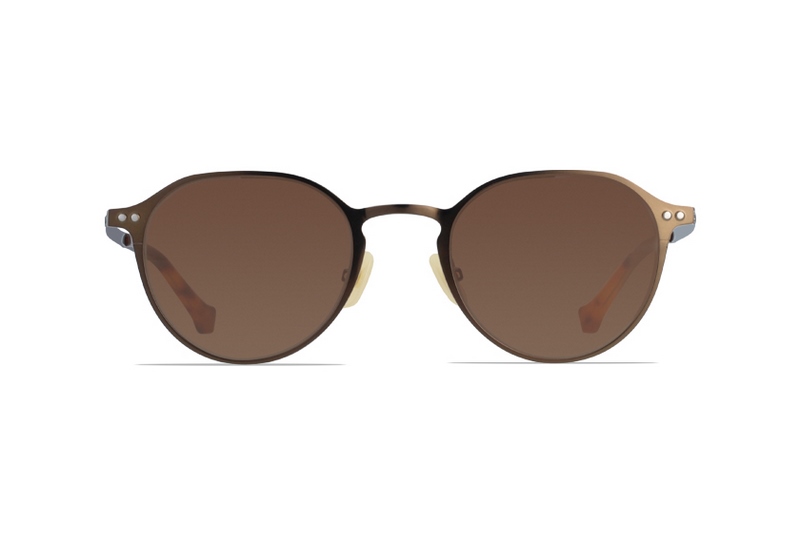 THE CLASSY EXPLORER
Featuring slender acetate rims and wide tone-on-tone lenses, Coty from Echo collection is a sophisticated interpretation of vintage rounded frames.
From St. Tropez to Tahiti, the warm brown shades make this pair a perfect match for stylish holiday outfits.
Belvie portfolio includes a wide variety of handmade optical frames and sunglasses recognizable for their top quality and cutting-edge design.
Discover more at: https://www.belvieoptical.com
06 août 2019
Bon Vivant – A Little Flower Power!
Ogi Eyewear is happy to share a few floral additions to their Bon Vivant collection. With summer in full bloom, Ogi has explored brand new colorways and use of detailing throughout these styles.
Constance
The Constance spreads its wings with expressive detail to entice any lucky enough to catch a glance. With crystallized acetate, this blush-hued beauty contains finite and intricate floral stamped details throughout the horn. With a nod to past gothic influence, the Constance knows no bounds.

Jolee
The Jolee greets with an approachable touch of pure glamour. Floral in nature, a kiss of blush is brought to this delicately crafted frame. The rosey crystal cateye is expertly peppered with misty greys and dramatic black patterns. There is a tale to be told here and the Jolee takes its time, engaging and delivering at every angle.
Mirabelle
Soft and sweet clashes with a hodge podge of pattern; the Mirabelle has arrived. Alive with color, the cleanly cut top half and temple of this frame plays with a free form array of complimenting hues and blends. With an accented hinge piece that pops through the colorful display, the Mirabelle will never go unseen.
26 juillet 2019
SCENES DE VIE avec BEN & MAX
Père & Fils
ILS PARTAGENT LA PASSION DU SPORT AUTOMOBILE !
Dans la série #ScènesdeVie chez #OKObyOKO, il est toujours question d'amour, d'amitié, de partage et de passion. Sinon, pourquoi la vie vaudrait-elle la peine d'être vécue ? Petit résumé des épisodes précédents…
Dans l'épisode 1, on faisait connaissance avec les deux meilleures amies #NIKITA & #STELLA en mode #BFF prêtes à se lancer dans la vie d'adulte !
L'épisode 2, quant à lui, nous relatait l'emménagement du couple trentenaire #EMILE & #ROSE, amoureux, libres, ils peuvent enfin vivre ensemble et s'installer dans leur premier appart' !
Le pitch de cet épisode 3, #BEN & #MAX Père & Fils partagent une même passion qui les entraîne parfois au bout du monde, le sport automobile ! Rien de tel que ce lien très fort pour vibrer et partager les mêmes émotions.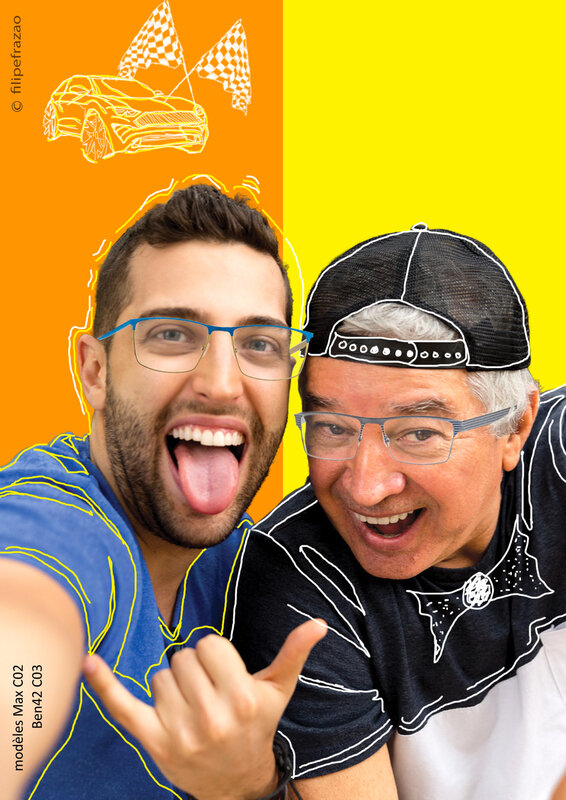 BEN42... Elle a tout d'une grande ! Comme sa petite sœur la BEN41 – mais en version over-size - elle rend hommage aux formes masculines classiques et conventionnelles de la lunette tout en leur apportant une touche de modernité. C'est cette dualité qui a fait de cette collection BEN un succès depuis les débuts et que la marque souhaite pérenniser modèle après modèle. A première vue sage et conventionnelle, la BEN42 affiche un look contemporain grâce à un contraste bicolore acier sur acier incisé coloré et interpelle les porteurs de verres progressifs !
MAX… Se distinguer, marquer sa différence et afficher sa personnalité via un accessoire savamment choisi. Max peut vous aider ! Un look over-size, une face bicolore haut/bas où l'acier est subtilement coloré avec des combinaisons fraîches et originales, le tout structuré par un aspect métal monobloc. Une véritable affirmation de soi.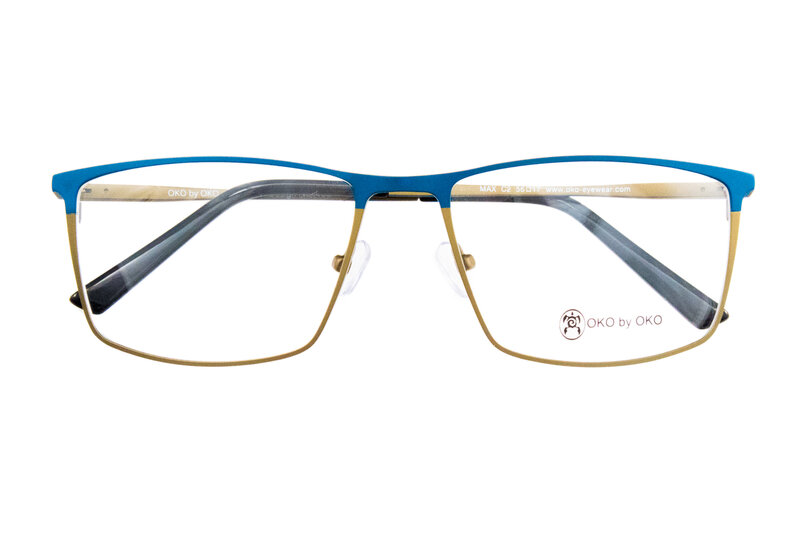 Et là, on réalise l'évidence : tout est consciemment et élégamment décalé, comme si la marque donnait vie à ses idées et à ses créations en ne pensant qu'à une chose : permettre au porteur de se révéler et d'oser afficher sa personnalité.
OKO by OKO Paris – créateur de lunettes pour tous depuis 1999.
#okobyoko #gooddesignforgoodpeople #inokowetrust #fromokowithlove
25 juillet 2019

NIRVAN JAVAN METAL EYEWEAR COLLECTION
FOR A STYLISH SUMMER
July 2019 – Summer is synonymous with relaxing, having fun and parties. Why not see it with style? NIRVAN JAVAN, the Swiss brand with the same name as its designer, Nirvan Javan, proposes a selection of metal models for its BECAUSE I CAN optical range and SHADE 19 sunglass range as the must-have accessory for the hottest season of the year.
The purity of the lines, the high quality of the materials and the contemporary styling make the metal models the perfect accessory to bring out the natural beauty of those who wear them.
BECAUSE I CAN is the campaign slogan that accompanied the collection launch, and which is inspired by the designer's story: everybody should be motivated to live their dreams and believe in themselves. An intense pursuit of perfection dedicated to all those who want to live a contemporary style for a timeless elegance.
The range is available in four colours, all in an opaque finish: gold, rose gold, silver and black
OPTICAL COLLECTION
NJE 25 (RG1)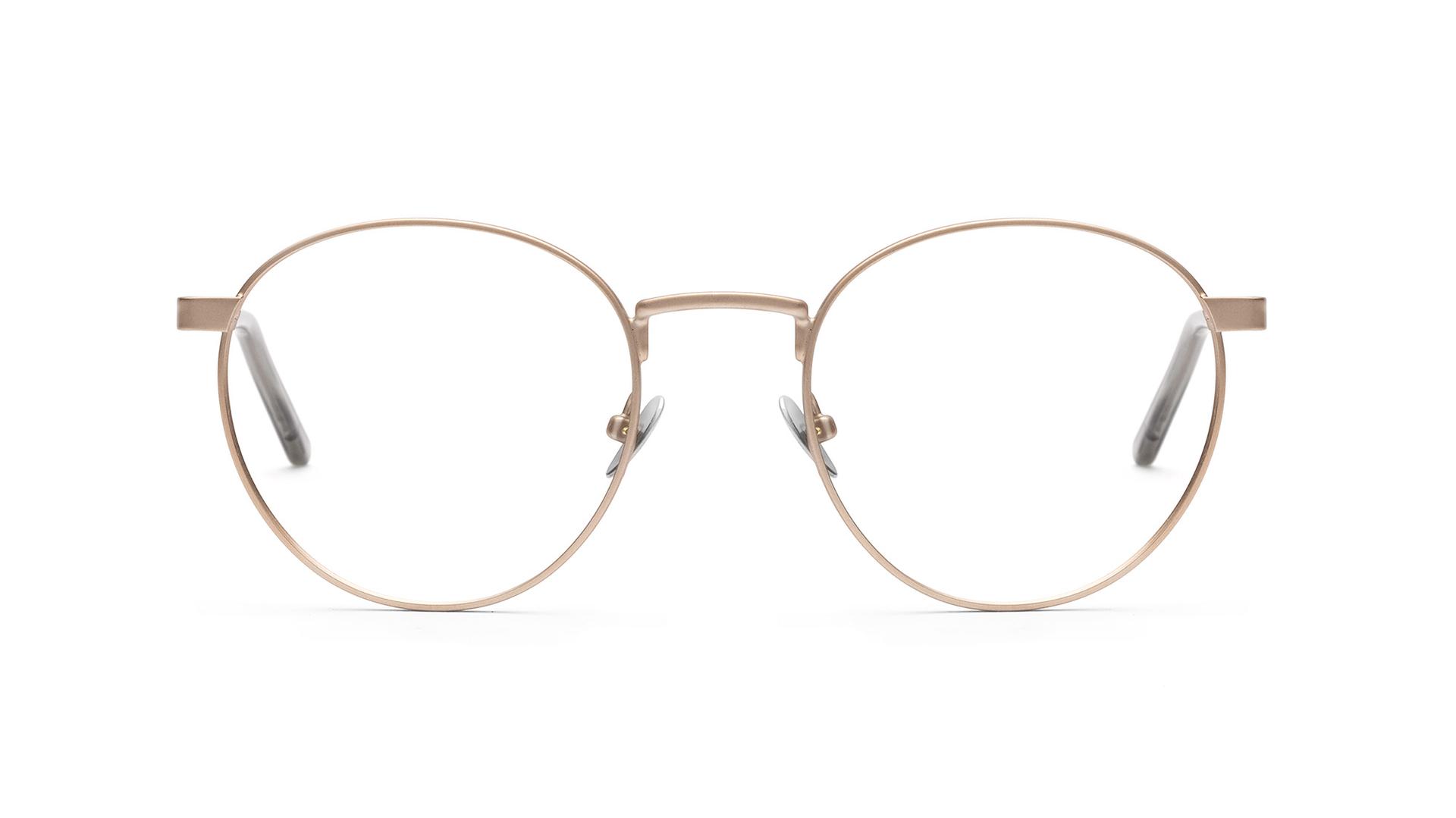 Frame with a large, round shape reminiscent of bohemian style. The vintage lines and the shades of gold emphasize the refined and subdued elegance, emblem of the Swiss brand. The extraordinary quality and resistance of the metal make the frame perfect for the hectic lifestyle of the contemporary man. Also available in black, gold and silver.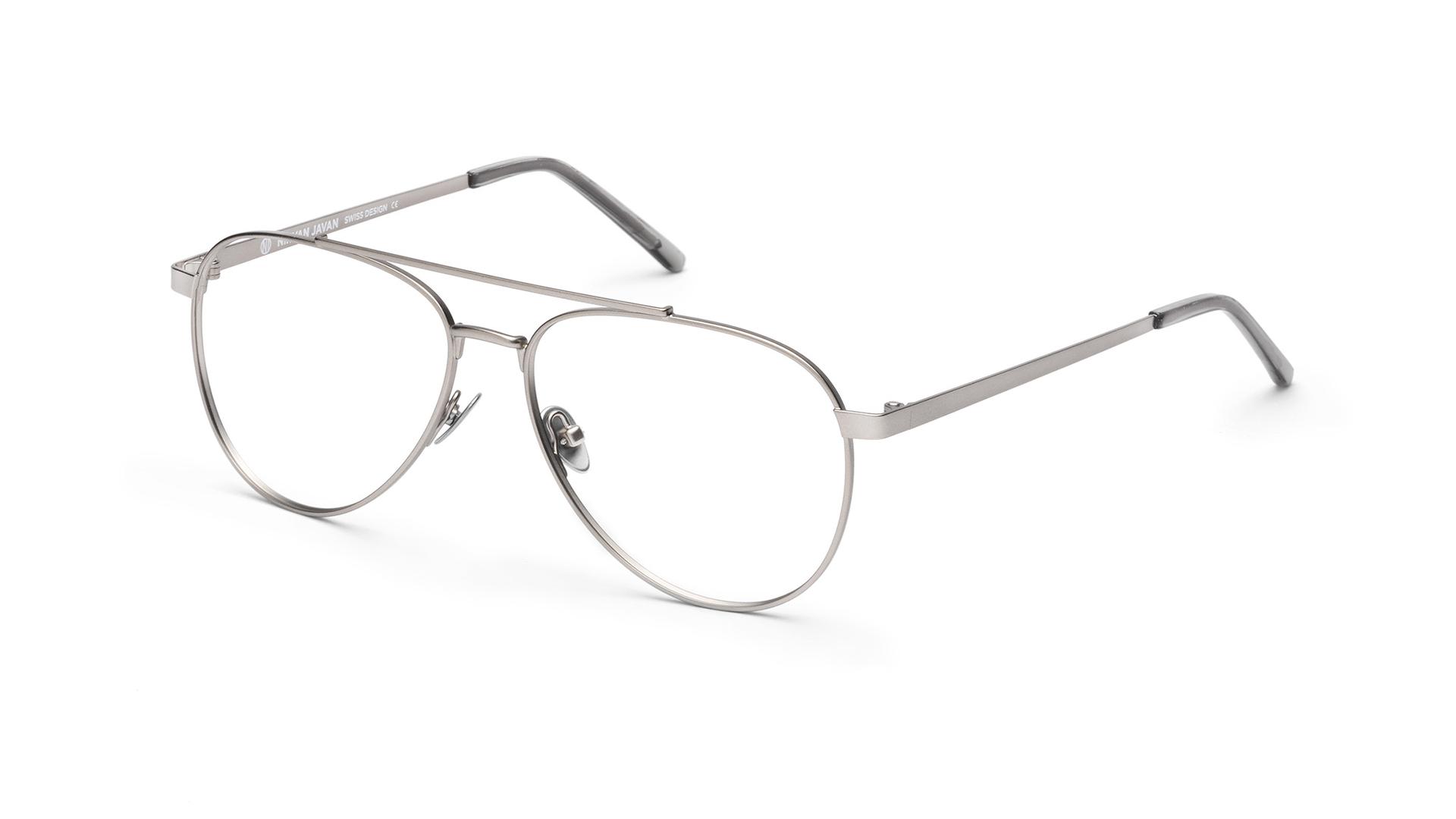 A traditionally masculine frame appears here in a new, elegant and refined interpretation thanks to a choice of colours ranging from silver rose and rose gold to black and gold.
The SHADES 19 sunglasses use Carl Zeiss lenses with anti-reflective coating and every model includes a polarised version. The colours chosen are in line with the brand's identity, starting with the simple and elegant through to lighter, more fashion effects. Every single frame has its own combination of lenses thus guaranteeing a perfect stylistic balance.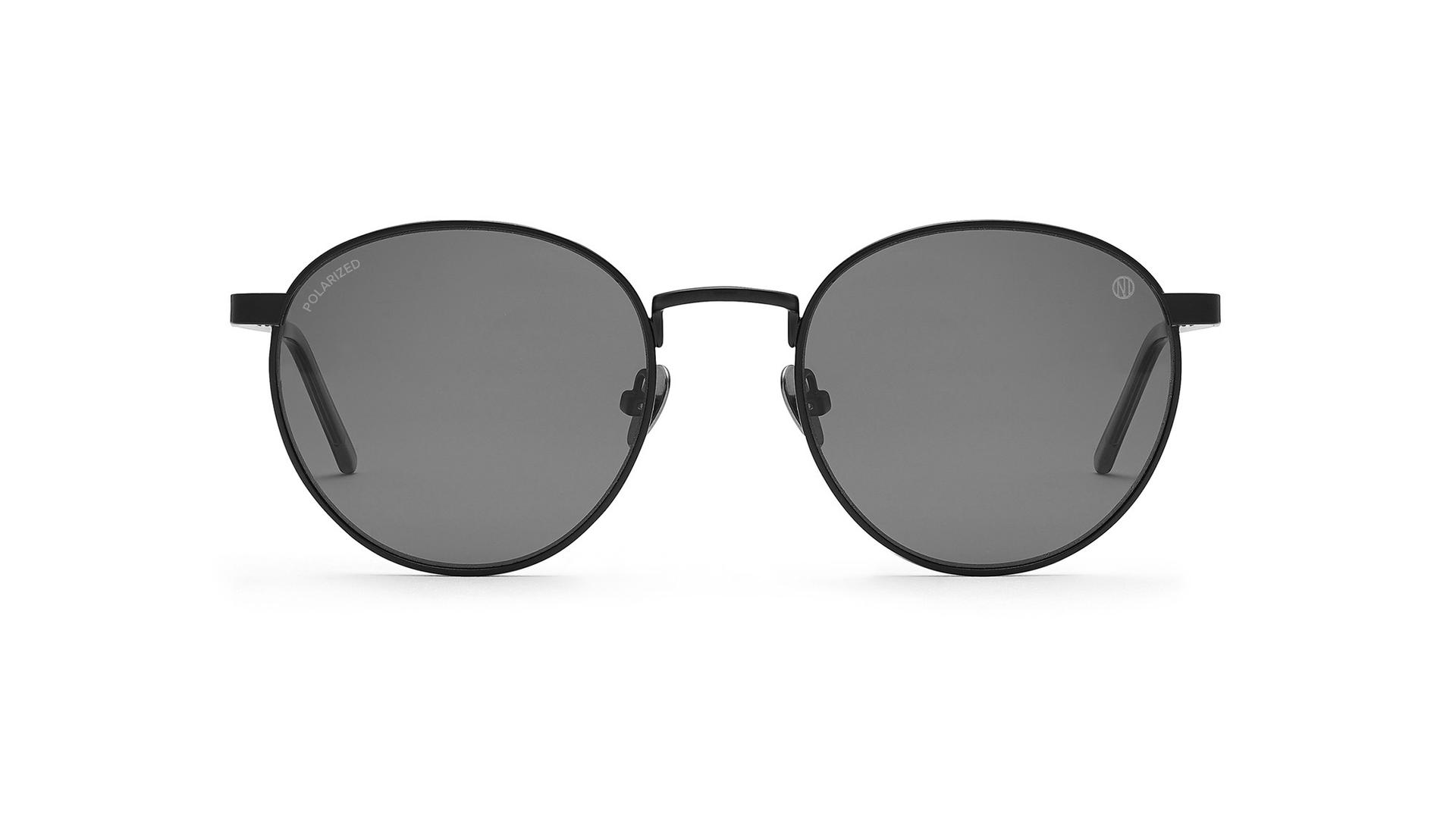 These round sunglasses represent the timeless classic style, remastered in a contemporary way. It's available in 4 colors: Black, Silver and two different Gold
NJE-S 10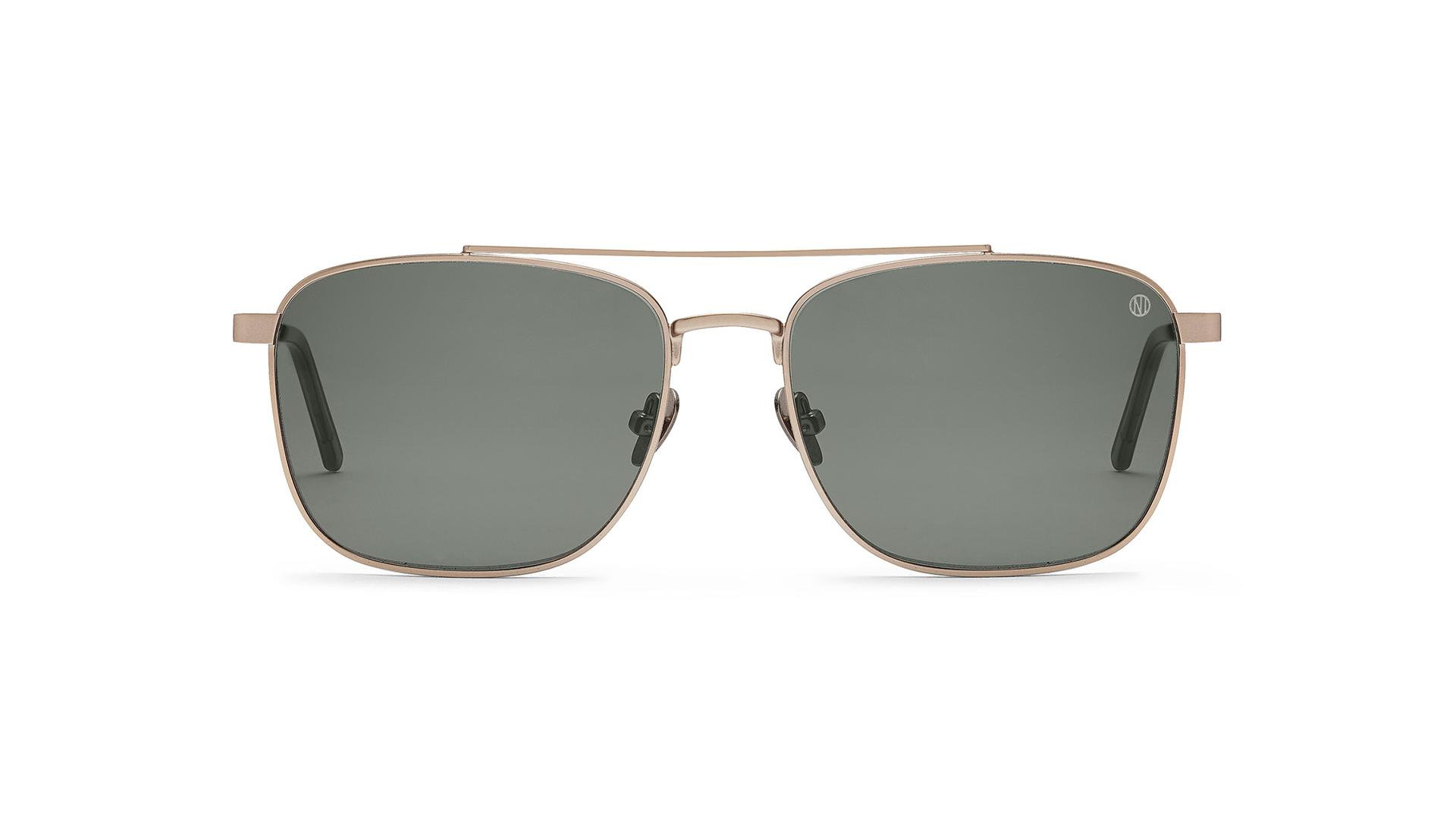 This square-shaped navigator model is perfect for those who embrace nostalgia, but at the same time want to keep up with the latest trends. It's available in 4 colors: Black, Silver and two different shades of gold.
NJE-S 11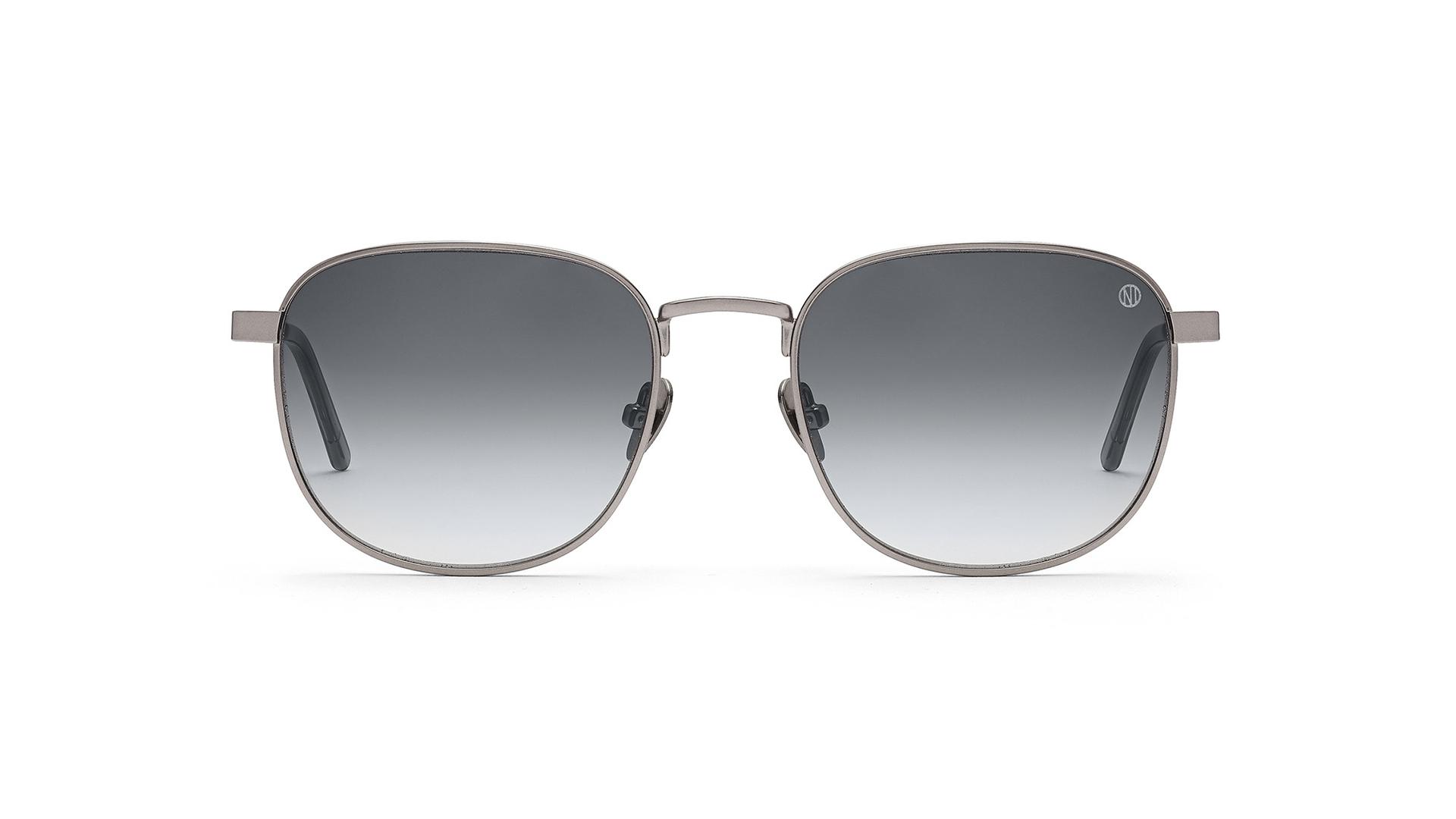 A slender, square shape designed to adapt to every situation. A classic style that one doesn't easily tire of. Available in 4 colours: Black, Silver and two different shades of Gold.
A selection of the SHADES 19 by NIRVAN JAVAN models is featured in the Summer magazine by BELDONA, leading Swiss lingerie and swimwear brand – a collaboration also aimed at promoting Swiss Made design.
The NIRVAN JAVAN, campaigns, collections and news are available at www.nirvanjavan.com and on Facebook, Instagram and YouTube.
22 juillet 2019

THE STORY
Traveling across Latin America by bike and supporting business creation through solidarity financing? This is the challenge accepted by Anne and Marie-Eve, both of whom have devoted their gap year to this project. Solidarity financing consists of providing access to credit to those excluded from the usual and formal financial services. It's credit based on trust because Microfinance Institutions (MFIs) do not require a bank guarantee. This credit is granted to people who want to start their own business; MFIs then offer to assist and train them.

For six months, Anne and Marie-Eve traveled more than 6,000 km by bicycle between Colombia and Argentina. They went to meet microfinance institutions and micro-entrepreneurs to promote this very effective financing solution. Thanks to this means of transport, they were able to meet typical local communities, share, discover the world and learn about themselves and others.

This project took place in four stages: identifying local institutions specialized in microfinance; supporting entrepreneurship by providing financial support; meeting with institutions and entrepreneurs and, finally, sharing their stories.

A real challenge for these two go-getters! Discover their No Ordinary story.
nce
19 juillet 2019
KOMONO x Tomorrowland capsule
For the 4th consecutive time, KOMONO and Tomorrowland team up in the creation of a dedicated capsule collection. A celebration of a double anniversary, 10 years for KOMONO and 15 years for Tomorrowland, the collection is its most diverse and daring collaboration yet.
The KOMONO x Tomorrowland eyewear collection reinterprets one of KOMONO's bestselling sunglasses and adds a bold new geometrical style. Perfected in metal, the eyewear collection adds reflective gold and bright pink lenses to dark grey and blush frames. Each item is inscribed with ''live today, love tomorrow, unite forever''.
For more information about KOMONO, please visit www.komono.com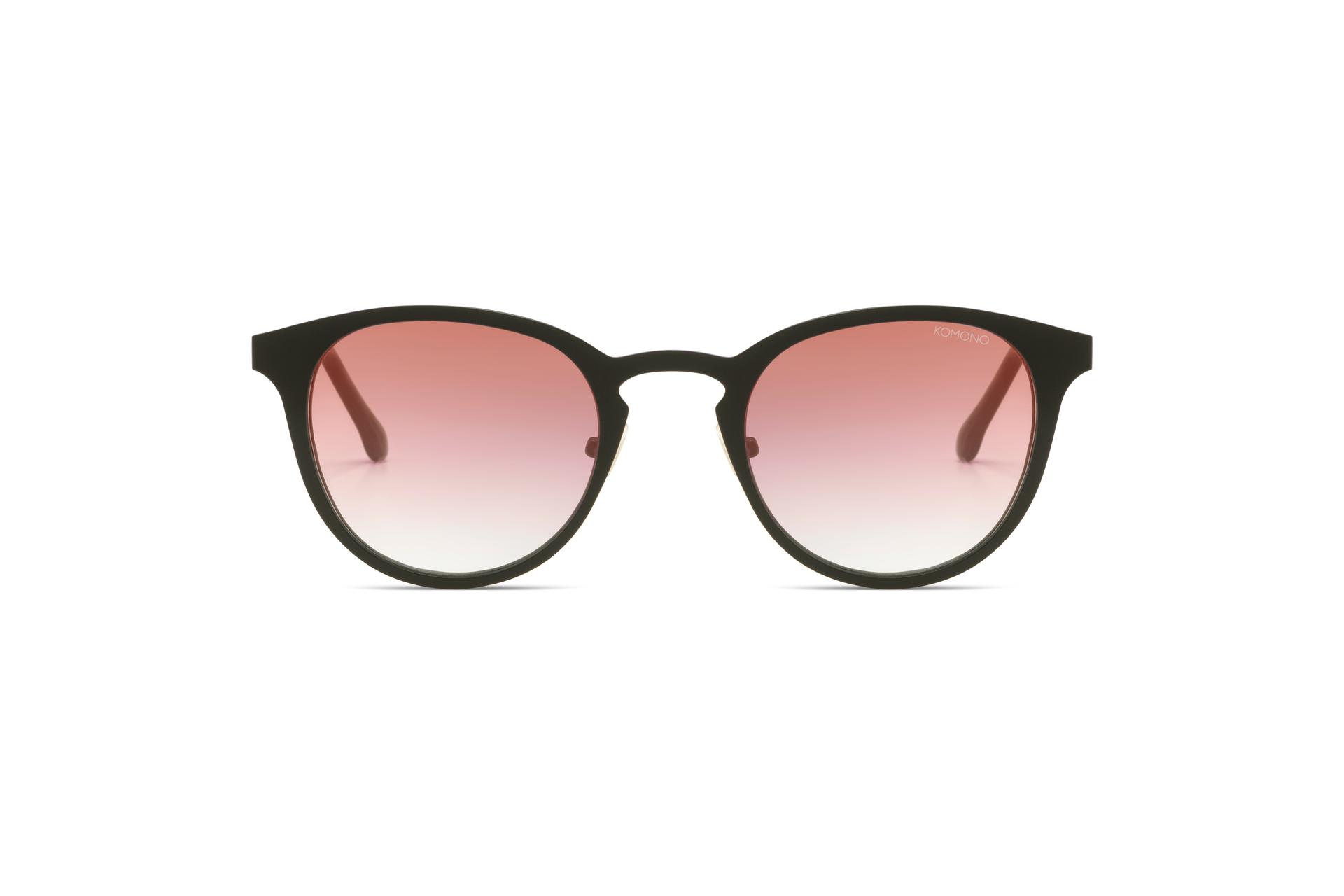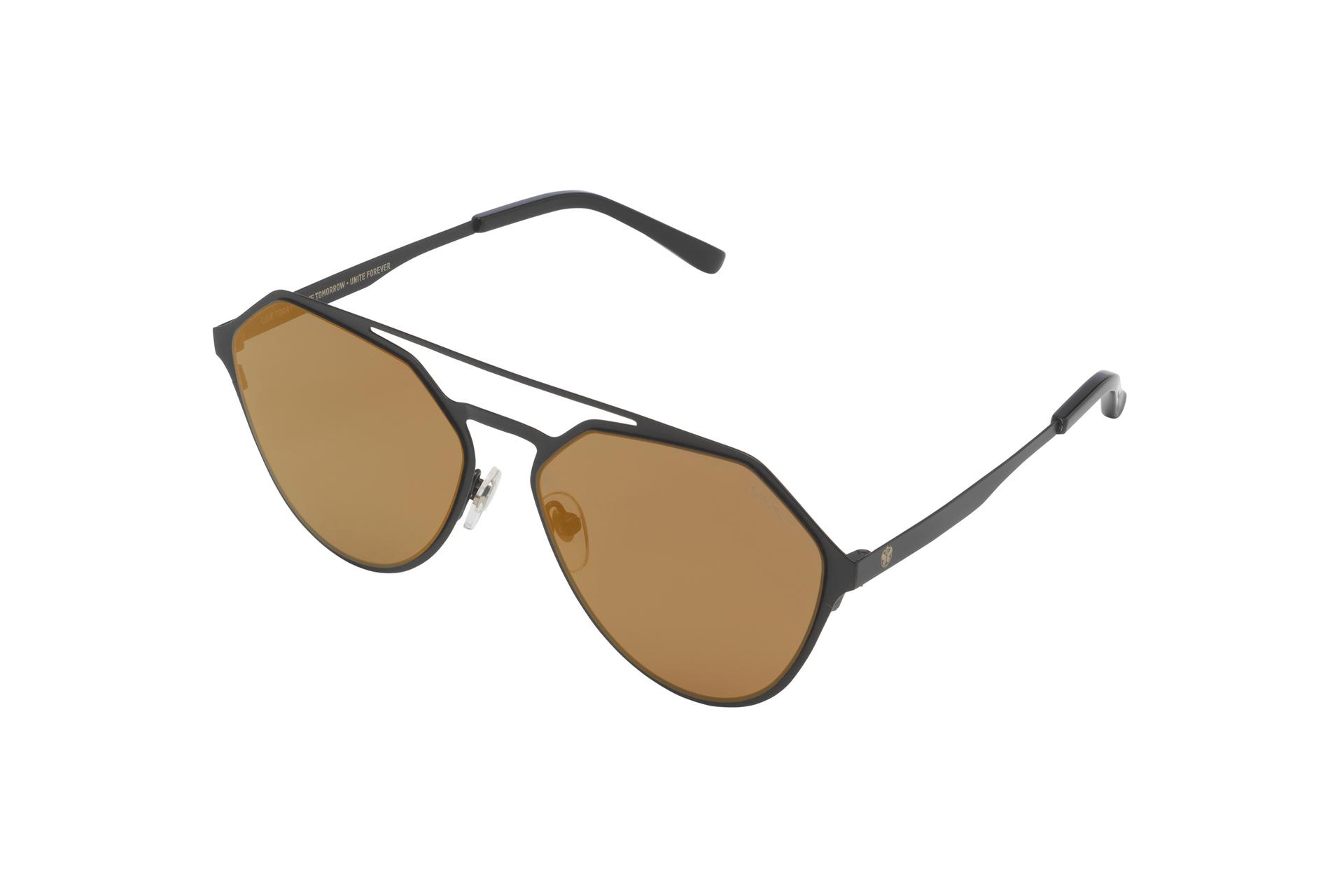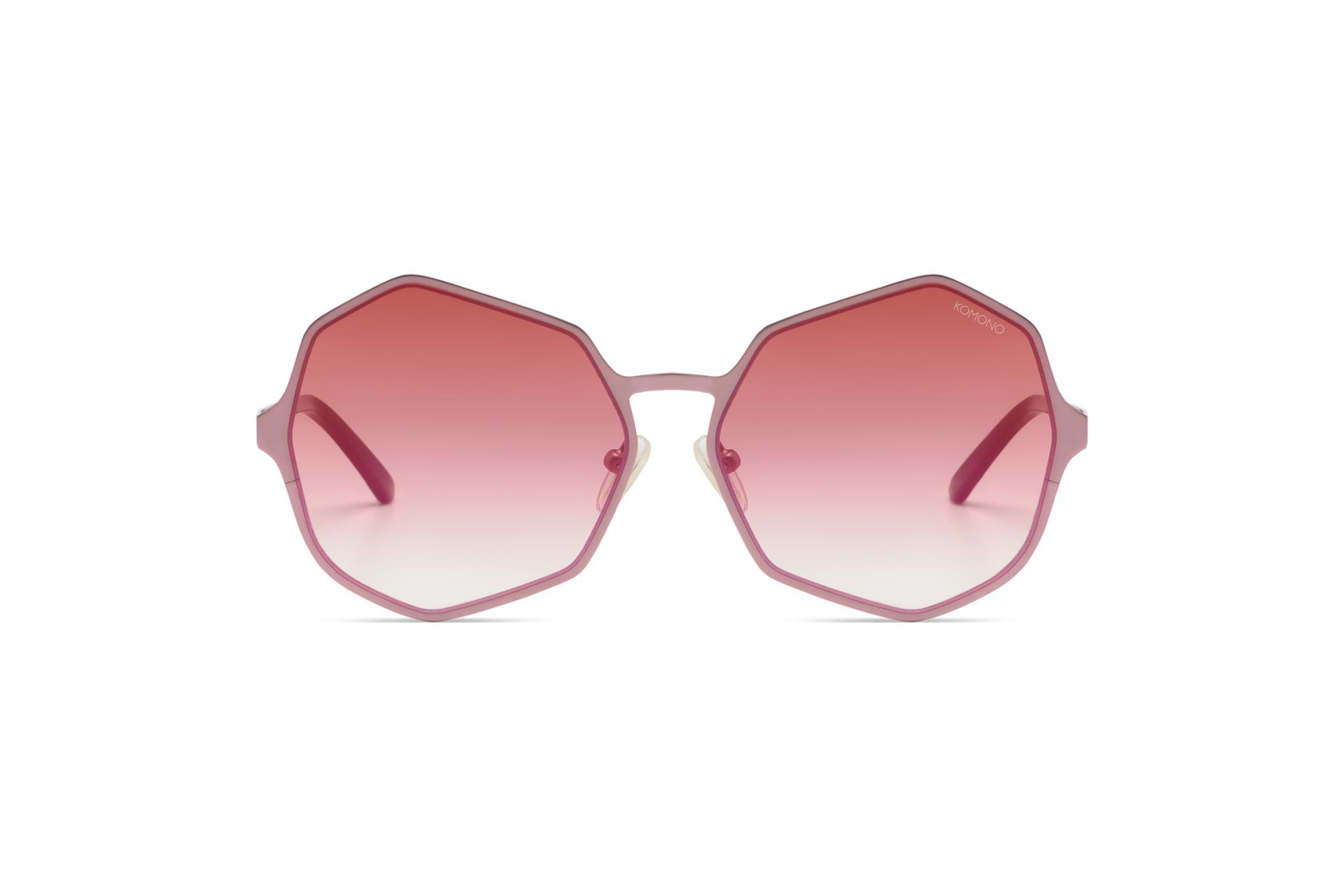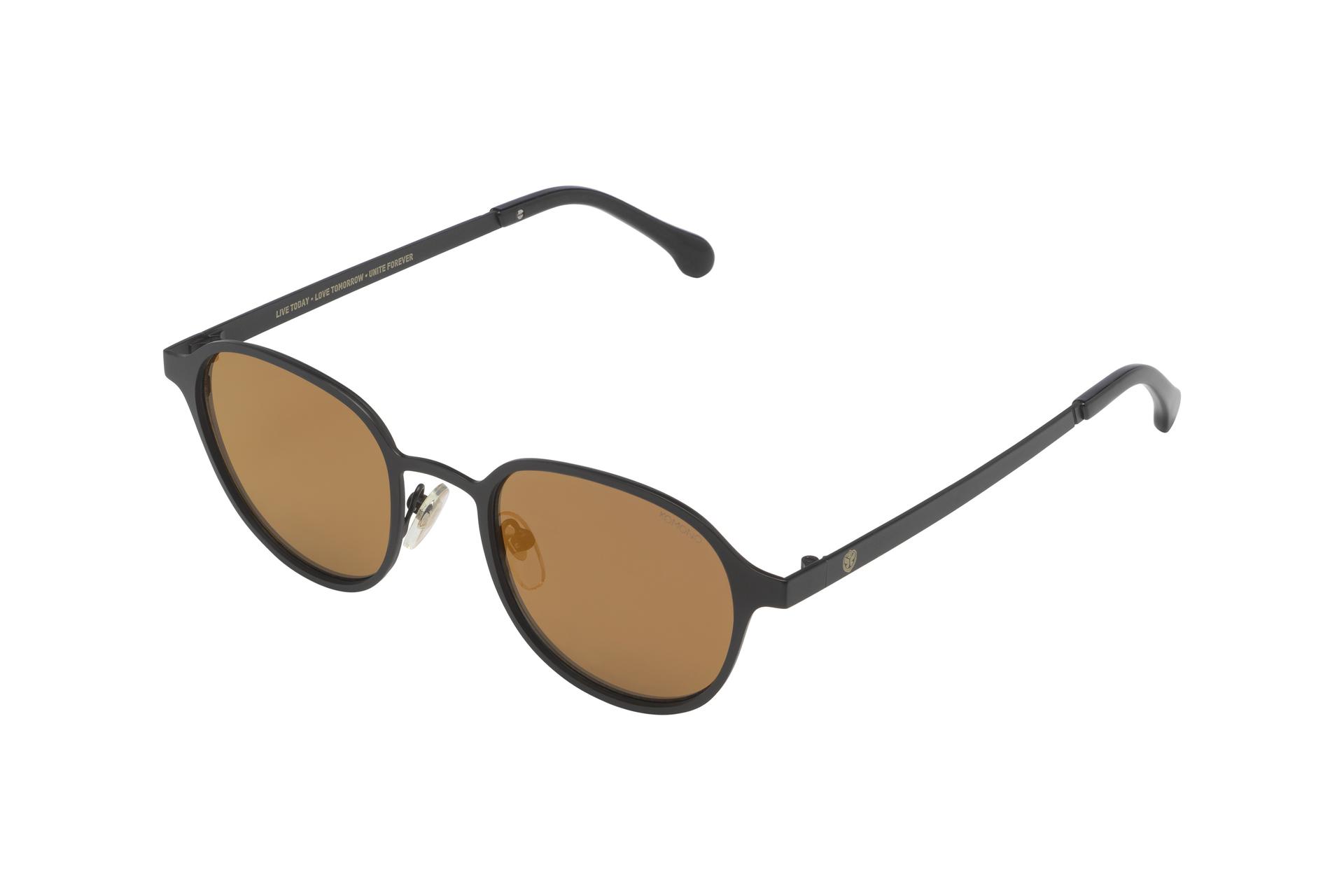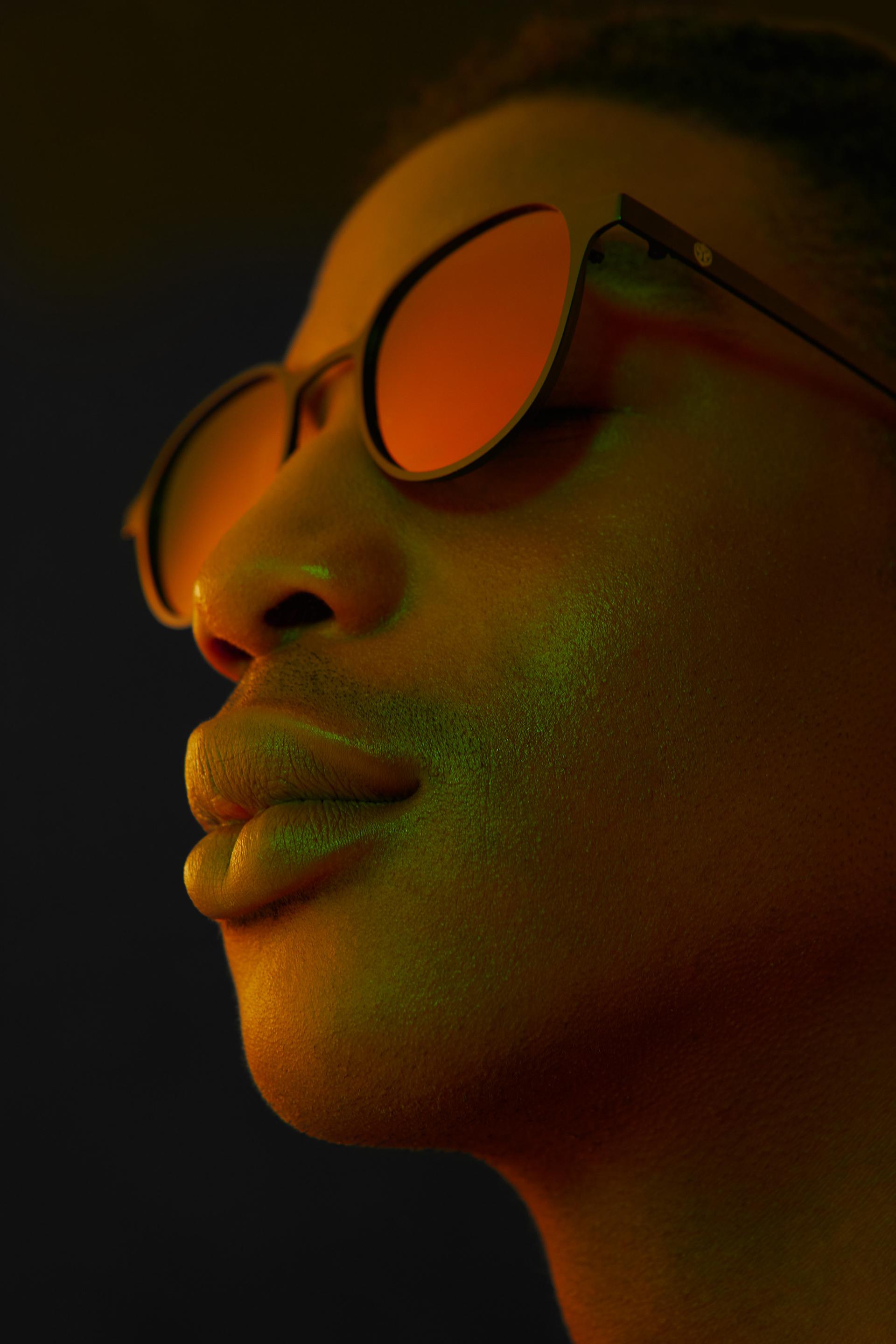 17 juillet 2019
BLACKFIN – LES DÉTAILS DE LA PERFECTION
Juin 2019 – Ce sont les détails qui font la différence : Blackfin ajoute quelques éléments distinctifs à sa gamme de montures de vue et de lunettes de soleil. En effet, à partir de la collection de juillet, tous les modèles seront équipés des toutes nouvelles plaquettes tilting nose pads en PVC médical, un matériau totalement hypoallergénique qui recouvre la plaquette – marquée du poisson, symbole de la marque – en résine transparente à laquelle vient s'ajouter, pour certaines versions, un dépôt d'or ou de palladium. Outre leur design plus moderne et élégant, les nouvelles plaquettes articulées assurent davantage de confort en s'adaptant parfaitement à la forme du nez.
Une autre nouveauté réside dans le design des manchons Swordfish, le brevet de la société qui permet de raccourcir les branches de 5 ou 10 mm de façon précise, facile et immédiate.
L'épaisseur des nouveaux manchons en caoutchouc – matériau conçu pour améliorer l'adaptation à la température corporelle (chaud en hiver et froid en été) en contact avec la peau – sera plus forte pour assurer un ajustement plus confortable et ergonomique tout en évitant que les lunettes glissent vers l'avant.
Un kit a été conçu pour que tous les opticiens puissent assurer un excellent service à leur clientèle : il contient une pince spéciale pour retirer et remplacer les plaquettes ainsi qu'une plaque servant à plier l'extrémité de la branche de façon que la tige puisse reprendre sa courbure initiale après avoir été raccourcie.
Blackfin utilise des technologies de pointe même dans les détails les moins visibles. Les informations relatives au code du modèle, les spécifications techniques et une éventuelle personnalisation à l'intérieur de la branche sont en effet réalisées par gravure au laser dans des couleurs irisées, à l'aide de sources laser fibrées d'une puissance de 20W. Cela garantit une qualité incomparable par rapport aux sérigraphies classiques et une touche de style qui rend chaque monture unique.
Car, bien qu'éphémère, la recherche de la perfection passe par les moindres détails.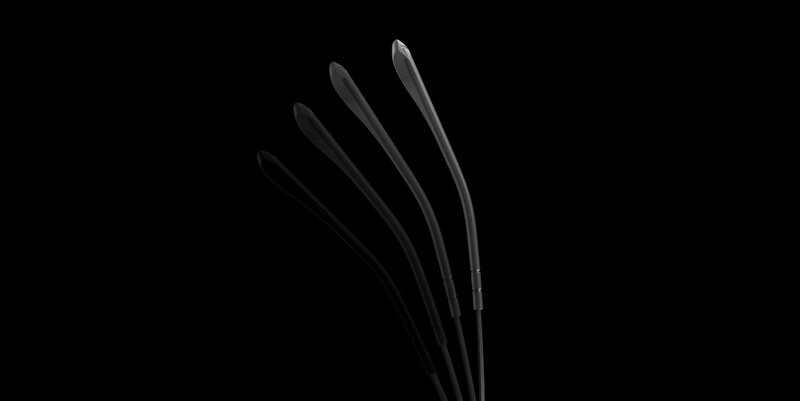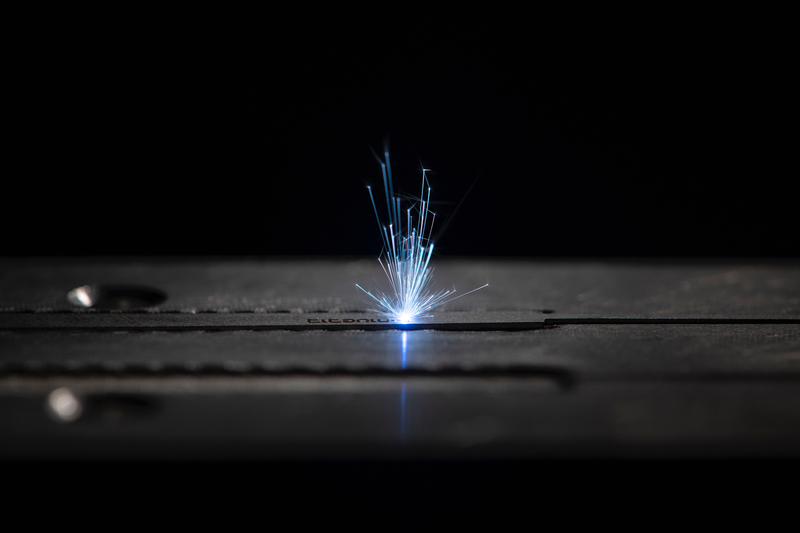 Blackfin / Looking Beyond. Always.
www.facebook.com/blackfin.eyewear
www.instagram.com/blackfineyewear/
16 juillet 2019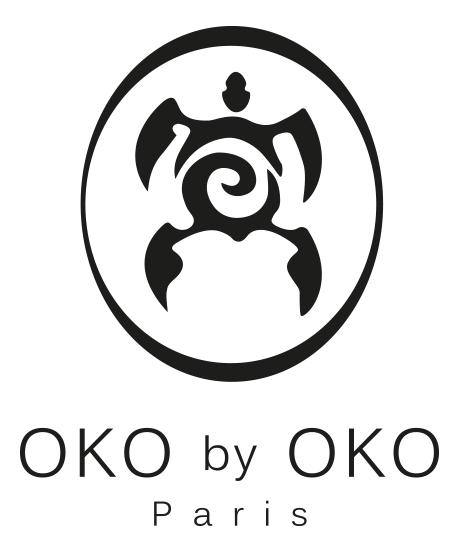 SCENES DE VIE avec EMILE & ROSE
A 30 ANS TOUT COMMENCE !
#ScènesdeVie chez #oko après l'histoire des 2 meilleures amies #STELLA &#NIKITA #BFF dans l'épisode 1, nous retrouvons dans l'épisode 2 #EMILE & #ROSE #OKObyOKO.
Le pitch? A 30 ans, tout commence ! Amoureux et bien dans leur vie, ce couple de trentenaires célèbre leur emménagement ensemble, c'est leur premier appart ! On leur souhaite tout le meilleur pour une vie toute en couleurs !
Emile... Pour lui, créa, colorée, au design pur, élégant, aux détails soignés et signés de la marque à la tortue. Cette lunette entièrement fabriquée en acétate ravira bien sûr les adeptes des lunettes qui ont du caractère, du style et qui veulent s'affirmer ! Du créateur, oui, mais accessible à tous !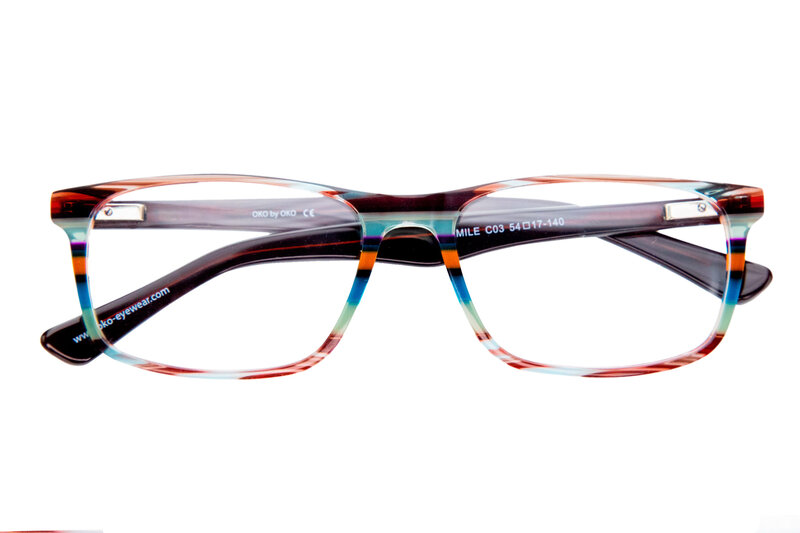 Rose… Pour elle, inspiration florale et superposition de pétales pour cette lunette fraîche, printanière aux coloris chics et acidulés qui associe différents matériaux – acétate et acier - afin de créer un résultat inattendu.
Cette tendance au métissage des matières, très en vogue dans le secteur de la lunetterie est un processus créatif qui créé un nouveau langage esthétique offrant des contrastes agréables à la fois visuels et tactiles.
Les jeux d'ombre et de lumière - formés par le décalage et la superposition des plaques d'acétate polies à la main - donnent du relief et du volume créant ainsi une forme plus généreuse, plus ouverte, plus douce et plus féminine.
Avec Rose, OKO vous aime un peu, beaucoup, passionnément, à la folie !
Et là, on réalise l'évidence : tout est consciemment et élégamment décalé, comme si la marque donnait vie à ses idées et à ses créations en ne pensant qu'à une chose : permettre au porteur de se révéler et d'oser afficher sa personnalité.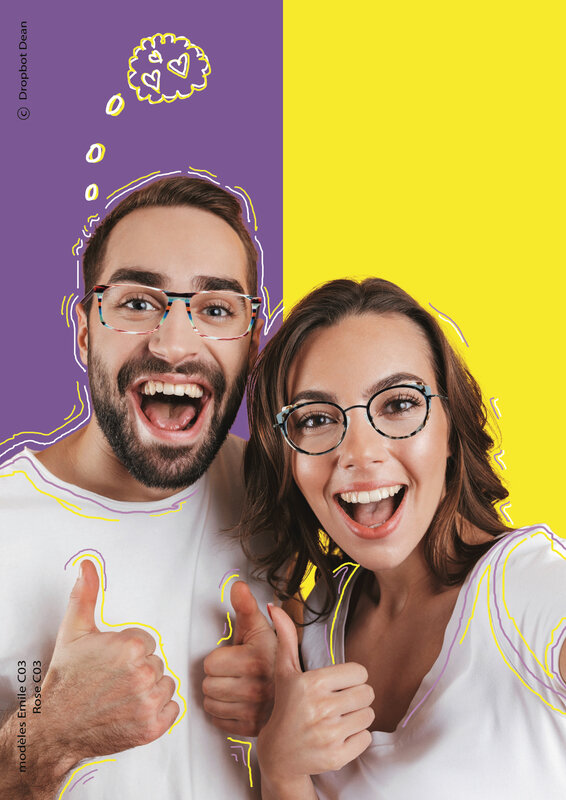 OKO by OKO Paris – créateur de lunettes pour tous depuis 1999.
#okobyoko #gooddesignforgoodpeople #inokowetrust #fromokowithlove
15 juillet 2019
Singin' The BLUs – New Scojo New York BluLites
Scojo New York is delighted to introduce the latest in BluLite styles – now available in metal frames. These ready-to-wear readers come in four ultra unique shapes, with personalities all their own. Additionally, each of these styles is offered in plano non-RX for those seeking a little protection from digital screens without the added reading power.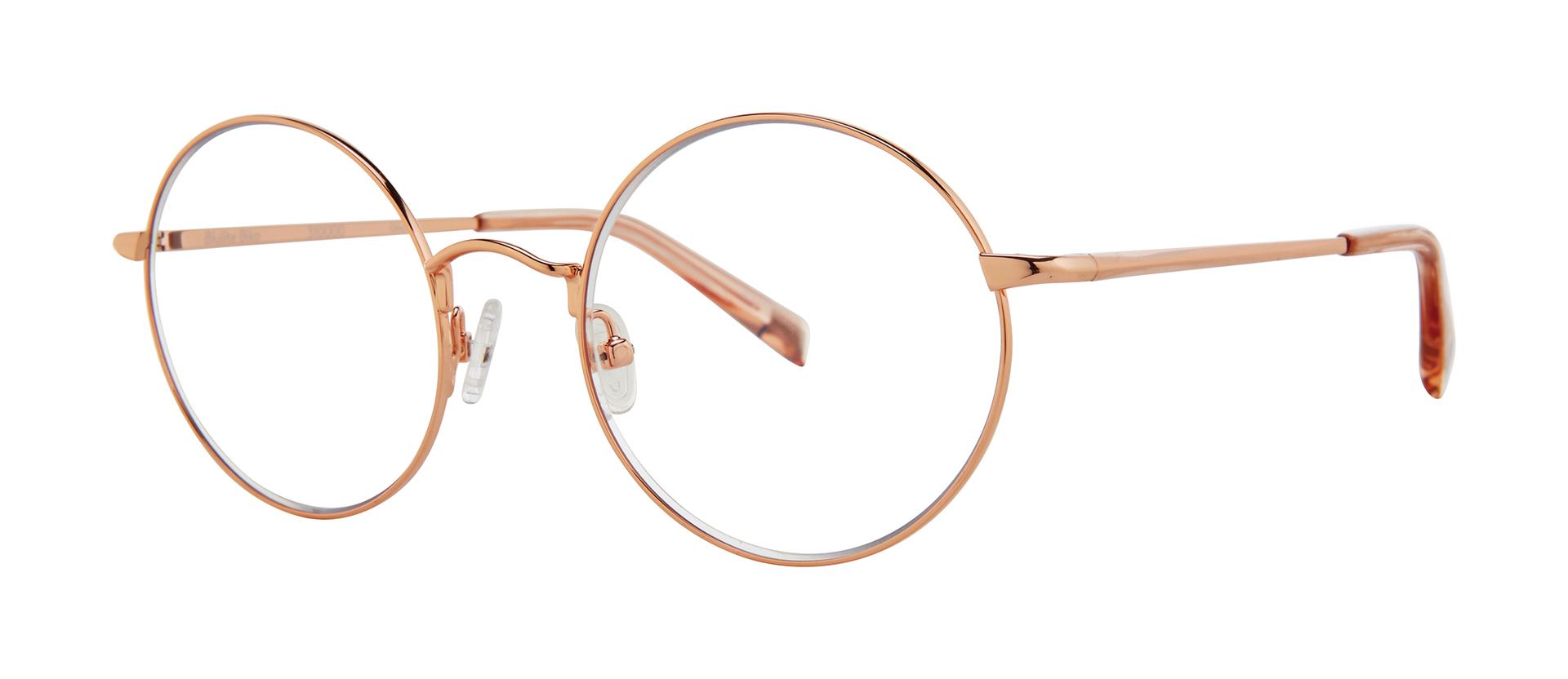 Biko
The Biko embodies the essence of Scojo New York, with a revitalized sense of vigor in this retro, fully round style. Built from stunning stainless steel, the boldness is physically felt within this substantial frame.

Matrix
High fashion dips into decades passed for the ultra slim Matrix. Pieced together from chromatic gold stainless steel and infused with BluLite technology, this pop of visionary color may be small, but has no trouble getting noticed.

Palatino
The Palatino takes a bold stab at an original concept. A more compressed P3 shape is presented, with a flatter profile up top and a rounded edge to bring modernization through this BluLite frame. Dynamic yet approachable with golden stainless steel, the Palatino is bound to shine.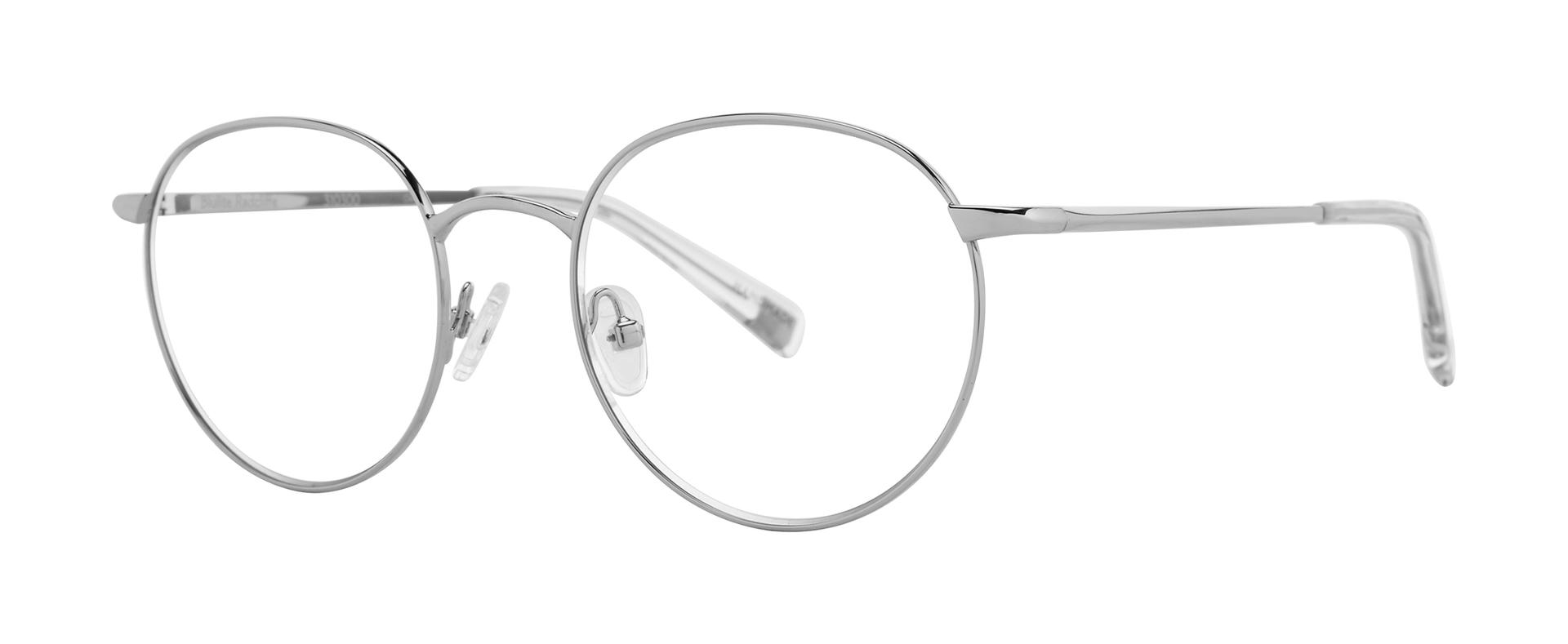 Radcliffe
Clean cut for a look of enduring sophistication, the Radcliffe embodies a true P3 shape. Cooling silver metal forms this BluLite filtering style, created for function, but fully embracing a life of high fashion in the modern era.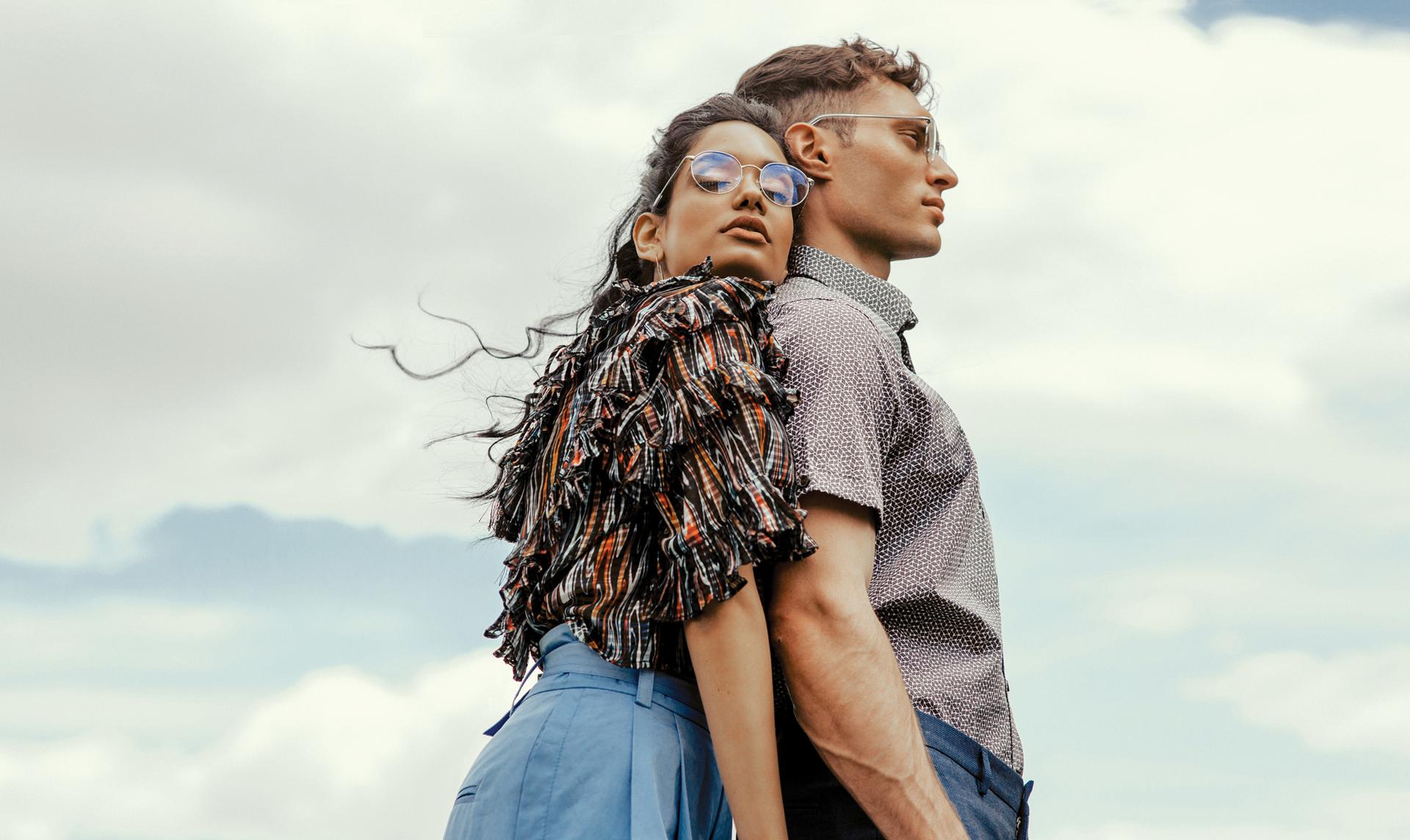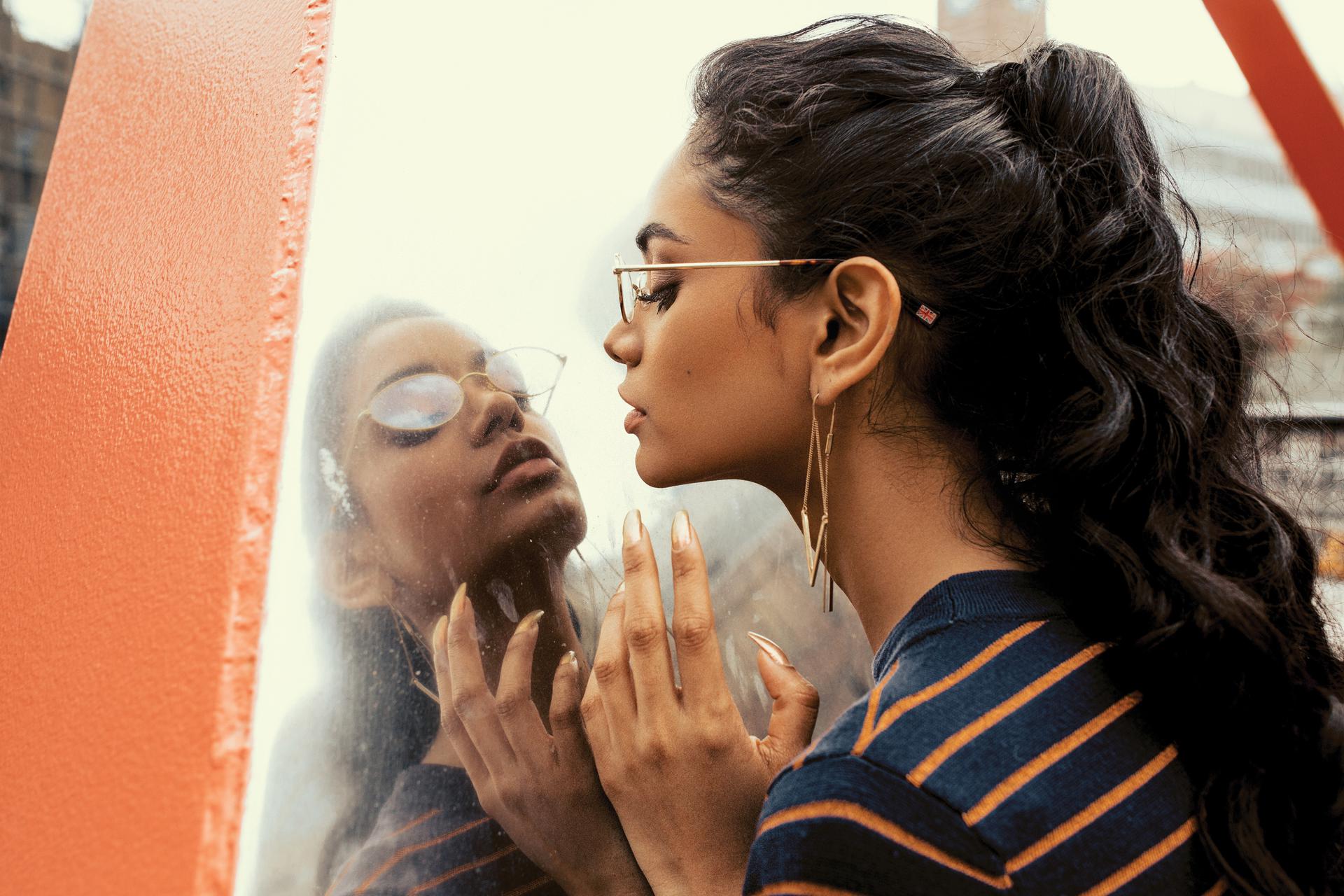 11 juillet 2019
KOMONO x Royal Academy of Fine Arts Antwerp capsule
KOMONO is proud to introduce its collaboration with the fashion department of the Royal Academy of Fine Arts Antwerp. An incubator for new talent and innovative design, the Academy has been on the forefront of global fashion since the rise of the Antwerp Six and remains one of its most influential voices. Out of their mutual interest for experimentation and innovation, KOMONO presents a capsule created by four graduate students. With its exploration of innovative forms, search for new colour combinations and pursue for the original treatment of materials, the collection reimagines the eyewear of tomorrow.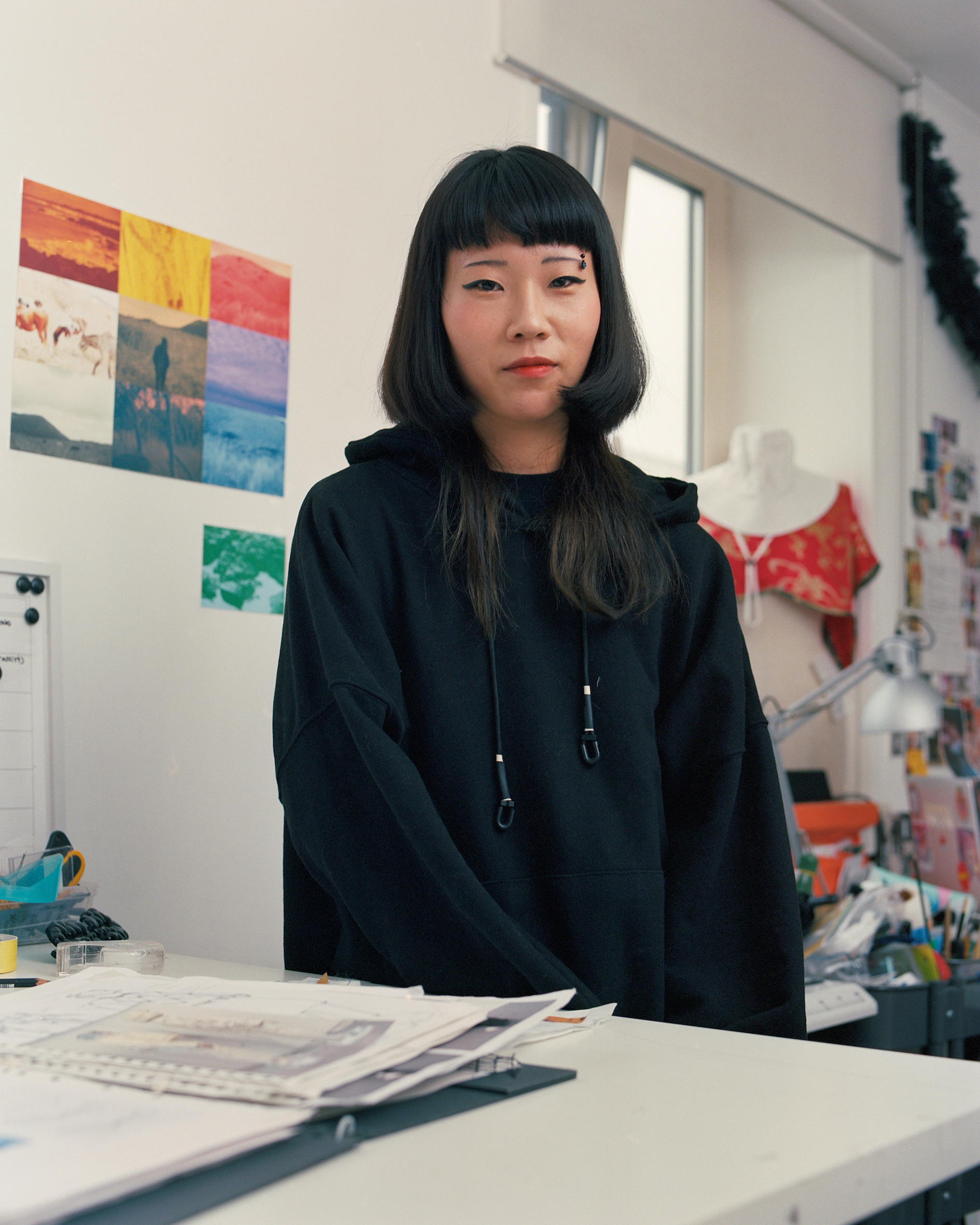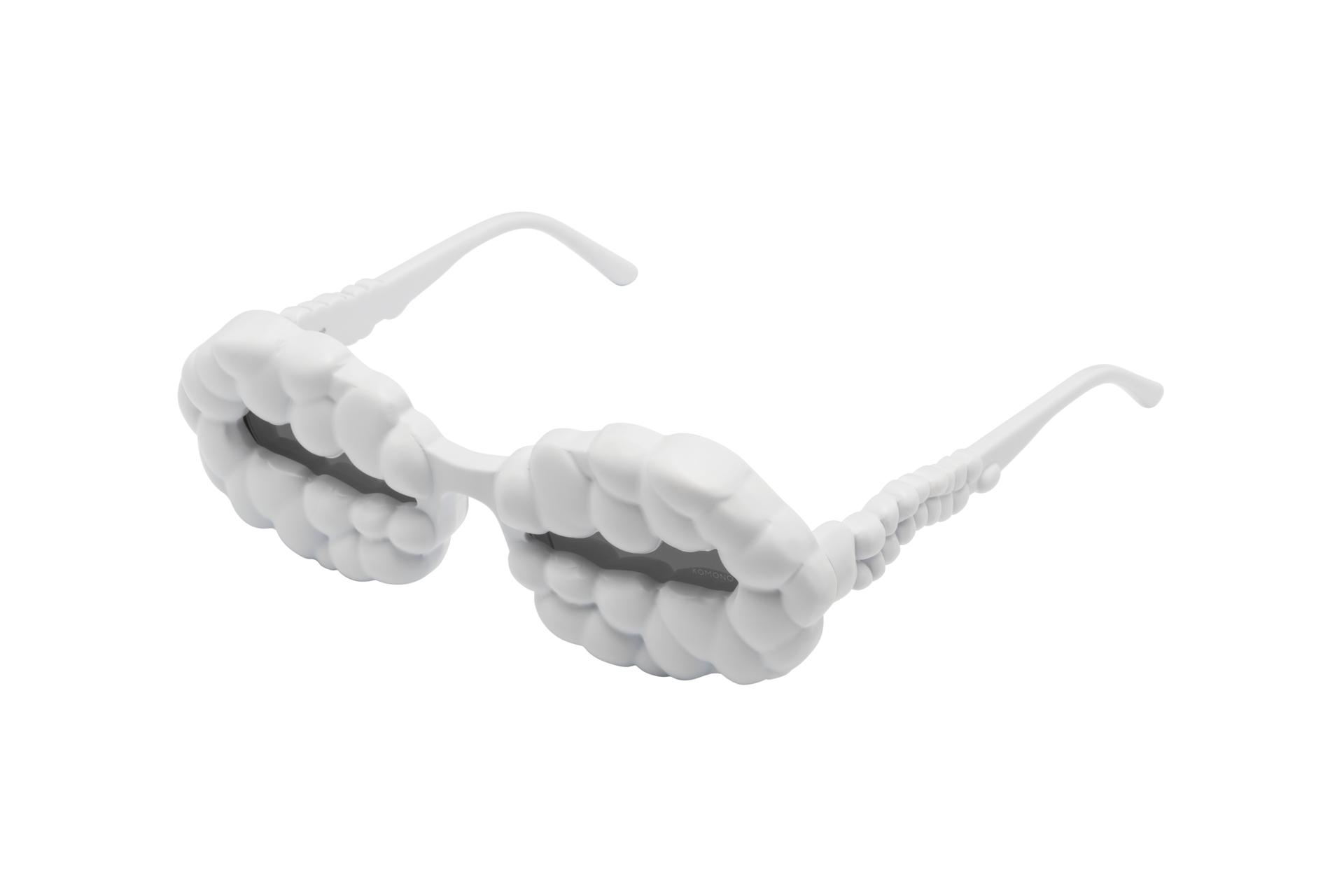 GRACE HYEJIN KIM
26, South-Korea
The whole collection started with one phrase ''it's cold, I'm just chilling''.
I was inspired by winter and combined this with the idea of sitting at home on the sofa. The overall atmosphere transmits a certain coldness and conveys my feelings of being lonely and longing for family as an international student in a foreign country.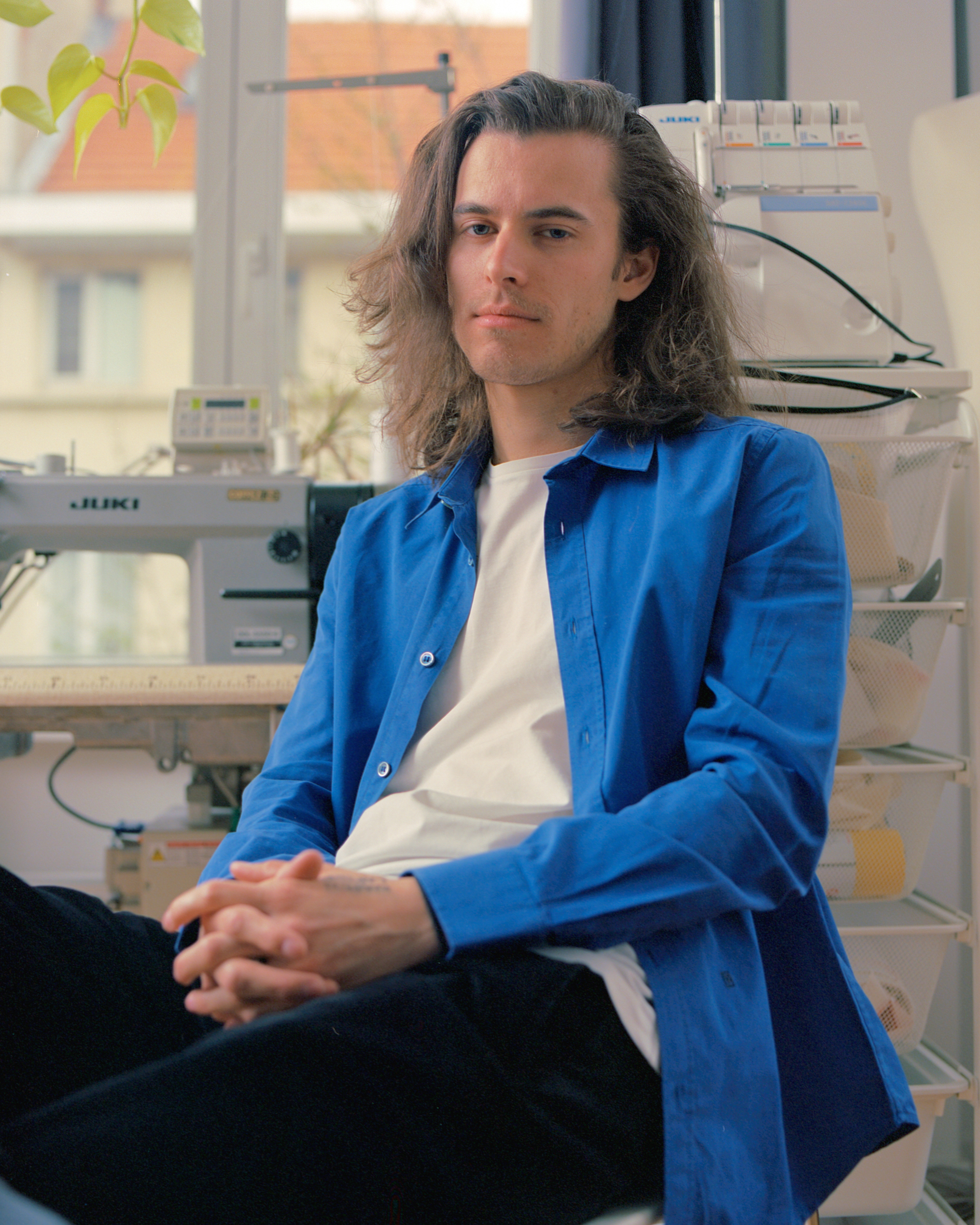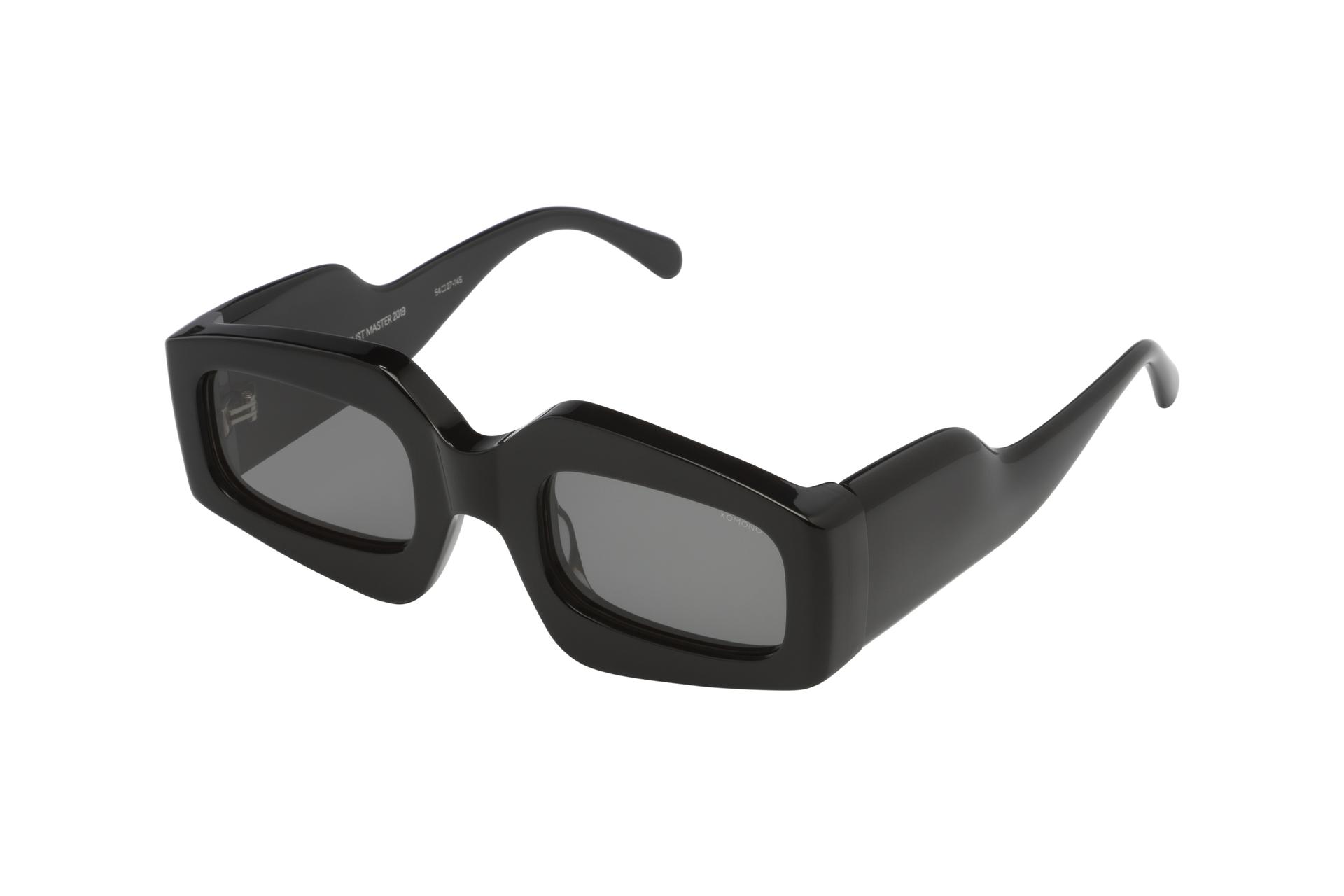 NICK HAEMELS
25, Belgium
I started putting together the collection after watching ''Ex Machina'', this really polished movie about artificial intelligence. The whole aesthetic is based on laboratories and has this very clean feel to it. The idea of playing with a mask for this project appealed to me a lot. I started to do research into the negative space of these objects in order to create a new kind of shape.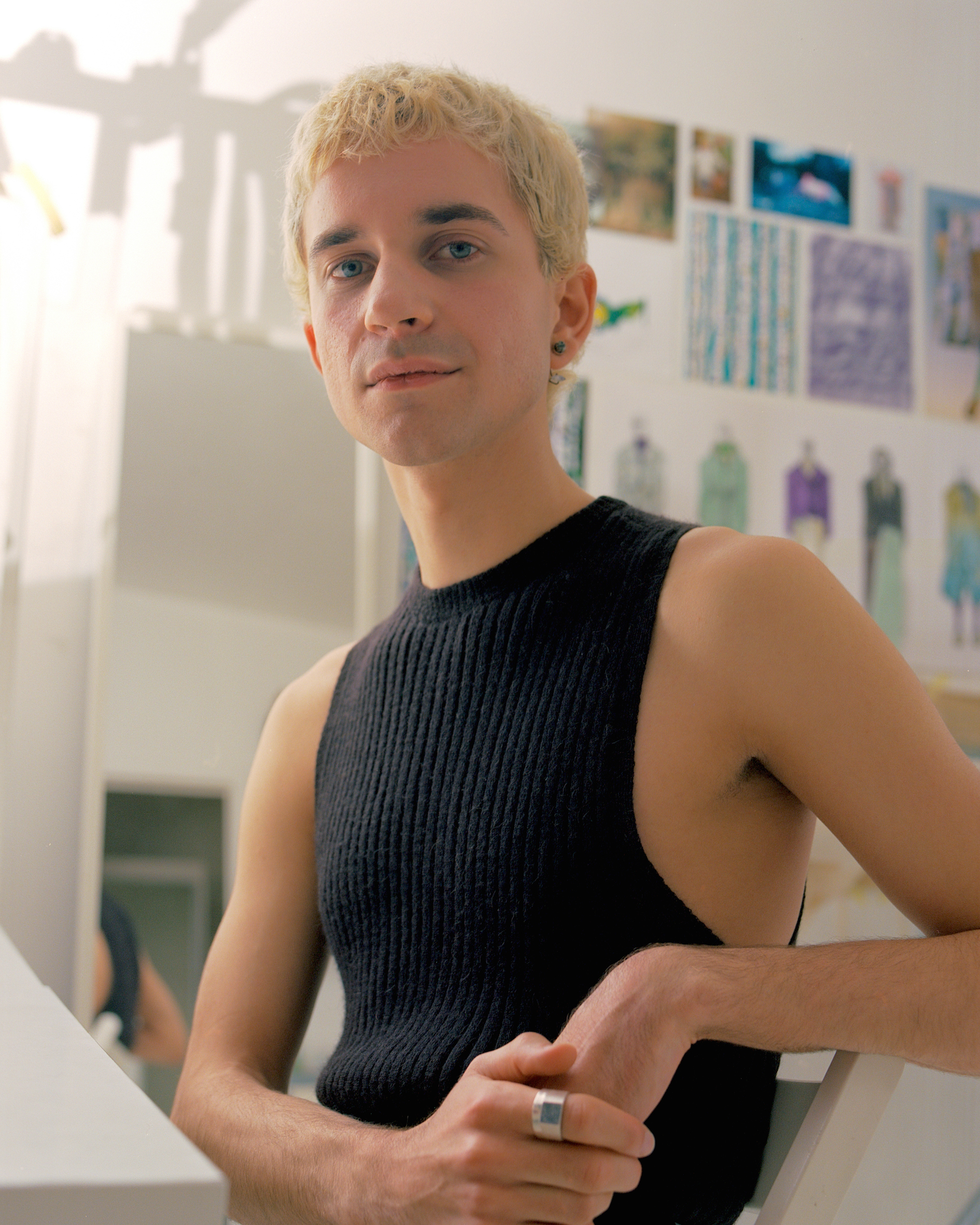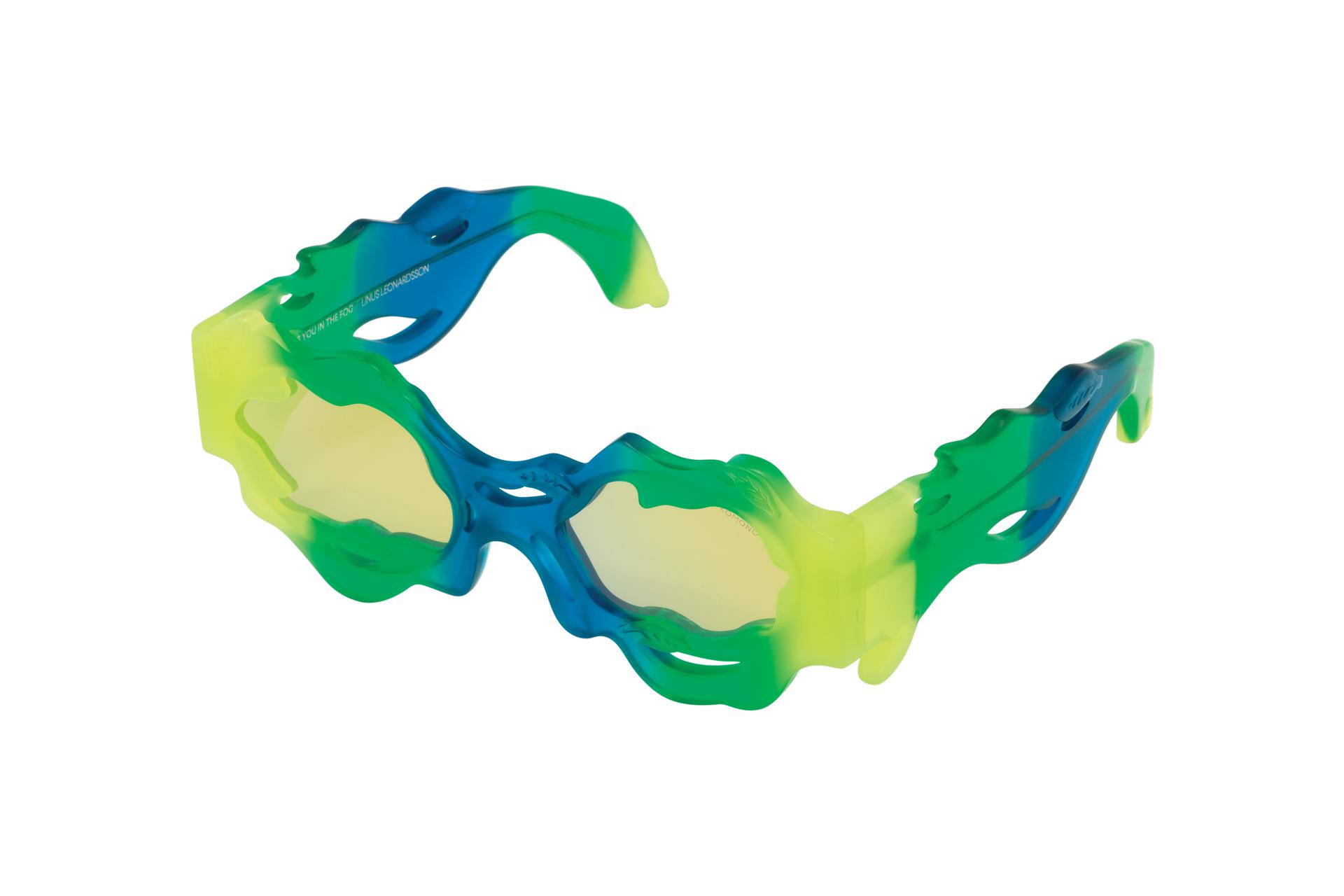 LINUS LEONARDSSON
22, Sweden
"See you in the fog" references adolescence and depicts a teenager's concerns of not fitting into a grown-up world, as well as his or her attempts to do so. Set in a forest rave in Stockholm, it connects contemporary rave culture with new ways of preserving nature and craftsmanship. Technical materials are linked with contrasting natural inputs and traditional techniques. The unisex sunglasses reference trees which are tinted blue, yellow and green by artificial strobe lights.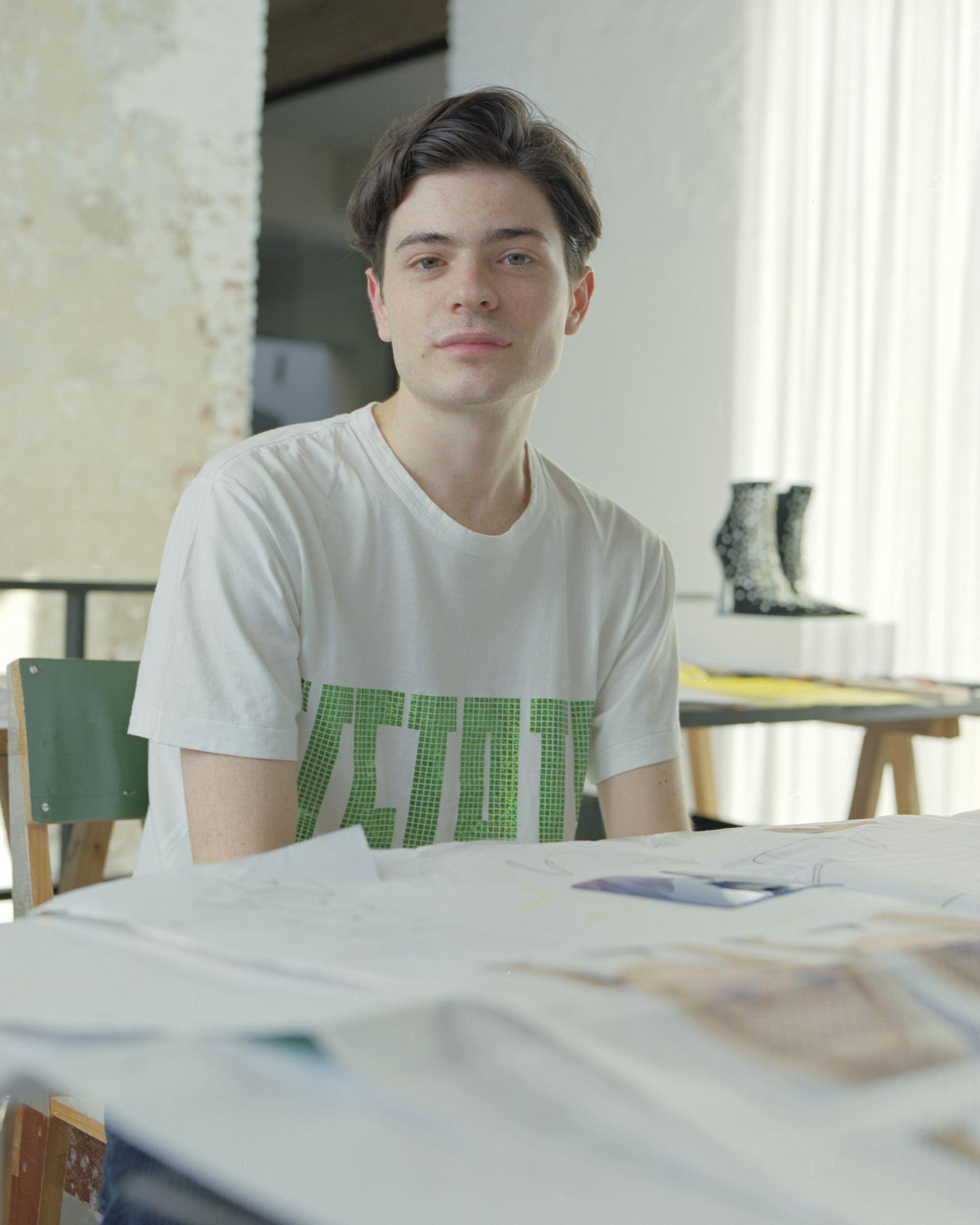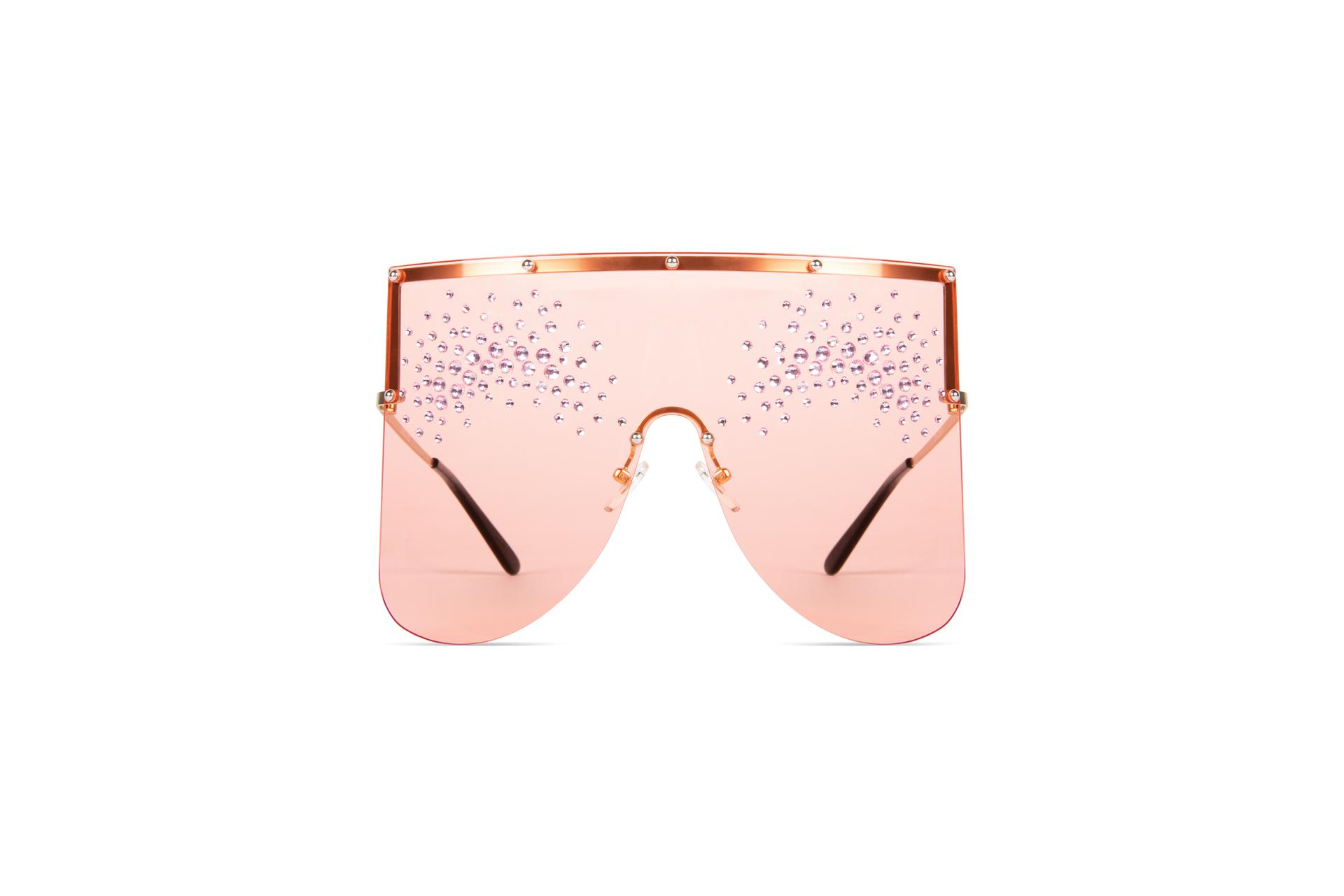 QUINTEN MESTDAGH
23, Belgium
My main goal was to create the effect of make-up in eyewear. As make-up is always applied onto the skin, I was interested in transforming it into an object or accessory that you can easily put on and off. The glasses consist of one colored lens that covers the face which is then enhanced with gradient prints and embellished with rhinestones.